EARLY DAYS 1947-73
http://www.desallen.n.nu/allen
http://www.desallen.n.nu/coulter
SAMUEL JAMES DESMOND ALLEN (known as Desi &/or Des)
Born in Mid Ulster Hospital, Magherafelt 1947, Co Derry, NIreland.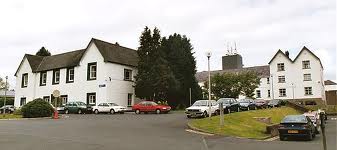 Photo taken early 2000!
Son of Sammie (Samuel John) Allen and Thelma (Higginson) Allen (nee Coulter). They first met in 1941, at Clare Bridge, Cookstown, NIreland. (Photo below!)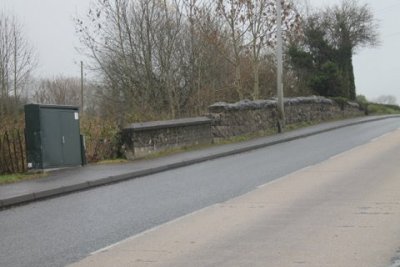 Dad's life began 22 October 1921. Born to the late Sam and Violet Allen, in Moneymore, he was brother to Bobby who died in infancy, brother to the late Mary Shirlow 1925-2000 and the late Eileen Bell 1923-2008 and brother to Evelyn Brown b 1929.
His early days were spent living with the family in different locations in and around Moneymore, somewhere in the region of 10-12 locations, naming just a few: Coltrim, Diamond Lane (Coltrim Lane to day) Crossnareagh, Carrydarragh, and Moneymore itself.
Started Moneymore PS in 1927, 5 ½ years old, and finished in 1936. In fact he often said that when he came out of school some days he couldn't remember which direction he should go home! Shortly afterwards he got his first job as an apprentice motor mechanic, with the Mid Ulster Motor Company, owned by Capt Harris. 2 years later he started as a Fitter in the Bacon Factory, Cookstown, cycling to and from work with his father, my grandfather Sam .... 6 miles each way daily, leaving home 05.50 for 06.30 start! He eventually had the responsibility for raising the steam for the days production.
Mum was born 27 January 1923 in Gortagilly, just outside Moneymore, at the home of her mother's family, HIGGINSON. They didn't move to Tyresson, the Coulter homestead, for a period of time*(time duration not known)after the birth. There would appear to have been some form of resistance from one or other of the families? See the COULTER story.
Mum had a lot of work to do on the farm, especially helping my Granny May to cope. Granny Coulter was never given housekeeping and any income she had to feed the family was made from her breeding geese, turkey etc and selling them! She also worked with hens and sold eggs to Dobson's of the Moy. I remember "wee John the eggman!!" In fact on the day of Mum's wedding (January 1947, which I don't remember!) when the taxi (James Slaine Taxi's) arrived to collect her, father Jimmy disappeared upstairs, and half an hour later, after some horn tooting from Jimmy Slaine, he re-appeared with one pound, as her dowry! Jimmy was a hard working man but also a hard man.
The wedding was low key.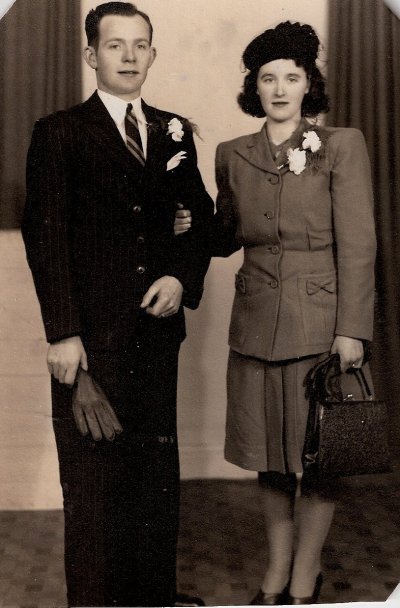 Dad visited the Clergyman, Rev Hugh Conn and explained the circumstances. Nobody in the family knew anything, except Tommy Millar who was best man and Mary Shirlow, (Dad's sister) Coleraine. They stayed a few nights with her and Earnest, after the wedding in Lecumpher Presbyerian Church, (it's the only link I could find, showing a photo of the Church!).....just outside Moneymore on the way to Desertmartin. Tommy Millar was Dad's best friend and also his full cousin!
The question of accommodation was also of utmost importance. During the period of time they were planning to marry, Dad was in the pub in Moneymore (name of pub??), talking to his old friend Phil Devlin, who lived at Coltrim (2 miles outside Moneymore) in a semi detatched single storey house owned by Isaac and Matte Anderson. The Devlin family were big and had lived for years in Coltrim. Granda and Granny Allen had lived in Coltrim in their early days, 1930's. Aunt Evelyn (b.1929) remembers that they lived in the same house that was offered to Dad (or the one beside!?). Granda/Granny Allen had lived in about 20 other houses in the Moneymore district!
During the conversation with Phil, Dad mentioned that "he and Thelma were to be married"….and "where are you going to live?" asked Phil. Dad replied "at Clare Bridge" (his parents home) Cookstown until we get a place! Phil announced that he was soon to leave the wee house at Coltrim and that he would put a good word in with Issac Anderson. Dad and Mum got the house, but didn't move in until a few repairs etc were carried out. In the interim they lived at Clare Bridge, Cookstown, with Granny and Granda Allen.
Some months later they moved to Coltrim. However, before and during the stay at Clare there were difficulties between my father's sisters and my mother....my guess, because she was pregnant? Mum was deeply hurt.
I was born in June, 1947. I lived my first four years, in Coltrim, Moneymore, Co L'Derry.
Dad & his friend Bettie!

Memories from there are sparce……falling with a brick in my hand which knocked off a thumb nail. I can remember the thumb nail protruding out of the skin! (was 3 yers old!) Also have a vague recollection of being with a "roadman" (Wilson?) who maintained the local stretch of road where we lived. I was 4 when we moved from Coltrim, and Yvonne 6 months, ie 1951! Our neighbours in Coltrim under the same roof, were Brendan and Joyce Devlin. Brendan was Phil's brother, who had earlier vacated the house which Mum and Dad got.
MOVE FROM COLTRIM, MONEYMORE TO CLARE, COOKSTOWN 1951
I remember the move from Coltrim to Clare. A man called Sam Millar, from the Methodist Church in Cookstown, had a lorry.I remember Mum, baby Yvonne and our beloved dog, a spaniel named Grouse, climbing into the "cockpit" of this lorry, owned and driven by Sam Millar, Cookstown. I travelled with Dad, sitting between his legs, behind the petrol tank of his motor bike. Not a big bike. It was a wine red colour.
Moved to the house at Clare, Cookstown in 1951, to a house previously occupied by the Neill/Neale family. Finally lived in by Billy Neale. See web site:
http://www.dankat.com/kerr/chap7.htm
for the background story of the house which was to become our home!
"SUNNYDALE", CLARE, COOKSTOWN (link!)
This house was owned by Granda Jimmy Coulter. Mum/Dad had to pay rent to him! Before we moved in Dad had employed Tommy Thompson and Davey Wilkinson to make some improvements. Looking at to-days house….if you remove the whole side including the bathroom, both bedrooms and the hall. What's left was the sum total of the house before we moved in. However there were 2 extensions built, prior to us moving in. A hall, entered from the existing door which to-day leads to the hall and a window (where the cupboard/press is located). A scullery, entered from where the big kitchen window is to-day. The scullery was always very damp….just a tin roof keeping out the elements. I can remember a lot of condensation dripping from the roof and condensation on the window.
In the winter this froze, so there were many beautiful frost designs on this window and even on all other windows. As I now write I can feel the damp chill of those mornings getting up for school. Where the kitchen is to-day you would go into Mum/Dad's room from the kitchen, just as to-day. Yvonne and I slept in what is to-day the little kitchen, which was accessed from Mum/Dad's room, just behind where the set of drawers were located...knock on this section of wall and you'll hear the boast sound!
There was no indoor toilet, so at the back, behind the old byre, next the hedge was our dry toilet. When I visited this as a small boy at night before going to bed, Mum would stand outside this toilet, shine the light on the opening under the door and that made me feel safe. The toilet bucket would be emptied when needed into a hole in the garden which Dad would dig, approx once per month.
I don't remember my first days at Clare. However, somehow I got to know some boys from the housing estate, the Colvin brothers. Orville and Ali (Samuel) were to be my friends for quite a few years, until early teens.
Shortly afterwards I started school at Drapersfield PS, where there were 2 teachers. Miss Patton the senior and Miss Hamilton took the junior children. Mum had also attended this same school and also had Miss Patton as a teacher. She had a reputation of being strict…..which I never noticed!
Can't remember in any detail as to how I travelled there the first months.....for a while I got a lift with Miss Patton in a taxi, driven mailnly by Victor Reynolds. I also remember getting a lift with Miss Hamilton, in her black Morris Minor, reg nr JWS 253!!  These 2 ladies were to influence my life, positively in the years ahead, at least until I was 11. I attended Drapersfield PS, 1952-58. (except for approx 1 school year, 1953-54)
POLIO....October 1953
One day, in October, 1953, my uncle George (Geordie) called to take me to gather potatoes near Tyresson, at a field near the "Ring", just behind where Johnny Reid and his wife lived with their big family. As I was only 6, I wasn't going to work, but it was exciting to be with uncle Geordie. He was different. He wore a black beret. I liked him. When he called, I was across the road, in Brown's, playing with Jennifer who was in her playpen. As soon as I saw the car, a Hillman Minx, reg nr ZL 1355, I had to go immediately.
I remember gathering the potatoes, but in the late afternoon I remember feeling tired and very warm and sweating. Mum came and collected me and got me ready for bed. I remember drinking punch….a mixture of hot water, sugar and whiskey. This was meant to make me sweat it out, and in the morning I would " be as right as rain!".....this was "medicine" recommended by the older generation of the day, as it would sweat any virus's etc out of the system!
http://en.wikipedia.org/wiki/Poliomyelitis
Early next morning, I have quite a vivid memory of the sequence of events which were to follow....and would change my life for ever and that of Mum and Dad. At that time our house was small, as previously explained. My bed was along the wall next to the old outhouse (was an old cow shed/byre)), in that little bedroom off Mum/Dad's, now a cold, damp scullery!
Those events?.... I had sweated all night. Dad got up early and I remember a strange feeling of not being able to move my arms properly and of not being able to get out of bed and once helped out of bed by Dad, not being able to bear my own weight on my legs. I was put back into bed. I remember Granda Allen coming in to see me.
By this time I was moved into Mum/Dad's bed. Granda looked at me and asked me to move arms and legs….almost doctor like (he was a country butcher and had worked with pigs all his life!!?) Next I remember the Doctor coming to see me....same Flanagan (Desmond) family doctor as to day! I could hear a lot of talk in the kitchen, but just didn't know what was going on. Can't remember the time gap. Sometime in the late afternoon/early evening I was lifted out of the bed by Dad and carried into an ambulance. Didn't know what was happening or where I was going, but do remember wanting to know when I was coming back!
Remember being taken out of the ambulance and into a room (Magherafelt Hospital). People with white coats came in and out. I was turned over on my side and they stuck a needle into my back…..don't remember pain, but was not comfortable (this was a lumber puncture, where they drained fluid from my spine to do some kind of analysis) I was then taken again to an ambulance when I thought I was going home……but far from it!
This was the beginning of a 33 week period away from home, away from my parents, away from home environment, away from my security..... October 1953 – April 1954. I was diagnosed a polio victim, one of many across NIreland during that epidemic of 1953. I was transported in the ambulance to Purdysburn Fever Hospital Belfast, on that night, I believe to be a Thursday night. Diagnosis : I had developed Infantile Paralysis, muscle death and wastage.
(On my first visit to Clare after Dad's death, week 19, 2009, Yvonne showed me a Dunleath Bar postcard, with a message. The card was found in Mum's navy blue handbag with the big "flap like" cover, where there was a multitude of private papers. The message was a transcripted telephone call, from Magherafelt Hospital, from my Dad to the Publican, Harry Eastwood. He was a good friend of Dad's, as you will read about later. Harry organised a taxi to take the message home to Mum at Clare. The message said something to the effect "Polio confirmed. On my way to Purdysburn Hospital, Belfast. Will be back sometime."
PURDYSBURN FEVER HOSPITAL, BELFAST
Early memories of those days in Purdysburn are : The lonliness of lying on a bed with a red rubber mattress, when I arrived at Purdysburn. Doctors, nurses in and out. The mornings that followed I could clearly hear the sound of horses and carts going past the window of the ward. They were coal horses delivering coal, and milk floats out on their early morning runs. I had no awareness of time and I was alone in a new cold world, not knowing where Mum or Dad was and if I would ever see them again.
I suppose it was maybe a week later when I at last had something happy happen! I remember being in a small ward, with glass all around me (an isolation unit), when I could see 2 men peering in at me.
I immediately recognised Dad but not the other man, (was informed later…..Rev Frith Little, Cookstown Methodist clergyman) holding helmets in their hands. Oh how I wanted to get out of bed and cling to my Dad. I cried. (as I'm sure the men did as well). I don't know how long I was in that unit, but it felt like an eternity.
In order for Dad/Mum to be able to visit me, they in some way had to organise a car. Initially Dad borrowed cars, but eventually bought their own. They had no money for this purchase, but a good offer on an old Austin 10 came up…..and Dad borrowed GBP 50 (not 100% on this figure)….from Harry Eastwood, the Publican, mentioned earlier, who owned the Dunleath Bar, Gortalowry, Cookstown, one of the pubs used by Dad and his work colleagues on a Friday evening! The car was an Austin 10, BLU 852. Harry was repaid, but didn't take the full amount!
They visited me every Sunday and during the week they could follow my progress via the daily newspaper, the Belfast Telegraph. All polio victims were give an ID number, where family could follow progress. Ill, very ill, seriously ill, dangerously, critically ill and gravely ill. For the first few weeks I pedalled between dangerous and critical and then down the scale where I was eventually taken off it. Don't know the time phasing…..It has been too sensitive to talk to Dad/Mum about these details.
My stay in Hospital became routine and always looked forward to Sundays. I remember crying, sometimes bitterly, when they would leave. I have no recollection if I ever thought about getting home or if I had accepted this hospital to be my home for ever? Sometimes Dad/Mum or just Dad or just Mum would appear on the Wednesday. They always brought sweets/chocolate. When they left some of the nurses would come and collect these goodies. They were pooled and shared out at different times….I don't ever remember getting anything. May well be just a failing memory!
Once I remember hiding some goodies under the mattress, only to be discovered next morning when beds were being made.
Also a bad memory was when a male nurse slapped me on the bum for something I had done…..and I believe it was the same nurse or orderly whilst cutting my hair, accidentally cut the top of my ear (didn't actually cut off the ear, but it bled.) I remember he was dark skinned.
I was fed by the nurses and one day when the nurse had to leave the bedside suddenly, I managed to finish eating whatever food was left, all by myself and the feeling of succeeding was special.
Another very special occasion was when, after about 4 months I took my first steps. This with the aid of a support calliper on my right leg and a body corset to support my spine. Taking a few steps away from the support bars and towards a nurse was something very special. As a six and a half year old child, looking back and thinking about that feeling….it was exhilaration, a relief. I had a feeling of victory, as much as a child could understand. To this day I can relive those moments clearly! I suppose I was then on a rehabilitation programme, ending up with me being allowed to come home in April, 1954.
COMING HOME
Dad has explained that I shared a taxi home with a certain man Richard Devlin, who was also discharged. What his illness was I have no idea, but I remember him, as he was distinguished looking and had his hair combed back, supported heavily by Brylcream. Looked like Errol Flynn! The taxi was paid for by a certain Harry Eastwood......!
It was evening when we arrived at Clare. My memories of that arrival are still vivid as I recollect how low the ceilings in the house were, how dark the place was. Also the fact that my little sister, Yvonne didn't know me! She had just turned 3. Remember stepping down into Mum/Dad's room, where Yvonne's cot was and her uttering the words, "who's that big man?"
The day's /months following are a blur, except for my memory of Orville Colvin coming over from "the houses" to play with me. His younger brother Ali and Rodney the older brother also appeared from time to time.
BACK TO SCHOOL (DRAPERSFIELD PS)
It would soon be time to return to Drapersfield PS. Miss Patton, who was the senior teacher took a taxi to the school every day. Victor Reynolds was the driver. She arranged for the taxi to collect me and leave me home every day. Every morning she would bring me up to the front of the classroom and I would sit beside her. She would take my "polio" leg and place it on her lap, where she would massage it for, maybe 15 minutes. I don't remember how the other children reacted, nor for that matter I don't recollect my own feelings. A certain Denis Leonard (now deceased), a few years older, took me under his wing and he sat beside me in the class room and looked after me.
Drapersfield School (built by London Drapers in ????) was a good and safe place to be. My best friends were Sidney Creighton and George Elliott. I always thought that if I had had 2 good legs I could have beaten George at running. He later became a school boy athletics champion, whilst a pupil at Cookstown Intermediate! I remember I liked one of the older girls Denise Maxwell and even had a soft spot for Audrey Murray.
Miss Hamilton was the junior teacher. I remember she had a sister who was cancer sick in Coatbridge, Scotland. Every morning at 11am we were to close our eyes and pray that God would heal this lady. Miss H explained to us children that every time we prayed we were putting building blocks on to our heavenly mansion. So we prayed in our own way, I suppose. It was about 5 mins each morning. She would conclude that session by saying a few prayer words aloud.
Some other incidents I remember very well. It was normal for us children to "help" with the school flower garden, at the front of the school, on occasions. Washing Miss Hamilton's car, Morris Minor reg nr JWS 253, was also one of the tasks. On one occasion we were all lined up and asked a simple question.
"From a distance, how would you recognise my car?" Many answers were given…."by the number", "it was black", "it was a Morris Minor" etc etc. My answer was "by its shine!". She was so happy with that answer that I was rewarded! Don't remember how, perhaps half a crown!
Miss Patton retired one or two years before I left. By this time I had become her grass cutter and got half a crown per session, ca 1 hours work. She lived beside the Bacon Facory, in the house where Des. Carmichael lives to-day. I was about 9 years old when Miss P retired. Miss Maureen Greer became the junior teacher. Miss (Minnie) Hamilton was promoted!
From then and until I left in 1958 I would get a lift with Miss H to/from school daily. By this time I was riding a bicycle and for the last few months at Drapersfield PS I used my bicycle.
I had worn the stiff calliper (non bendable!) for the first 2 years after hospital release, then one which bent at the knee. Because I was quite an active boy, my Dad had to repair a damaged calliper on many occasions. I loved climbing trees (more on this later) and jumping over fences etc.
VISITING MID ULSTER HOSPITAL'S ORTHOPEDIC DEPT
I also attended the Orthopedic Dept at Magherafelt Hospital, first on a weekly, then a monthy basis. The ambulance collected me on a Monday morning, driven by either Bill Oxtoby or Duncan Crossett. Whilst waiting for the ambulance, Mum would read to me from the comic "Jack & Jill"……Teddy & Cuddly, Freddie the Frog, Harold Hare. Still clear memories of those stories. Mum would also wipe around my mouth, with her handkerchief, with which she would touch with her tongue as the ambulance arrived. That feeling and those smells still linger in the corridors of my memory.
I would meet regularly with Miss Morris the Physio, and with the Consultant, Dr Crimble about every 3rd month. During a long period after hospitalisation my Mum was given various exercises from the Physio. She exercised my right leg every morning/evening for half an hour…..then evening only. I hated it when she would call me "Des, time for your exercises!!" I firmly believe that the hard work she put in with my leg and stomach muscles during those routines are the reason I returned to normal health, other that the weaker leg with a drop foot and weaker stomach muscles.
This continued until I was about 13. Then on a half yearly basis and finally once per year. By the time I was 15 my visits to the Hospital had ceased.
1958 ONWARDS
We didn't have TV but had a radiogram. A radio and combined record player. We listened a lot to the radio…..a traditional Irish music programme on Athlone "Take the Floor", "Double your Money" with Hughie Green on the BBC Light Programme. Wilfrid Pickles and his wife Mabel, Harry Hudson at the piano had another programme on a Tuesday evening, "Have a go!" Listened also to the Floyd Patterson/Ingemar Johansson, Heavyweight Championship of the World fight in 1958 and also to the return match, on the BBC Home Service.
In February, 1958, the Manchester Utd football team were almost totally wiped out in a horrible air crash at Munich airport. Our family had just installed our very first TV and that was the first item of news I saw. I was then 11 years old!
It had such an effect on me that from that day onwards I have been a "red devil"
NORTHERN IRELAND FARMER'S BACON COMPANY LTD ie "Cookstown Bacon Factory"
My Granda Allen worked here from 1938 until his retirement in 1962. I have many fond memories of being with him at his work place....when I was around 11-12 yeras old. At this time he had moved from the slaughter pen to upstairs where he hooped salt barrels. Salt off course was used to cure and preserve the pork.
I have enclosed interested reading, scanned from a document produced for a local heritage magazine in Cookstown, by my uncle Ivan (Bell).....sorry about the quality, try enlarging the text! Hopefully it is readable.
Ivan was one of the first employees in the Bacon Factory and had worked his way through the business from the floor, bagging salt to become Sales Manager, retiring in 1985. He sealed the deal with George Best when George became the face of the Cookstown sizzler sausage on a TV advertising campaign. This campaign was a major success and led to a massive increase in the sale of "Cookstown Pork Sausages".
Both my Grandfathers are mentioned in the article....Sammy Allen & James Coulter!
SORRY ABOUT THE BLURRED TEXT!  Showing it for autheniticy reasons!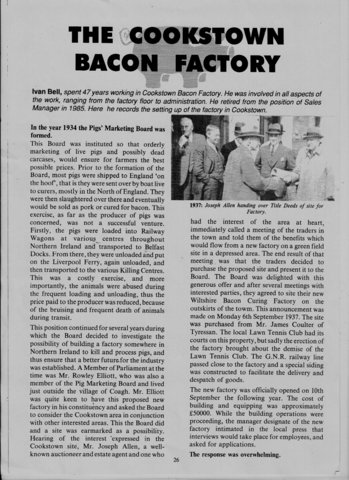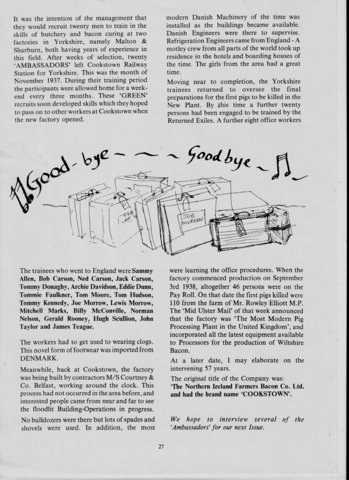 Then, later that year, in August 1958 I started on a new adventure. Cookstown High School, where Mum/Dad paid school fees for my first 2 years. It was arranged that Gertie Hamilton from Festival Park, should take (the late) Gregory Donnelly, from the "houses" and myself on the first day. It was a whole new world and a world that was both nervous and exciting.
After the first week we had become accustomed to the new routines and moving around from classroom to classroom and teacher to teacher. There was a strange feeling of freedom, it was a feeling that suddenly I was growing up. Gregory and I had become good friends. After the first few days we could "speak" a new language, or at least we bluffed a language with my second cousin and good friend, Raymond Millar. Making him believe that this new school was something special…. "cache ca, com a la cache, cache com a la etc etc"
Cookstown High School had special experiences for me. The first days were spent trying to avoid the senior boys, as the induction tradition was to capture the small first timers and "duck" their heads under water taps! They filled wash hand basins with water and held your head under the water. I always fought back and resisted, but remember one Austin Burnett holding on to me and giving me the works!
Being different with my polio walk, I had to deal with this in several ways. I was aware and veRy self conscious. I had a quick temper and would fight with anyone who tried to bully me. One day during my first year, a big chap Ernie Fleming, began teasing me, although he never touched me. One of my class mates, Rainey Cotton, a boy who was big and strong for his age, yet very quiet, didn't like what he saw and laid into Fleming. I didn't witness this brawl, but heard that Cotton didn't lose!
Mr McNeill was the Head Master. A quiet man. There were several teachers I remember well, all for different reasons. Mr Taggart, Mr Christie, Jimmy Rutherford, Stevie, Miss Tracey(Vera), a raunchy Miss Robinson with the legs, Miss Millar, Mr Howell (sleepy Sam!),later Mr Marsh, Mr Haire, Mr McCann, the bohemian art teacher, Eddie Crossan, just out of college and off course Campbell Cooper, with the Hitler type short moustache!
Taggart was a short tempered and aggressive man. I don't recall if he was a good teacher or not!? I was always afraid when I knew we were having history. One never knew his mood, more often than not he would be angry, and if you didn't "play your cards correctly" you'd get a "clip" across the head. On one occasion, the whole school was kept in for detention. Something "unlawful" had happening within the school grounds and no-one "owned up" to the "crime". We were collectively punished. Whether Taggart suspected Edgar Hutton or not, but I can remember Taggart breaking a metre stick over Edgar's back!
I liked the geography teachers Christie and later Rutherford. In Rutherfords classroom, nr 6, I sat beside Raymond Harkness. We were well into football. I ManU and Raymond, Everton. It was in this class when Jimmy R would be busy drawing maps on the chalk board or writing a lot of text, we would get out our football documentation, whatever it was, and discuss the happenings with our teams etc.
Occasionally we could be "disruptive" behind Jimmy's back! Eg...I would thump myself and speak out loudly, "Harkness, stop that!" Unfortunately for me, one day Head Master Cooper was standing outside nr 6 and was looking through the little glass window in the door. He observed the goings on and asked to speak to Allen!
OOPS!!!!!. I knew exactly! Once he got me outside the door it was biff bang wallop, mostly around the head, face and arms. I returned to the lesson, feeling shaken up, but had become a kind of hero! (at least I felt that!) To be beaten up by Cooper was every boys fear, and quite a few of us sampled his wrath. He was trying to instill discipline into the new school system since he took over, but he was a true bully, a man with no respect. He may have been a good teacher, some have said so, but I never got anything from him, except a few beatings.
Another beating was inflicted upon myself and Gregory. One day, as we cycled back to school after being at home for lunch, we committed a serious offence, particularly as a new regime of rules had been introduced that morning in assembly! We rode across the edge of the "hard pitch" (a new all weather land hockey pitch). Cycling within school grounds was strictly forbidden, as and from that morning! We had obviously not been listening to his ramblings in the morning assembly. I remember well, Cooper appeared at the door of the assembly hall, where we were in a French class with the wee man Haire (a teacher I liked). He asked to speak to Donnelly and Allen. One of the teachers or prefects on corridor duty had seen us riding our bikes! It was the rubber tube treatment……we knew as soon as Cooper opened his mouth what was going to happen. Scared?.....not the word, more like petrified! Don't remember who "went" first, but we got 6 of the best on the backside, from a bicycle tube, with a little air blown into it. I was bent over a chair. Gregory got the same!
Around the same period, Junior Armstrong, was publicly flogged, with the same type of tube, for smoking within school grounds. We pupils were invisible witnesses to this beating. It was at morning assembly, when Junior was brought up on to the stage. The pupils, I suppose around 200 of us, were then asked to turn our backs and the flogging started. I think he got 10 of the best Cooper could give.
Yet another incident, featured my good friend Sydney Bradley. In a maths class one day, in the classroom beside Coopers office, we were answering (trying) questions set by Cooper. You had to stand up to answer! Syd was asked something, and couldn't answer (and he was probably the best at maths in our class, which otherwise, academically was not of the highest standard!). He was then told to proceed to the blackboard at the front of the room. By now Syd was being made a laughing stock and he decided to react against Cooper. It was when Cooper told Syd to take a run race and bang his head against the board that Syd turned round to him and said "I'll do no such thing!" (or similar). Cooper caught him by the lapel, frog marched him to the door and kicked him out, only for Syd to turn round (if it was to hit back at Cooper remains Syds secret) and get the kick in the groin region.
One talks about forgiveness towards your enemy, or turn the other cheek. Never, never can I forgive this man Cooper…..for the fear he engendered into the children at CHS, and for his bullying methods to enforce his regime. The old Irish saying that "children were only to be seen and not heard" had a real evangelist in JC.Cooper I always felt sorry for his wife and children….they were nice people.
Enough about Cooper. One positive relationship I had was with Stevie (Mr Stevenson). We had him for a short period in physics. This class was taken over by Fred Crossan. Now in this class, in the old physics lab, downstairs, we had fun for a period of time.
Crossan was new, just out of College and had great problems keeping us boys disciplined. Whilst he was writing formulae etc on the board we boys would play football with the calorimeter covers, taken from a shelf at the rear of the lab. I would be goalkeeper and the Harkness twins, Billy Barbour, Cecil Hewitt would shoot at me. I was diving all over the place. Poor old Crossan just kept on writing with his back turned. We would also shoot paper pellets at him with elastic bands. We never aimed at his person, but we did hit the board on many occasions.
Miss "Vera Tracey" was our French teacher for a period. If you got on the wrong side of her, which I did on quite a few occasions she would catch the hair on your temple and pull….forcing you out of the seat!
At 13, I sat the Review exam and was successful, meaning that Mum/Dad didn't have to pay for my remaining 2 years.
One new teacher I remember well……for her good looks and legs. This was her first job, French and English. She wore a short skirt, sat on the table at the front of the class, with her legs crossed……what a kick we 13 year old boys got and even more!
I also took part in the annual Sports Day, the year before I finished Cookstown HS, ie 1963, representing Loy House. The other house was Derryloran. Stevie was also the PE teacher who was the gaffer and main organiser. I had practised high jumping and found a special technique, which got me over good heights…..running straight at the bar and using the massive strength I had in my left (the "good" leg!) leg, to lift off. I still have no idea where the weak leg was positioned….perhaps folded up underneath me, just like the landing gear of a Boeing 737 after take off!?
I entered and to every ones surprise, including myself won the event, at 4feet:6inches. (ca 1.40m), beating my old friend George Barclay, who later became PE teacher at the School!
Another important series of happenings/events for me was travelling with the Schools senior hockey team. The bus was usually driven by Billy Rankin. I wrote the match reports and left them to the Mid Ulster's offices each Tuesday. Did the same with the senior cricket team, but these times as 12th man and scorekeeper!
In my last year I was elected a Prefect. This meant that I was given certain duties to perform, to assist the teaching staff. It was an indication that there were leadership qualities within this person.(strange, as I wasn't the brightest of pupils). One of my jobs was corridor duty, making sure that the pupils didn't break any rules and keeping an eye that no one rode their bicycle etc in the school grounds (how the worm hath turned!)
Growing up in Clare has many good memories. I became friends with Evan Connolly, who had a pretty young sister. Evan and I would spend a lot of time riding our bikes over rough ground and having fun especially with the bikes at the Clare Bridge railway embankments, now filled up!
Mentioned earlier were the Colvin boys. Gregory Donnelly was seldom allowed to be out with us boys. His mother was strict and Greg had to do a lot of housework! Raymond Millar and I were also good friends and in the later teenage years we used to chase the girls together. Raymond was usually the more successful.
GRANDPARENTS
Being close to Granny and Granda Allen was a privilege and a security. Granda and Granny Coulter were quite different. I never established a relationship with Granda C. He told me on one occasion not to call him Granda. He never spoke to us directly as children. Whereas Granny Coulter was a lady. She visited us every Friday evening on her way home from town....during the early 60's.
Aunt Mary, prior to her marriage to Willy Hugh Armstrong, made the same visit, before Granny C took it on, after Mary's marriage. Mars bar was the luxury extended to us on these visits. Granny Coulter was Higginson from Gortagilly, ouside Moneymore, towards Magherafelt. The family originated from Moira, Co. Down area, and were traders in livestock, especially horses. Granny worked as a clerk in Belfast. Her brother, Albert was a Banker in Belfast. I have no idea how she met my grandfather*....to be investigated! I believe, if memory serves me correctly from what Mum has told us, that they first meeting was at a wedding!
At Granda and Granny Allen's the families would gather every Sunday afternoon and once per month the Shirlows would visit from Coleraine. This was always fun, when the cousins would get together ie the Allens, Browns, Bells and Shirlows. Mum never attended for the reasons explained earlier. To-day, most of the cousins still have a good and close relationship. Norman (Bell) Alan (Brown) Eileen (Wright) & I have regular communication and meet up on my visits to Cookstown.
Other happenings at Granny & Granda's place!......They had 2 dogs for a long time in my young life. Don, a collie and Tiny a fawn coloured terrier. Tiny was smart! At dinner time, 1pm, the local Bacon Factory horn would blow (steam driven), indicating a break of 1 hour. Tiny would immediately set off, up the lane towards the factory. Granda would appear after a few minutes and Tiny would then start his run to meet and greet! Then at 5pm Granny would take the tea pot outside, to the water tap just across the lane and rinse away the old tea leaves. This was a signal for Tiny and he again would take off up the lane and shortly thereafter Granda would appear and the meetin and Greeting process happened once again!! Lovely memories.
At the side of their house in "our" direction was a byre where I remember a cow. Can remember well, as I stood at the door looking at Granda milking the cow, he would turn the cow's teat in my direction and squirt warm milk hitting me on the face!!
Next to that building was their toilet. It had a bright red door (Post Office red....this was Granda's favourite colour). This was known as a "dry" toilet, where the buckets contents would be buried in a hole dug in the field, on a regular basis. The paper used was newspaper, cut into small detail, with a hole in the corner, where a piece of string was threaded through. Then fixed to the wall at convenient distance from the wooden seat. The bucket was positioned under this wooden seat! This was the same system we had at Sunnydale....from 1951-60!
INTO THE TEEN YEARS
My interest for football and Man U was increasing and my school work suffered greatly. My interest too was increasing for girls. There was Dorothy Bayne, Carol Robinson and a few others. Raymond Millar and I were competitors to attract Carol. Raymond won hands down.
One night there was a Christmas Church party at Molesworth Church. Raymond was getting on too well with Carol, so I took to a few illegal tactics. One example was sliding a chair in front of them during a game. Both of them fell over. No injuries. George Andersson spoke sternly to me. I left the party and made my way up town with Sydney Bradley and hid up Heaney's entry, waiting for them. Raymond was walking her home, as one did in those days! As they approached I made a ghostly sound and as it was a dark entry poor Carol got the fright of her life. I suppose this was the first time I had to deal with jealously, and I didn't make a good job of it!
I attended Cookstown Methodist Church Sunday School and supposed to be learning the catechism. Never did, just read the answers from the booklet every Sunday, holding the catechism under the table and reading it ! John McMaster was the teacher. Derek Carter, Brian McKinney (now Australia), the Aspinalls, Lowry Ferguson (still active in that Church) were old SS friends of mine. Derek Carter and I would sit in Church after SS and discuss the hockey match from the day before!
CAMP FOR DISABLED BOYS AT CRAWFORDSBURN, NR BELFAST, ON THE EDGE OF BELFAST LOUGH
Whilst at the High School, I had the great privilege of attending a Disabled Boys Camp at Crawfordsburn, Co. Down, in June, between the years 1958-62, approx. Totally unconnected to School, I was selected somehow. I believe the Social Services were involved, as a Mr Sandy Fields name was on the invitation, which came to our house. He was also member of Cookstown Rotary, and it was the Belfast Rotary Club who organised this camp.
APOLOGISING FOR THE QUALITY OF THE TEXT IN THE ARTICLE BELOW, TAKEN FROM A NEWSPAPER IN THE BELFAST AREA 2013-14?, SENT TO ME BY BRO IN LAW, MAX O'BRIEN.....I HAVE TRANSCRIBED THE TEXT IN ITALICS UNDER!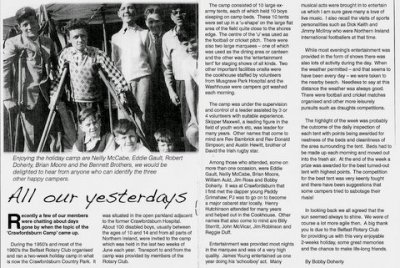 All our yesterdays.
Recently a few of our members were chatting about days gone by when the topic of the Crawfordsburn Camp came up.
During the 1950's and most of the 1960's the Belfast Rotary Club organised and ran a two week holiday camp in what is now Crawfordsburn Country Park. It was situated in open parkland adjacent to the former Crawfordsburn Hospital. About 100 disabled boys, usually between the ages of 10 and 14 and from all parts of Northern Ireland, were invited to the camp which was held in the last 2 weeks of June every year. Transport to and from the camp was provided by members of the Rotary Club.
The camp consisted of 10 large ex army tents, each of which held 10 boys on camp beds. These 10 tents were set up in a U-shape on the large flat area of field quite close to the shore's edge. The centre of the U was used as the football or cricket pitch. There were also 2 large marquees- one of which was used as the dining area or canteen and the other was the "entertainment tent" for staging shows of all kinds. Two othet facilities on site were the cookshouse staffed by volunteers from Musgrave Park Hospital and the washhouse, where the campers got washed each morning.
The camp was under the supervision of a leader and control of a leader assisted by 3-4 volunteers with suitable experience. Skipper (Frank) Maxwell, a leading figure in the field of youth work etc was leader for many years. Other names that come to mind are Rev Bambrick and Rev Donald Simpson and Austin Hewitt brother of David the Irish rugby star (DA: I also remeber Philip Cave).
Among those who attended, some on more that one occasion were Eddie Gault, Neillie McCabe, Brian Moore, William Auld, Jim Ross and Bobby Doherty (DA: Max O'Brien, Des Allen, Mickey Teague, David Parker, David McCandless, Gerry McGirr, Campbell Hemphill, Jim McMillan, brother of former Man Utd & NI star Sammy McMillan). It was at Crawfordsburn I met the dapper young Paddy Grimshaw; PJ was to go on and become a major cabaret star locally. Henry Hutchinson attended for many years and helped out in the Cookshouse. Other names that also come to mind are Billy Sterritt, John McVicar, Jim Robinson and Reggie Duff.
Entertainment was provided most nights in the marquee and was of a very high quality. James Young entertained us one year, doing his "schoolboy" act. Many live musical acts were brought in to entertain us. (DA: a few words in text unclear). I also recall the visits of sporting personalities such as Dick Keith, Alf McMichael and Jimmy McIlroy, who were NIreland international footballers at that time.
While most evening entertainment was provided in the form of shows, there were also lots of activity during the day. When the weather permitted-and that seemed to have been every day-we were taken to the nearby beach. Needless to say, at distance the weather was always good. There were football and cricket matches organised and other more leisurely pusuits organised, such as draughts and table tennis competitions.
The highlight of the week was probably the outcome of the daily inspection of each tent with points awarded for neatness of the beds and cleanliness around the area of the tent. At the end of the week a prixe was awarded for the best turned out tent with the highest points. The competition for the best tent was keenly fought and there have been suggestions that some campers tried to sabotage their rivals.
In looking back we all agreed that the sun seemed always to shine. We were off course a bit more agile then. A big thank you is due to the Belfast Rotary Club for providing us with this very enjoyable 2-week holiday, some great memories and the chance to make life long friends.
By Bobby Doherty 
My memory of the camp corresponds in many details to Bobby Doherty's article above....so please excuse repetition as I had already written my story about the camp before I received the above article.
This camp brought together in the region of 80-100 boys from all walks of life and religion, in NIreland, comprising of army tents and supervised by medical students from Queens University, Belfast. It was a wonderful experience....all types of events were organised, famous personalities from the world of sport would appear. I remember Dick Keith, Alf McMichael, NIreland footballers from Newcastle Utd, David and Austin Hewitt, Irish international rugby players.
Each morning we would have bedside inspection, when everything should be in order and there was a prize at the end of each week for the best tent! I won a table tennis competition and got an empty autograph book as prize. One of the years I met and became friendly with a boy called Jim McMillan. Jim's brother Sammy played for Man Utd and NIreland. I gave him my autograph book and Sammy organised all the big stars at Utd to sign. Denis Law, Billy Foulkes, John Giles, Noel Cantwell, Shay Brennan, Tony Dunne, Wilf McGuiness, Bobby Charlton, Maurice Setters, David Herd, Jimmy Nicholson (NI), Sammy McMillan (NI) plus a few others! This was just before the George Best era!
COOKSTOWN HIGH SCHOOL 2
The incidents described above are not in any chronological order, but just a collection of memories from my days at Cookstown High School. In my final year, 1964, Feb/March I was struck with jaundice. Absent from school for about 6 weeks and lost all interest in everything. Got into a state of depression. Remember well my Aunt Eileen coming to visit me and she talked reassuringly to me and encouraged me in every way. It was a breakthrough, because I remember feeling better afterwards. I gradually improved, regained some self confidence, went out to meet friends, at least across the road at "the houses". But was still very worried about how much I had missed at school. We were approaching the mock exams for the "o" levels. I was unsuccessful in these exams and failed all "o" levels in the June 1964 exams!
I remember well telling Mum and Dad. They had been on a day out to Portrush with Yvonne. It was early August. I was "hanging" around Candy Corner, Moneymore Rd corner with Syd Bradley and I'm sure a few girls were also present….eg Heather McMullan, Millie Suitor, Hazel Maxwell. That evening I saw them as they approached the Moneymore Rd corner, from the Moneymore direction. I waved them down and told them…..don't remember the reaction. However I guess one of disappointment. The Candy Corner was a shop selling confectionary and newspapers. The McMullan family ran it. They had daughters, Heather and Lorraine (although Lorraine was just a small child during this period). Millie Suitor lived a little further up on Millburn St and Hazel Maxwell lived further down the Lissan Rd. There were quite a few visits down the old factory lane, just off Millburn St and only about 50m from the shop. Sydney had inherited his uncle Bob's Honda 50 scooter. This ferried us around for a couple of years, until we were the age for the driving licence!
Left school without any formal qualifications!
MY MUSICAL TASTES....NOT YET WRITTEN!!
LOOKING FOR A JOB!
During that incoming summer I applied for 2 jobs advertised in the Mid Ulster Mail newspaper. One I knew about before hand. Mr Cecil Purdy was the Editor (and also a member of the local Methodist Church) and as I had written all the school hockey team reports for that newspaper, for 2 seasons, he advised me to apply. I did and was offered the position as Trainee Journalist, without an interview! (here it was a question of who you knew NOT what you knew!!)
However, I also applied for the post of Trainee Architectural Technician with W&M Given, Molesworth St., who had their HQ in Coleraine. That sounded good because that's where my cousin Eileen Shirlow lived. Had a secret dream to be an Architect, but knew that my schooling/education was not at such a level to realise that, until this ad appeared? Was called to interview with John Anderson. Was offered the job!
Had just left school in June, no qualifications and 2 job offers within a month!!?
I started shortly afterwards with Givens, in August of 1964. Starting salary was GBP13 per month. Prior to that parents would have had to pay an Architect to allow the trainee to enter employment in this way. There was a lot of status in this kind of work, and to come in the "back door" in the earlier years was the only way. It was only during the early 1960's that this all changed. Working with John Anderson and Malcolm Shaw was to become the beginning of an exciting adventure within the whole build sector, for years to come. It should be pointed out that I built numerous wooden huts etc around our house at Clare and on one occasion Evan Connelly (who later became a fully qualified Architect!) and I, dragged a lot of timber, nails etc to a tree about 200m from home, at the bottom of Coulters field, next to our own field. We climbed that tree and built a tree hut!
I learnt a lot in these years, 1964-67. Began drawing houses, training to be a draftsman and also chain man on surveys.
CHRISTMAS, REFEREEING LAND HOCKEY, GROUSE DOG
At this stage in my story I'll talk a little about other events such as celebrating Christmas and hockey (land) refereeing.
Our Christmas's were just like any other family. During the 1950's when Santa Claus was a reality for Yvonne and me, we would usually visit Cookstown the week before Christmas. For several years Santa would visit a shop, Milligans, Molesworth St, "fornenst" Union St. I remember on one occasion when Yvonne a little girl, Mum and I, visited this shop.. Yvonne wasn't too happy about sitting on Santa's knee.....she jumped from his knee and ran out of the shop, down Molesworth St. We soon caught up with her! Other memories....... getting a beautiful Ingersoll watch......a "Palm Beach" bicycle.
There were always decorations and some kind of Christmas tree. Christmas dinners were simple, but had all the trimmings. I would always visit the Brown family, cousins, across the road and play...... Jennifer and Alan. In the early 50's Jennifer was a toddler, Alan was born in the mid 50's and Eric in the late 50's. Naturally a visit to Granny & Granda Allen across the field, to show off the newly acquired toys/present.
One incident with Grouse Dog I remember very well. I would walk with him over "the hills"...Granda Coulter's land behind Doris's.....and usually end up at Granny/Granda Allen's. One particular day Grouse & I walked past the "plantin'" a little forest, with an old quarry opening behind the trees. Granny had a hen house located there and I looked into the nesting boxes and saw quite a lot of newly laid eggs. Thought to myself, "I'll give Grouse one or two!" Ended up by breaking quite a few and feeding to the dog, leaving a lot of broken egg shells! Then went into Granny's as if nothing happened. Later that evening at home Dad confronted me with a question, if I saw anyone breaking eggs earlier that day, at the edge of the plantin'? My answer was "no, but I did see a ghost running back into the trees when we were walking past!! Put your detective brain into action and you get all the answers, except motive!
DECISION
In late 1964 I attended a Christian campaign, run by an organisation known as NYLC (National Young Life Campaign) under the leadership of a certain Michael Fleming. I made a commitment of faith, in the ways I had heard about from childhood, through my grandmother and the church, so it was quite a natural step. However I rebelled at being told things that I should and should not do. I felt that I was now almost an adult and was strong enough to make my own decisions. To give up my interest in football I would never entertain, and going to the cinema, well that was a hellhole...."you can't be a Christian and go to such places!!", is a quote I would hear quite often. However I decided to follow my own intuition and that's the way it has been ever since!
I attended a Convention in Bangor in 1966, as well as travelling to a Youth Camp in Kilcreggan, outside Glasgow, in 1966 and 67. As a result of inputs at these gatherings, I felt a call/urge to go to a Training College in Edinburgh and prepare myself for some kind of Christian work. To work with young and underprivileged peoples somewhere in the world. This was not received well at home, especially by Mum…..it was very difficult and Mum told me shortly before I left for the College in Edinburgh that, "I needn't come home again!"
BIBLE COLLEGE, EDINBURGH
October, 1967 I began studies at the Faith Mission Bible College in Edinburgh, Scotland. Travelling with a few other young people by boat to Stranraer and on to Edinburgh by bus and train. The beginning of yet another adventure. I had just turned 20!
We lived in and did practical work around the college. Tommy McGlade was my first group leader and he was my rock for those first months. Tommy was a friend from Cookstown who had already been in the College for a year. We had lectures in the morning, supervised study in the afternoon, and evenings were usually organised with something to do or somewhere to go. Wednesday evenings we would walk to Charlotte Chapel, in Edinburgh. Remember well one Wednesday evening when the great Man Utd team with Best, Law, Charlton were playing the Final of the European Cup against Benefica. My dilemma was that most of the match would be played during the Bible teaching and prayer session, so how would I hear? Fortunately the meeting finished reasonably early that evening and as we walked back to the residences at Ravelston I produced my transistor radio, which I had carried inside my overcoat pocket. I listened, on my own, to the later stages of the second half. For those who remember, the match was very close, when the great George Best, put ManU in front, with a wonder goal. I cheered loudly and was the last in to supper that night.
I was still wrestling with the horrible threat that Mum never wanted me home again. Nevertheless I wrote letters home every week and got responses back from both Mum and Dad. The atmosphere seemed to have loosened up, at least as I could "read between the lines".
Incidentally we had to pay our own way through college. We were supported by private individuals who belonged to the Faith Mission Prayer Unions and others. As I had a little surplus cash over I decided to come home to Cookstown for the mid term week-end....during the first term. This was a good move. I wrote to Syd Bradley, and he collected me from the boat at Larne and I arrived at Clare some time late evening, at the end of October 1967. Completely unannounced I knocked the front door and don't remember who opened it, but I do remember I returned to Edinburgh a few days later, with a major burden lifted from my shoulders. Mum had now accepted that this is what I wanted to do. She was fully supportive of all that I did from that time onward.
There was another major upset for her and Dad to cope with some 5 years down the line!
At the College, the week-ends...... Saturday afternoons we would do door to door visitation. Distributing Christian literature. I usually went to South Queensferry or Morrison St in Edinburgh.....I remember this street particularly because it was blocks of flats and there were hundred's of steps to climb. I got through those days without much complaint. Once per month, on a Saturday night we would do pub visiting, mainly Leith Walk and London Rd., where every other building was a pub! Every Sunday evening we would walk to the Mound, Princes St. It was like Speakers Corner, where you would stand up on a soap box and preach and be prepared to answer questions from the crowd, who had gathered around. Heckling was rife and it was hard work. Then when you had finished preaching you would get down from the box, move out to the peripheral of the crowd and deal with some of the hecklers, by trying to answer their questions on a personal level.
VIETNAM
One incident I remember well and it was repeated on several occasions. I was confronted by someone on the question of Gods great love in the light of the Vietnam war. Especially relevant was the photograph of the little naked girl on fire, running away from a chemical fire bomb.
That photo had touched the hearts of millions. I could not answer the question and still haven't any answers!. In fact my questioning of the innocent being caught up in conflict and suffering is still to the fore, as I will discuss later.
A TYPICAL DAY AT THE COLLEGE & TRAINING HOME.
Alarm 7am, wash and "quiet time". Breakfast at 8. Duties from ca 8:45 -9:30....ie peeling potatoes, gardening, window cleaning, laundry, dusting, cleaning, kitchen work including baking (scones were my favourite) Lectures commenced 10 am-12:30. Lunch at 1. Rest until 2:30. Study under supervision by a 2nd year group leader (which I became year 2!) until 4:30. There was a bath schedule each week day from 4:30-5:30. Tea at 5:30. Supervised study again 7-9pm  
There was also a table etiquette to be followed daily. Visualise a rectangular table seating 6 persons, in a dining room of 6 tables.....a staff member would sit at the end nearest the kitchen...a group leader at the other end. The other 4 places occupied by students. The males would address the females as "Miss" and the females the males as "Brother" Allen etc. The staff member would serve the food assisted at the other end by the group leader. Food was carried in by kitchen staff, (given to the staff member/group leader for serving). The kitchen staff included students who were delegated kitchen duty for that day/week! Food was then dished out at the table by the staff member and the group leader, without moving from their seat. Each student had to "look after" their fellow student sitting on their left, ie if they wanted more. That didn't always work, so we had a "secret" foot tap system, where if you forgot to serve your student colleague to your left you would be reminded by a tapping of the foot under the table. Off course this was used in fun some time, especially if one of the lads fancied one of the girls at that particular table. I know of at least one couple who met at the College during my time and a few years later were married! It could be worked out who "fancied" who, by the table sittings!
Food was based on a 2 weekly menu system and there were no choices. The student had to eat that which was served. I remember a good friend of mine from Dungannon hated cheese sauce on toast. It made him sick....but he was not offered an alternative. The principle here was that when you as a student are out in "the work" and offered food by a kind family or individual and was not to your taste....it was manners to eat all in any case, to show ones gratitude!
Supervised study again 7-9pm
The period in the College would be 2 years. So at the end of the first year you are allocated a location somewhere in the British Isles, where you would be selected to spend up to 2 months to evangelise, in various forms. Preaching, individual outreach, beach work etc. We worked in teams of 2-4.
OUTREACH LOCATIONS IN FIFE, SCOTLAND
My first location was Kinghorn and Crombie, in Fife, Scotland, in the summer of 1968. Kinghorn was beach work and Crombie was in a Church. I was teamed with Jackie Weinburg and 3 others. Jackie was a refugee from the Congo. He was a good musican and a charismatic personality. On the beach we had games in the morning and a sing song in the afternoon with an epilogue to end with (ie a sermon to be preached) I enjoyed the fun with the children. Moved on to Crombie for the month of August. Received a great welcome. Met some fantastic people, Penman's, Smith's, Wyse's, Brown's and lots of lovely children, whom I'll never forget.
One event in particular, I'll NEVER forget........
We were in the 3rd week of this Youth Campaign in Crombie, nr Dunfermline. After doing some home visitation, the daughter of the family whom we were staying with,Liz Penman informed me that somebody wanted to see me at the Petrol station, just a few hundred yards up the road.
Who was standing on the forecourt if not my Dad, Uncle Sandy Brown and Uncle Ivan Bell!! The following days proved to be an astonishing time with the Fife friends, and with one young man in particular, who had a sad but very wonderful story. Jackie Weinberg, rescued from the old Belgian Congo in the early 60's, and who became a dynamic youth worker and musican. I had the great pleasure of working with him during this summer's activities.
The Smiths and Penmans have now gone (2009). However the Penman son, David, lives in Desertmartin, NIreland and worked in Cookstown for some time (he was then a small boy of 8-9 years old). The Penman daughter, Liz, lives in Glasgow, married to John Bathgate with a grown up family with grandchildren (she was 12-13 years old when we first met). We exchange Christmas cards. Their cousin Ruth Wyse lived in Dunfermline and was about a year older than Liz. That was 1968. We returned to Kinghorn in 1969 as well as Burntisland, a resort a few miles south.
These were 2 very important years in my life. A major step in my own independence, a link with the outside work and learning to deal with disputes and problems. They were also happy years, although some of the chores one had to do were not so very inspiring. Impressions were certainly made, as were friends. One of these friends was very supportive of me, financially and home visits to his place on free days, which in fact was Friday afternoons until 10pm! Leslie still living in Fife is still a close friend, although there is not so much contact these days. (He visited us in Springwell and once every year in Sweden for the first 15 years!)
SARAH ELIZABETH O'BRIEN
Met Liz, now my wife, in September 1968, just as she was about to start social studies at Trinity College, Dublin. I was halfway through my 2 year stint in Edinbugh.
Cousin Eileen Wright, then Shirlow, and I had corresponded regularly while I was in Edinburgh (1967-69) Just before I came home for my end of year break, ie September (1968), Eileen wrote, suggesting I visit her at 125 Millburn Rd, Coleraine (the Shirlows home) to meet a friend of hers. This friend was a sister of her former boy friend, Danny O'Brien. At this time I was dating another girl from Ballymoney, Helen, whom I had met at a holiday camp, Kilcreggan, west of Glasgow, the year before, 1966. Early that September I visited Helen in Ballymoney…..that was a Wednesday evening. On the Friday evening I travelled (in Dad's car...Dad was kind on all occasions when I asked to borrow the car. I don't ever remember him saying no!) to Coleraine and into 125 Millburn Rd. Sure enough Elizabeth O'Brien was there and Eileen informed us that we were going out, to Morelli's in Portstewart for a meal and that she was paying for it, out of her Stranmillis College grant. However as told by Liz later, she thought I was the boarder who stayed at Shirlows. At this time Eileen was studying to become a teacher.
We travelled with Eileen and her boy friend, Ozzae Wright, (my first ever encounter with Oz) her cousin Lorraine, her boy friend and Elizabeth to Portstewart! Don't remember much......but do remember getting nervous towards the end of the gathering at Morelli's, 'cause the idea was that I should leave Elizabeth home. We had all travelled in the one car to Pstewart, so when we reached Shirlow's I "volunteered" to drive Elizabeth home!
Remember asking her if she had anything against me calling her Liz!!! (this was because I had made such a good contact in Scotland with the Penman family whose 12 year old daughter was called Liz!!) Asked to meet her the next evening!.....thus the beginning of a long, very long journey, which is still ongoing (Sept 2012)....... We met several times during that September, until I had to return to Edinburgh, and Liz commenced her Social Studies at Trinity College, Dublin!
We wrote to each other regularly, weekly basis....most of these letters have been saved and are in a box safely packed away, by Liz. One of the conditions as a student at the Training Home was that one should not have an on going boy/girl friend! On one occasion the Matron of the Home, Miss Kirkwood asked me to her office one morning as I collected my post. She confronted me about a regular letter with the same hand writing. I answered that I got a lot of regular letters from a lot of friends and family. Perhaps it was the x's on the back of the envelope!!? She was a good and gracious lady, but strict.
Finished my studies in Edinburgh in June 1969. Did summer beach work with children and teenagers in Burntisland, Fife and Kinghorn, Scotland again....most of those kiddies are now (2012) in their late 40's /early 50's. Still remember many of their names....Karen, Ruth+ little sister, who had just lost their Mum and Frances, a live wire from Glasgow!  And off course there were the older teenage girls, mainly from Kirkcaldy and Glenrothes! I was told by senior members of staff that I was getting too friendly with this age group.....the girls were pretty and flirty!
THE METHODIST CHURCH
There was a vacancy in the Dungannon Methodist Church for Youth Leader and Circuit Evangelist. I had thoughts of joining the Church as a Minister. Asked the Principal of the Faith Mission Colleger, Rev Ken Buchanan for a reference. He wasn't very helpful, nor forthcoming. I did get a reference.....but it carried one or two statements which weren't complimentary "As far as I know he is without reproach........etc". Maybe it's because I was talking to his lovely daughter on occasions. She was beautiful....! I applied for the post in Dungannon, was called for interview, before I started the College's Summer activities, in late June 1969.
August,1969 I joined the Irish Methodist Church, in Dungannon, as Circuit Youth Leader and Evangelist, for one year. Rev Jim Greenaway was the senior minister. A good, strict man whom I got on with very well. We shared 5 churches on the Dungannon circuit. We shared Sunday services. One Sunday he would take three and I two. Reversed the following Sunday. Liz would occasionally be with me.
At some of the services only a handful of members would attend, eg Stewartstown. and Ballykelly/Coalisland. On one occasion at this location, the little stove in the centre of the church, was burning coal, creating a lot of heat. It was an afternoon service and a lot of food digesting was taking place. About 7 or 8 in attendance, including Liz. I observed her hat falling off as her head "fell" backwards.....she woke with a jolt, and it took a lot for me not to burst out in laughter, although I do remember smiling! Several times during that year, at this same Church, a man would "nod off" and I would "accidentally" drop a hymn book on the floor and he would wake up with a jolt. Was I getting my message through?....I doubt it!
In the early weeks in Dungannon I stayed with a lady member of the congregation. She had a son living in and he was quite aggressive towards her, which I heard many times. This accommodation became unbearable and lonely, particularly as I was being served the same lunch almost every day....Irish stew and potatoes. Nice at the beginning, but into the third week I was getting "scundered". I talked it over with Dad and Mum and then with the minister. I decided to move home to Clare and use that as my base.
Only because Dad organised a car! In the autumn of that year, when I returned home one evening ( I suppose I was driving his car at that stage!) he ushered me to the side of the house (kitchen window side) where there was a little Austin A35 sitting. He informed me that he and Mum had bought this for my Church work. What a shock, my very own car! When Liz saw the car she immediately christened it "Dolores"!
This was a year of rich experience in many ways. Learning to deal with people in many different circumstances....births, deaths, tragedy, conflict.
Home visiting and the youth work were the highlights. On the youth front I "coached" the boys football, at Killyman Methodist Youth Club once a week and we got to the NIreland Youth Club finals, only to be closely defeated in the Final! I do remember it was a bitter pill to swallow!
This gave me a lot of inspiration to work with youth in this way....... However Liz and I didn't really know at this stage if we would be spending the rest of our lives together. We had feelings for each other....at least I had!!? Liz felt that she was to follow her career as a Social worker. I was unsure about "the ministry"......... At Christmas we decided to "take things easy" and not meet again, until we knew what we wanted to do with our lives.....a difficult step, but necessary!
At a service in the main church in Dungannon,during that period of separation, I had a strange experience, one Sunday morning, late winter, possibly February/March 1970. The sermon which I had prepared, did not flow and I found the presentation to be almost impossible. For whatever reason I wandered off into a scripture reading in 1Chronicles and here found a couple of verses which were to confirm to me that I would not be spending my future in NIreland! Was this some kind of signal from somewhere? I don't know if the members were aware of the struggle I had delivering the sermon that day!?
This was something I had to share with Liz.....at this stage we hadn't had any contact for about two months.
ANOTHER DECISION!
In March 1970 I phoned her and talked about my experience. She also said that she had some indicators about her future. We decided to meet! She was in Dublin and I in Dungannon.
Without informing the minister, my boss, I organised that a young minister whom I knew would relieve me of my week-end duties, which was the Children's Day services at Killyman Methodist. Dad loaned me his car and off I went to Dublin and had a good week-end with Liz.
When I got home on the Monday, Jim Greenaway phoned and asked for an explanation. I had to make my way to his home in Dungannon and explain....which I did and told him that we had got engaged!
Going back to that week-end in Dublin.... We talked and talked at Liz's digs in Rathfarnham and talked as we walked around the city. We now had enough "confirmation" convincing us that we should spend our lives together. In the early hours of 16 March 1970, with Liz on my knee, we decided to "get engaged", in Stanley and Doreen Bolton's (landlord/lady) kitchen! One decision in life I have NEVER regretted!
I continued in Dungannon until end of June, 1970. Liz graduated from Trinity in May 1970.
During the period of time Liz and I were "dating" we didn't spend all that much time in Coleraine, (as I was in Edinburgh/Dungannon and Liz in Dublin, so there was a lot of letter writing and the occasional phone call from a tele kiosk in Ravelston Dykes, Edinburgh).
MOVE TO COLERAINE & RETURN TO W&M GIVEN
Contacted W&M Given, Architects, my former employers at their HQ in Coleraine, if I could rejoin and also get a day release and attend night classes, in order to get some kind of qualification. They accepted me and I accepted their salary of GBP70 a month. The beginning of a new life, in my favourite town and close to Liz.
August, 1970 I returned to Givens, in Coleraine, NIreland. Moved into the O'Brien family home, sharing a room with Max! Living in with the O'Brien family was a special experience and a chance to get to know the family at close range! Liz's Dad, Peter was indeed unique. I met him a few years after he had a stroke, he had become inactive so he was quite weak, but very alert. I didn't really know how to interact, but we soon found a lot of common ground.... amongst other things football was high on the agenda! 
Now that was something special...sharing a bedroom with Max O'Brien....a lot of "strange"noises prevented me from sleeping much. When Liz and I were out at the week-ends and would come home late, late, or perhaps early in the morning, Peter was always up waiting for us and for the craic. He would "rustle" up the fire embers and start a craic, a cup of tea and coffees would be made. This would maybe last for an hour, then Max would appear, or Margaret coming in after being out with Derek.
Those are good memories and you understand why I have such a good relationship with Max and Margaret to-day. Danny and Peter were in London at this stage, so no contact with them!
I experienced too a wonderful woman in the mother as father Peter would affectionately call her. Lizzie O'Brien. She served everybody, was a kind soul and nothing was ever too much for her family and the family's friends. I was always very impressed by her ability to lift hot saucepans, lids, frying pans without burning herself. I'm sure she did burn herself on many occasions, but she counteracted this by continually making a hissing sound as she lifted these hot elements.
MARRIAGE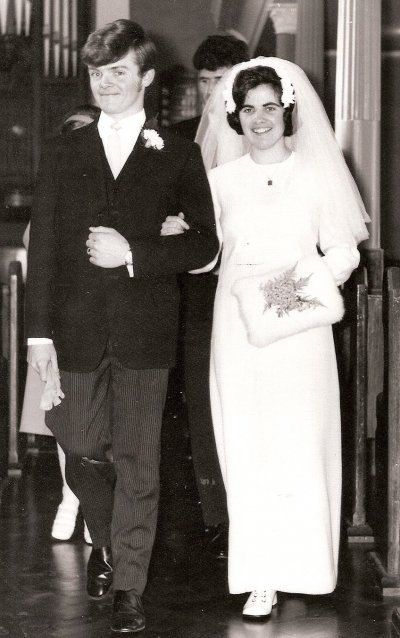 Liz and I were married in Coleraine February 24 1971, when we only had cousins (ca 40 persons) as guests at the wedding, as well as Granny Allen!
Our new home was a cold forestry bungalow at Springwell Forest, Macosquin, Coleraine.....(the bungalow featured in this link is in the same cul de sac where we lived. It's a neighbouring bungalow, perhaps even this very bungalow!!) It may have been cold, but at GBP13/month it was our home! As already stated I was earning GBP70/month, and Liz in the region of GBP120.
YOUTH WORK IN COLERAINE
During my period living in at the O'Brien's and after our marriage in Springwell, I got involved with the New Row Youth Club, Coleraine. Founded by Dr Holley to get the youth off the sreets of Coleraine. Liz had already been active with John Humphreys, Norman Lynas (Lynas Frozen Foods) Tom Hamilton (Bishops Shoes) and had built up an active Club. These leaders were a collection of young people with a common goal....to offer the youth of Coleraine a place to go to at the week ends. This time period, end of the 1960's also saw the early stages of the New University of Ulster, just being established in Coleraine...commonly known as the NUU. Later it became the University of Ulster, where Liz's brother Max became actively involved at Board and Faculty level.
Some of these young people... Jackie Dunlop, his girl friend Sandra, later to become his wife... Billy Doey, who later spent time in South America, returning to England to become a Paster in the Oxford area, were to be a great help for us as we emptied our home at Springwell, Coleraine, and packed our Ford Escort for that unforgettable trip to Huskvarna, Sweden, August 1973! Billy's brother John, still living in Coleraine is still one of our most loyal friends!
I worked with John Burke, Andy McGarry, Willie McKeown, Paul Ahern, Norman Rowe (Portstewart), Ted Hartin. Willie McCart was Clerk of Works and I would travel with him occasionally to the sites. Owners/bosses: Malcolm McQuigg, FW Honeywell (Fred), Desmond Pollock, David Wilson, Robin Smyth.
I spent most of my time with the design and construction of Milking Parlours! Also did drawings for houses at Sunset Ridge, Portstewart for Willy Taylor.
Began day release and evening class studies on building Construction. Also became Licientate Member of the Institute of Building. I continued with day release and evening classes until 2 months before departing for Sweden, in 1973. I gained my technical qualification... "City & Guilds, London, Construction Technicians Certificate" After Liz's graduation from Trinity College, she began working in Limavady as a Social Worker, in the Largy and Dungiven and other districts in that neighbourhood.
STEVEN
We were so very happy when it was confirmed in May, 1971 that we were expecting our first baby.
Steven was born in the Route Hospital, Ballymoney on 22 February, 1972.
Our life in Springwell was very happy. I got a lift to work every day with a man who worked in County Hall, Coleraine Billy Caldwell, Limavady, drove a Triumph Herald and this was my lift for 2 years to/from work.
We had bought a car from Sandy Boyce (Liz's sister Chrissie's husband) for GBP 400, an Austin 1100, wine colour. My Dad loaned/LINK the money and it  was duly repaid after a period of time and before we left for Sweden, August 1973! Liz used the car for her work, in the Limavady/Dungiven areas.
We had fantastic neighbours at Springwell, in the Cummings family, who lived right next to us. During the winter months Mrs C would have lit the fire, meaning that the home was warm when we arrived in the evenings. They had a big family. One of the children, Caroline, 7 years old, would come to us in the evening after we had eaten, knocked the back door asking "are yis finnnissshed yit?"
About once per month, Mum and Dad would visit us. They would bring shopping and other goodies. Mum never took her coat off and would sit on the edge of the soffa until they left again. Stayed max 3 hours. Actually the coat would come off after we forced her to do so!! Granny O'Brien would also visit us. We would bring her out and leave her home again. She loved to potter in the garden, where we had a small vegetable patch.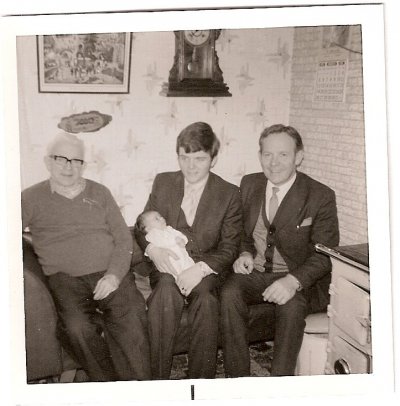 Granda Allen, Des with Steven, Dad....just a  few weeks after the birth
Another regular visitor was Billy McNeill. an epileptic single man....small in stature, kind hearted and very helpful. He was an O'Brien friend and loved spending time with us. He would take Steven in the pram and go for walks, mainly across the road and up the laneway opposite our the estate entrance. Billy also helped me for the two years we had hired a turf bank. We cut the turf in the early spring, stack them for drying and then in the late summer would bring them home and stack them at the rear of our home with a tarpaulin cover. That would be our firing for the winter months.
MARK
Events leading to Mark's birth on 8th January 1973 were not the happiest. We had already made our decision to move to Sweden in August of that year. More details on this decision can be found under the heading...SWEDEN
Liz, baby Steven and I stayed over at the O'Brien home in Churchlands Rd during the Christmas 1972/New Year period. This was due to a flu bug which Liz and her Mum were suffering, so we thought it best to stay in Churchlands. A few days later we moved back to Springwell, but Liz had not recovered.
Dr Meharg, Castlerock, visited after Liz developed an earache. He recommended a tablet be taken only if the pain got worse....which it did during the night of 6/7 January. Some hours later in the early morning of 7 January, the waters broke and the baby was now informing us it was time to move.
I borrowed Jimmy Neil's car to drive Liz to Ballymoney. We had sold our Austin 1100 and were waiting delivery of the Ford Escort Estate, export edition, which would take us, 7 months later to Huskvarna, Sweden
The baby was not expected for another 3 weeks, so our time scheduling was now upside down! After leaving Liz in the Hospital I returned to work. In the evening I visited Liz again. She was in labour. I didn't stay very long and returned to Churchlands where Steven and I wer back staying.....Just as I was about to go to work the next morning a phone call came to Churchlands informing me that I had become the father of a baby boy. Two boys within ten and a half months!
I immediately travelled to the Hospital, ca 12 km, the Route Hospital, Ballymoney, leaving Steven with Granny O'Brien. The baby was born about 2 hours after I had left the evening before! Liz's choice was not to inform me until the morning.
GRANNY O'BRIEN
Two days later Granny O'Brien was rushed to hospital with a severe angina attack. She died shortly after being admitted. I will never forget my journey to Ballymoney to tell Liz that her dear Mum had died.
Liz got home for the funeral, 2 days later. We had decided that the baby should be called Michael. However we talked it through, as Granny O'Brien had said earlier that Mark was a nice boys name....so we changed to Mark. To this day we associate Mark's name with Granny O'Brien. He also got John, (John Mark) as that was a recurring name in the Allen connection from earlier years.
Having 2 babies, planning for Sweden, my job, the Youth work etc meant that our lives were very busy on the run up to our departure in August. Dealing with our decision to move to Sweden wasn't easy especially on our visits to Cookstown. However we were united in that decision and we lived with that leading up to departure.
FORD ESCORT
In February we had taken delivery of our new Ford Escort Estate OGF 577L. The first week of August was spent emptying our first home in Springwell and packing the Escort. AS mentioned before we had great help from some of the young people from the Youth Club.
We packed the boot, the roof rack and the back seat, just leaving enough space for Steven's Britax car seat. The floor at the back seat was also packed as was underneath the seats. Mark was to sit on Liz's knee for the whole journey!
THE TRIP TO SWEDEN CONTINUES UNDER THE HEADING ON THE NAVIGATION PANEL SWEDEN