American Connection

Des and Liz Allen have now visited New Jersey, Delaware, Pennsylvania and Chicago in July 2013!
We have had an astonishing time....the families have been so hospitable and friendly and we were treated like VIP's. Adjustments and ammendments will be made to this section, however in the mean time, I have included this Smile Box....a selection of photos highlighting our visit to the ALLEN connection in NJ, DE and PA, with music!!
Personalize a slideshow design
On the ALLEN side of our family, the American connection began, as I thought, when I heard my father speaking about his father, my grandfather Sam's visit to his sister Mary , her dates being 1904-74, in the early 1920's.
(However when you read on you will find that this theory changed, when a letter arrived at my parents home in 1996 and again shortly after my father's death in March 2009!)
According to records in Ancestory.com, Grandfather Sam crossed the Atlantic on the Cameronia, from Derry to Boston. Date of arrival is 4 October 1923. His friends' (presumably the person who was responsible for him according to US requirements) name is given as Annie Kerr and NOT his sister Mary.
SEE LINK: SamWillyMamie
From my understanding he didn't stay because he didn't adjust to the working conditions nor the company of people he was working with. Apparently he worked with a group of Polish men, and he felt left out because of the language barrier! I have no other information other than that he returned home.
This period must have been traumatic in many ways for Granny Violet Allen (nee Smyth) and Granda Sam. They were married 12 August 1918. Their first child Bobby was born in 1919 and died 1922. My father Sam was born 22 October 1921 and it was the Autumn of 1923 when Granda Sam crossed the Atlantic, at a guess looking for a new start!? From research Mary ALLEN married James Colville and had family. *No direct contact as yet has been made with this family. See the family tree for further information on the Colville connection.
http://www.myheritage.com/site-34307711/allencookstownmoneymoreirelandsweden
With this interesting intro to the American connection, we then travel in time to 1996, to a letter dated 11 April/posted 12 April, addressed to my father Sam.... referred to earlier..... see below.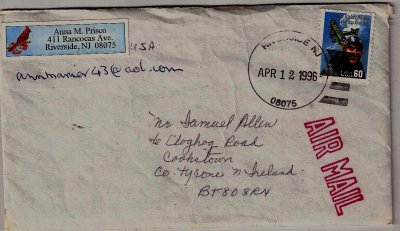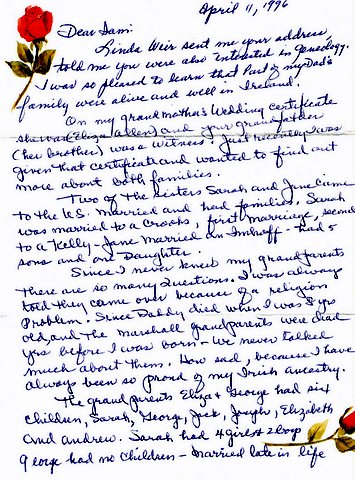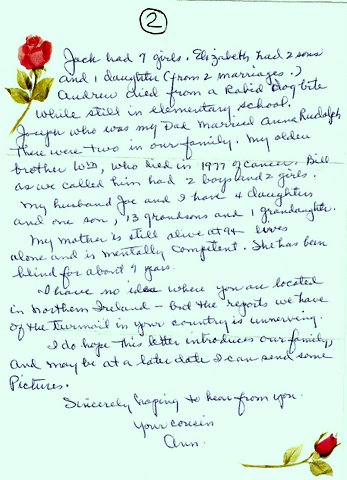 This letter arrived with my parents in late April 1996. It was read but never answered. My only reasoning for the non answer was that my parents didn't believe that the letter was from a living relative. I know from a previous conversation that they were somewhat skeptical, thinking maybe it was a hoax.
After my father's death (01 March, 2009) we began sorting through his personal belongings at our home at 6 Cloghog Rd., Cookstown. My sister Yvonne discovered "the letter from America", as it was sometimes referred to. I read it and instantaneously became very excited. I had already commenced on my quest to discover my ancestoral past, in Ireland, USA and Canada and this letter was a real breakthrough.
On my return to Karlskoga, Sweden, late February 2011, after 2 weeks spent in emptying our family home at 6 Cloghog Rd., Cookstown I decided to write to the address given on that letter some 15 years earlier. Not knowing quite what to say, I briefly described who I was and asked if the reader was the same person who wrote the letter….if not perhaps they would be kind enough to forward it to the "previous" family, if they could. I gave my e-mail address…..however I wasn't very hopeful of a reply.
Exactly one week later, early March 2011 I received an e-mail reply from Ann Priscoe b. 1923, the original author, who was also very excited about this breakthrough. This was the beginning of the "American research", mostly centred around New Jersey and Delaware. Ann and I have exchanged a lot of correspondence, which in turn has filled many spaces in the Family Tree. Ann Priscoe has contact with family members in the area, one of whom, Anna Glenn, has now also made contact and is a regular contributor to the My Heritage Family Tree Web site. I continue to have regular personal contact with Anna Glenn.
http://www.myheritage.com/site-34307711/allencookstownmoneymoreirelandsweden
So, in fact our American/Canada connection had started long before my Grandfather's "excursion" to the US, 1923!  Three Allen sisters (Grandfather Sam's aunts) had emigrated in the 1880's.  All this thanks to Ann Priscoe's letter of 1996, one hundred and twenty six years later!
The next phase in the story was to place Ann Priscoe and Anna Glenn in the Family Tree, in relationship to the 3 emigrating ALLEN sisters of the 1880's and naturally the link to Sam ALLEN, my great grandfather and his father, John Allen, known locally as "cock of the north".
ANN PRISCOE nee Marshall, is grand daughter of Eliza Allen, who had married George Marshall in Claggan Presbyterian Church, just outside Cookstown 1879, about 5 miles from the Allen homestead, in the Moneymore area.
My great great grandfather, Samuel JOHN Allen, (nicknamed John Allen "cock of the north", this I heard from my father and grandfather) had 6 children, 3 boys and 3 girls. One of the boys was Samuel John, known as Sam 1866-1908. He is my great grandfather.
The 3 girls emigrated to America! Samuel John we know about. The two other boys, are recorded in the My Heritage/Family Tree web site! Could one/both of them have emigrated the the US, thus their off spring visiting Tintagh, Moneymore, during the 1911 (or 1901) Census?
ELIZA ALLEN married George Marshall, from the townland of Dineen, Co Derry, in Claggan Presbyterian Church, just outside Cookstown, Co Tyrone, Ireland, in 1879. This wedding was witnessed by my great grandfather Sam, brother of Eliza. I suppose they emigrated the same year*, no confirmed date, ie 1889? They crossed on the Manitoba, departing Moville in Co Donegal and stayed with a cousin (presuming this to be George's cousin, unconfirmed*) in Delaware. I'm assuming this to be the area around Hockessin, DE, as many of the American connection seem to "stem" from there, according to my information from Anna Glenn.
Sisters Jane and Sarah also emigrated. Jane married in Hockessin Methodist Church in 1885. Sarah's entry to the US is given as 1883, (Emigration records) Information from Anna Glenn.  Travel records not yet researched*.
Eliza and George Marshall had 8 children. One of them, Joseph 1898-1932, married Anna Mae Rudolph. This union gave 2 children, William Charles 1921-77 and Anna Marshall b. 1923. Anna then married Joseph Henry Priscoe. Relevant dates for Anna's marriage etc are missing*
ANNA GLENN
One of the other 2 emigrant sisters,
SARAH ALLEN 1864-1950, married Wilson Crooks. He arrived from Ireland to New York in 1887 on the ship Brittanic. They had 7 children. This was the first of 2 marriages for Sarah. The other marriage, to James Kelly gave 3 children.
One of the Crooks offspring, Wilson Jnr 1899-1976 married Mabel Haney Imhoff 1903-1974. From that union were 5 children. One of them, Elaine 1934-2006 married William Persoleo 1931-82 and had 3 children.
One of these children is Anna Persoleo, b. 1953. She married James Ha Peters, has one daughter and divorced. Now married to Charles A Glenn.
Wilson Crooks died in 1899 and Sarah was remarried to James Kelly, shortly afterwards. There were 3 children from this union! James 1902-89, John F 1903-70, Thomas "Pappy" 1904-87.
As a result of research through the My Heritage site, I have discovered Sarah's grave stone.
http://www.findagrave.com/cgi-bin/fg.cgi?page=gr&GRid=25379035&ref=wvr
The following information has been extracted from the above link to "findagrave" web site, created by Kellyanne Lafferty Smith.
"Sarah Allen Kelly Birth: 1864, Ireland Death: 1950
Sarah Allen Kelly, widow of the late James Kelly, died at the age of 86 at her home in Yorklyn, DE, following a lengthy illness. She was born in Ireland. She was a member of St. John's Church in Hockessin, DE. Her husband passed away in 1930 and her former husband, William Crooks, died in 1899. She was survived by eight children, Samuel Crooks, of Kennett Square, PA; Mrs. Elizabeth Graham, and Mrs. William Redmond, both of Providence, R.I.; Wilson Crooks of Riverside, NJ, William Crooks of Yorklyn; Thomas Kelly of Kennett Square, PA; James and John Kelly of Yorklyn. She was survived by ten grandchildren and four great-grandchildren.
Family links: Spouse: James Kelly (1849 - 1930)
Children: Thomas Kelly (1904 - 1987)*
*Calculated relationship
Burial: Saint Patricks Cemetery Yorklyn New Castle County Delaware, USA
Edit Virtual Cemetery info [?]
Created by: Kelleanne Lafferty Smith Record added: Mar 13, 2010 Find A Grave Memorial# 49658131
Added by: Kelleanne Lafferty Smith Added: Mar. 17, 2011"
The third sister
JANE ALLEN b.1866 married Andrew Ritchie (1860-1900), in Hockessin Methodist Church, 1885. 
They too had many children, 6. One of them Elizabeth/Lizzie, b.1887 married Edward Imhoff d.1927.
They also had 6 children, one of whom Mabel Haney Ritchie, married her second cousin, Wilson Henry Crooks Jnr 1899-1976.
See earlier reference re "one of the Crooks offspring", under title SARAH ALLEN.
http://www.myheritage.com/site-34307711/allencookstownmoneymoreirelandsweden
Research on the Richie family continues through the endeavours of Anna Glenn. More information will also be forthcoming on the Crooks connection from Anna in due time.
WATCH THIS SPACE!
Very happy that you have watched this space, because there's more.....discovered at the end of August 2014!
Mainly based on the curiousity arisen out of the Irish Census 1911. Here there were 3 ALLEN children recorded with birth place America.
I now refer you to the following link: