Sweden 1973-2004
http://www.myheritage.com/site-34307711/allencookstownmoneymoreirelandsweden
SWEDEN

Map Link:
http://sweden.embassyhomepage.com/sweden_map_stockholm_map_hotel_gothenburg_tourist_map_sweden_road_map_lund_tourist_map_helsingborg_holiday_map.htm 
A Presentation of Sweden: 
http://www.youtube.com/watch?v=wzmaG7yE2yY
ABBA'S Waterloo 1974, (so much associated with our early years in Sweden!)
http://www.youtube.com/watch?v=3FsVeMz1F5c&fmt=18
BACKGROUND
Some of this text is a repeat from the section 1947-73, but is now being re used to give the "full" Sweden story, as 1973 was a very special year in our lives.
After my visit to Sweden in August 1972 I returned to Coleraine. Liz and I were now talking seriously about the possibilities of a move to Sweden and Jönköping. The more we talked it over the more convinced we were that this was the right move for us.
We informed our families, which were probably the most difficult conversations we ever had to conduct, considering the circumstances we found ourselves in! Mum and Dad had already been confronted by one major decision I had made some five years earlier....that of my move to Edinburgh and College. Liz's Mum had just died in the January, a few days before Mark was born, 8 January 1973. How we ever managed to get through it all, I don't know?
(It did come back to haunt Liz many years later, in the early 2000's when she had a health breakdown, needing medical and psychiatric help to get through it. She was never able to cope with the strains and stresses of working life again)
EVENTS LEADING TO OUR DEPARTURE FOR SWEDEN
I had borrowed a good neighbour, Jimmy Neil's car to drive Liz to Ballymoney for the birth. We had sold our Austin 1100 and was waiting delivery of the Ford Escort Estate, export edition, which would take us, 7 months later to Huskvarna, Sweden!
Liz's Mum had not been well, and had just been taken into Coleraine Hospital...... other members of the family were suffering from head colds, so we thought that it was a severe cold she had which was affecting her angina. I stayed in Churchlands the evening before Mark's birth. When I left Liz in the Route Hospital, she was in some discomfort, so if I stayed at Churchlands it would be a shorter distance to travel if anything happened during that night!
When I called the following morning Mark had already arrived, so it was a quick journey over to the Route Hospital, Ballymoney!
However, sad to say, Lizzie never saw Mark....she died just 2 days after his birth. Liz was still in Hospital, but got out for the funeral.
To describe the emotions of those days is impossible. We were in another world....so much going on and continuing to prepare for Sweden, I had exams coming up, and a just had a second child. Good planning.....!?
Liz & I had chosen Michael as the baby's name.....but Granny O'Brien had just mentioned a few weeks earlier that Mark would be a nice name. Without any further discussion, the name John Mark was registered. So Mark's name came from Granny O'Brien!
We had also just ordered a new VAT free red Ford Escort Estate OGF577L to travel to Sweden....GBP 500:-, 6 months prior to departure. The week before the move we had great help from some members of the Youth Club in Coleraine, which we had established along with John and Liz Humphries and others. mentioned in some more detail in the section 1947-73. These members, Jackie, Sandra Dunlop and Billy Doey. They helped with the packing of the car and the emptying of our home of 2,5 years at Springwell Forest. To this day we have regular contact with Billy's brother John, who lives in Coleraine.
Liz and I had talked a lot about trying to do that which was right for our lives, doing what we believed to be God's will. We were brought up to believe that this was important and the correct way to think and reason. Liz, during her studies at Trinity College, Dublin, Dublin had worked with Case Studies from Sweden, on their Social services and was impressed by how they worked with the whole social spectrum. I had this urge/calling, as mentioned earlier, that we should go abroad. It seemed to be rather clear cut that Sweden was to be the country. If this was to be the right step for us....we decided on a test to really see if this was "God's call" or a figment of our imagination!?
Somehow we could get money for me to go and "prospect" Sweden!! I visited Dalzell's, the Travel Agent to check the price of a return trip for me to Sweden....GBP 220.
Steven was just a few months old at this stage. There was a lot going on in our young lives.....We now knew that I couldn't afford this trip. However something rather sensational happened. Liz had applied for tax relief and just a few days after my visit to the Travel Agents, she got a "brown" envelope from the Tax Authorities, granting her a tax rebate of GBP 243!
I had already made contact with Sweden through a Christian organisation, Torch Bearers, via a friend I had in Tamlaght O'Crilly, nr Kilrea. He put me in touch with an American pair who were involved with this organisation in the Jönköping county (län). (Holsby Brunn, just outside Vetlanda). Now that we knew the "test" showed us that the next step should be taken. Through Torch Bearers I had contact with an American couple, in Sweden!
Fred & Sharon Wright invited me to stay with them in their home in Taberg, a few kilometres south of the town Jönköping.
A spontaneous reaction was to write to the Tourist Office in Jönköping, the main town near Taberg, requesting information for that area.
To our surprise I received an answer within a few weeks, from a certain Margaret Karlsson-Doyle, who worked in this office. As it turned out Margaret was Irish and married to Göran Karlsson....and also lived in Taberg!
She offered all the help needed, even an offer of accomodation in her home!
August 1972 I spent two very eventful weeks in Taberg and Jönköping.
I met some very nice people. Margaret introduced me to Jönköping and Huskvarna. One of those whom I met was William Clifford, an English guy, working with the white collar adult education organisation TBV.... was married to Birgitta and lived with their 2 daughters in the orchard area of Gisebo, Huskvarna.
Later you will read that William was to become an important person for us when we came to Sweden in the Autumn of 1973.
AN ADVENTURE HAD BEGUN, WHICH WAS TO CHANGE OUR LIVES FOR EVER!
Prior to the commencement of the trip in early August 1973, I had already arranged a part time job as "cirkelledare" (leader for English language conversation groups) with TBV in Jönköping, where I was contracted by Britt Inger Sandstedt, SEK 35:- per 45 min session. Also had contact with Kerstin Jönsson. William Clifford was my reference. To start early September, approx one month after arrival.
Margaret Doyle had organised an apartment in Öxnehaga, Huskvarna....SEK 547:-/month. We had already paid the first month on signing the contract, a few weeks previously, by post.
I had visited this beautiful area on the southern coast of Lake Vättern, the year before.
We had GBP 400 with us, a coffee table, bedding, one childs cot on the roof rack, cutlery, plates, cups etc and personal belongings....that was it! We believed very strongly that this was the right move for us, and that this "call" was Gods will. The challenge was about to begin and that "call" was to be tested, many times in the following days, weeks and months!
THE JOURNEY
We departed Mascoquin on Sunday 3 August, 1973, after having great help from Billy Doey, (unfortunately we have no contact with these persons to-day except Billy who is a Baptist Pastor in Oxford, England, VIA his brother John in Coleraine....the occasional tele conversation when he is in Coleraine visiting John and other relatives.),
Jackie and Sandra Dunlop, helped to empty the house and pack our red Ford Escort Estate with essentials. The only furniture to accompany us was a small coffee table, with screw off legs! The car was packed to the "gunnels", so much so that the mud flaps scraped on the road surface the whole way.
We stopped over near Belfast, on this Sunday night with Brian and Jean Gibson (nee Stewart) in their trailer home. Left the following day for a long trip to London, via Stranraer. I had to report to the Swedish Embassy, as I hadn't received full clearance on my work permit.
On the Monday night we stayed over with Jean's sister Heather in Bradford.....during the trip south we stopped several times for snacks and food. At one stop, when we came back to the car, we found a note on the windscreen wishing us God's blessing on our journey, signed Pete & friends from Bootle, Liverpool. They saw our "Jesus" stickers on the car! More about this later!
On Tuesday we arrived with Liz's brother Peter and his wife, Lorna in Stanmore, Middlesex. I visited the Embassy only to be told that the permit wasn't ratified, but that we could enter as tourists and stay a maximum of 3 months. For the work permit I would need to leave the country and re-apply. NOT a promising start to our Swedish adventure! We were already committed, no turning back!
Making matters worse, baby Mark suffered constipation during most of the car journey through England and Liz had to have a wisdom tooth extracted on arrival at Stanmore, Middlesex! (Liz's brother Peter and his wife Lorna's home). Wednesday we travelled to the Ferry Terminal at Immingham, nr Hull, North East of London.
ARRIVAL IN GOTHENBURG
We arrived late Thursday evening in Gothenburg, approx 23:00 and had to make our way to the Scandic Hotel at Mölndal. That in itself was a mini adventure. Liz was navigator and I was now driving on the "wrong" side of the road for the very first time. We had acquired a road description from the AA, but.........??
It was raining, everything was totally new, road signs, general direction was non existent. We made quite a few mistakes, driving around a roundabout in the wrong direction. That occured when we saw the Scandic Hotel in the distance, trying to approach it as quickly as we could.....Steven was standing sleeping in the space we had prepared for him in the back behind me, and Mark sat on Liz's knee (the whole car journey!)
The relief was undescribable when we pulled into the car park at the Scandic....only to find that the booking had been made for the wrong date!! The hotel were able to accomodate us so after much confusion it was straight to bed. Batteries had to be charged for the final spurt to Jönköping!
We woke the following morning quite refreshed and looked forward to a good breakfast. Sure it was a lovely buffet breakfast, but we didn't know that it was not included in the hotel price. The budget we had tried to calculate for the first month had got off to a bad start. 
ARRIVAL IN JÖNKÖPING AND HUSKVARNA
We set off at 10am for the drive to Jönköping..... talking a lot as we drove, full of wonder at what was about to happen.....many questions, full of anticipation, however with some fear.....not really knowing what lay ahead that particular day!
At an appointed address, we met Margaret Karlsson-Doyle in Jönköping, in the early afternoon of Friday 8 August. She kindly escorted us to our new home in Oxhagsgatan 145, Öxnehaga, Huskvarna.
We entered the flat, mid afternoon, to be confronted with something we could never have dreamt of. A beautiful, clean flat, fully equipped kitchen, 2 bedrooms, one with a balcony overlooking the bay to the south of Vättern.
We unloaded a few essential items, bedding and the coffee table.
Liz and Margaret headed of to the shop to do initial shopping at the local EPA store. Approx GBP 100 for this shopping and we were now well into our limited savings!
Later that arrival afternoon, when Liz and Margaret K-D returned, we began to unpack the "bits & pieces" from the car. Margaret returned to her home in Taberg, just outside Jönköping and I continued unpacking. Our 2 small boys, Steven 18 months and Mark 7 months with Liz, were inside Oxhagsgatan 145. They assembled our only pieces of furniture....the small coffee table and baby cot, and Liz began organising our kitchen. We had our cutlery and porcelain, in boxes.
A YOUNG MAN APPROACHED ME.....
It was now around 4.30pm (16:30) and the unpacking was going well, when a young man came towards the car, obviously on his way home from work. He looked like a painter/decorator, with spots of paint on his overalls!
He approached me with a smile on his face and an outstretched hand.
He asked a few questions in Swedish!! I was completely lost och muttered a few words I had learnt from a Swedish Linguaphone course, "Jag talar inte svenska!"
He immediately asked, in broken English, if I spoke English, much to my relief and delight!
"Are you moving into this empty flat?" was his first question!
This stranger came nearer me, asked me about the "Jesus" stickers we had on the car, asked if we were Christians etc? He was becoming quite excited...I noticed tears in his eyes, when he said something like this:
 "We have prayed to God to send a "Christian" family to this apartment, but we never could think that that family should come the whole way from Ireland!"
He hugged me....never before been hugged by a man!
Our first confirmation that this was the right move for us, came just about 2 hours after our arrival!
The guy then got even more excited, wanted to meet Liz and our small boys.
He ran the 100 metres to his home, and within the hour he had returned with his wife and 2 small girls. Her English was much better, as she had spent a year as an aupair in the US.
Janne and Elisabet were to become our friends and our rock in the coming months.
As we sat around that little coffee table on folded up blankets on the floor of our new home, Janne asked when the lorry would be arriving with our furniture. He would contact some friends to help with the unloading!
"This is our lot" we told them. They couldn't believe their eyes, that we have come the whole way from Ireland, with nothing to fill our home.
Janne and Elisabet Carlsson went home and as we now know, they contacted their families and friends and church friends.
A MIRACLE WAS HAPPENING BEFORE OUR EYES!
From the following day and onwards we had strange people appearing at the door with different items of furniture, lamps, bedding, floor mats etc etc. Within 10 days we had a comfortable home with all essentials needed!......no TV nor telephone. To contact our families in NIreland we wrote a weekly letter and an occasional phone call from the Shopping Centre at EPA, Österängen.
Janne/Elisabet had a Bible study group in their home on Tuesday evenings, led by Magnus Liljeqvist, recently returned from Florida Bible College. Magnus and the other members of that group were to become our support in those early days in Sweden. Those study and friendship evenings were conducted in English for the first few months.
One evening during that first autumn, after the Bible club one Tuesday, Magnus came with us home and explained that I should go to the telephone shop in Huskvarna, to collect a telephone, sometime during that week? He had paid for its installation and the first quarter rental!
Margaret Karlsson Doyle organised a reporter (unknown to us) Christel Carlborg from Smålands Folkblad, to do an article, which she headlined....
"They fled from terror in Northern Ireland to the dreamland of Sweden and Jönköping"
This was just a week after we arrived!! So you can see that a lot of positives happened to us those first few weeks.................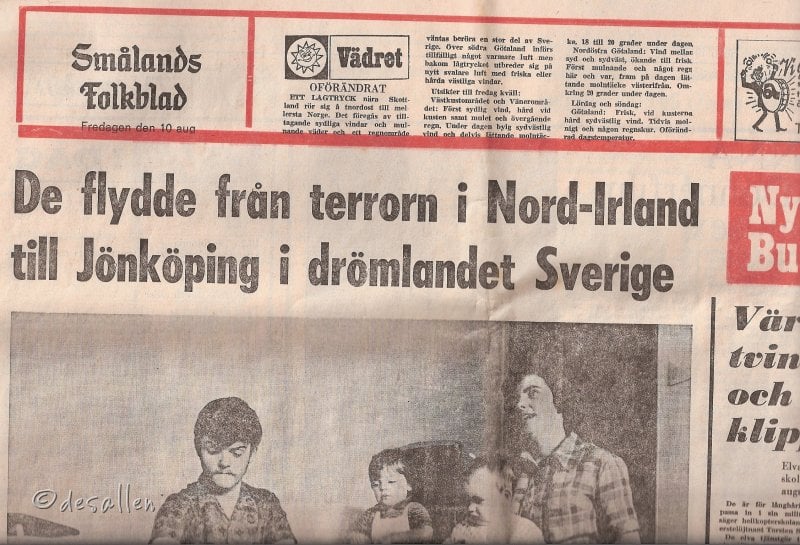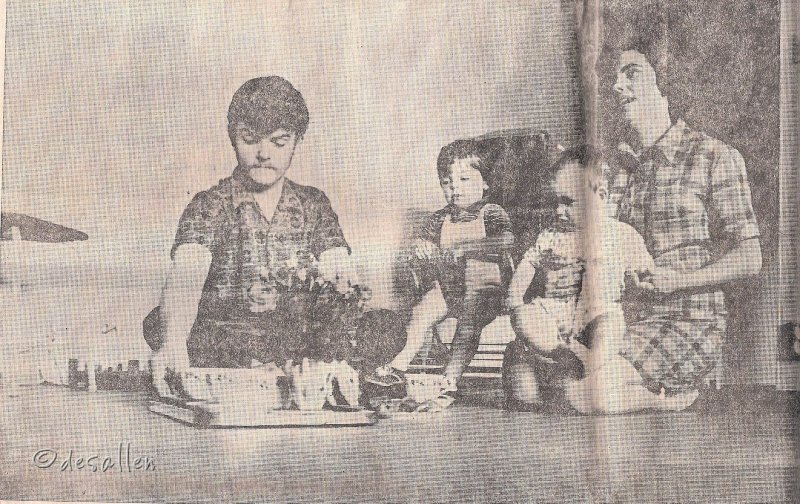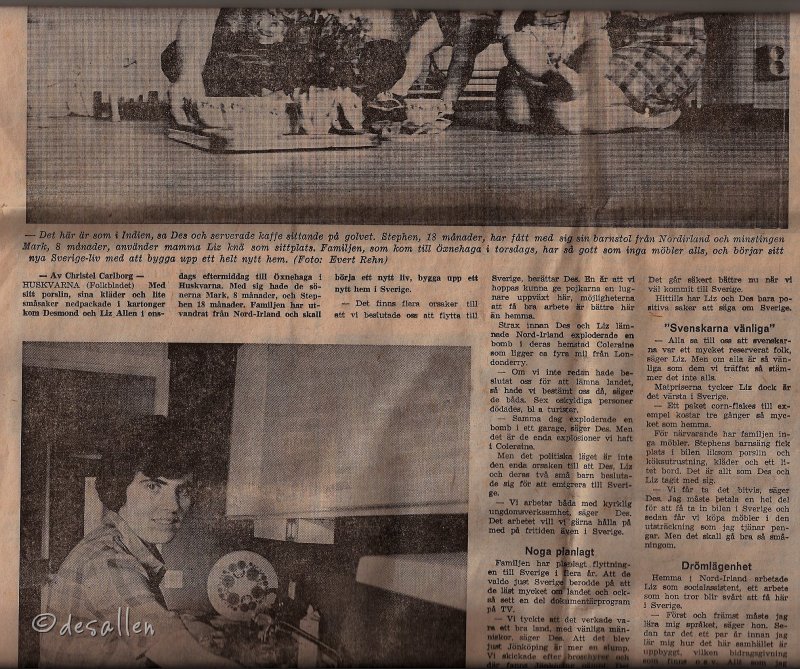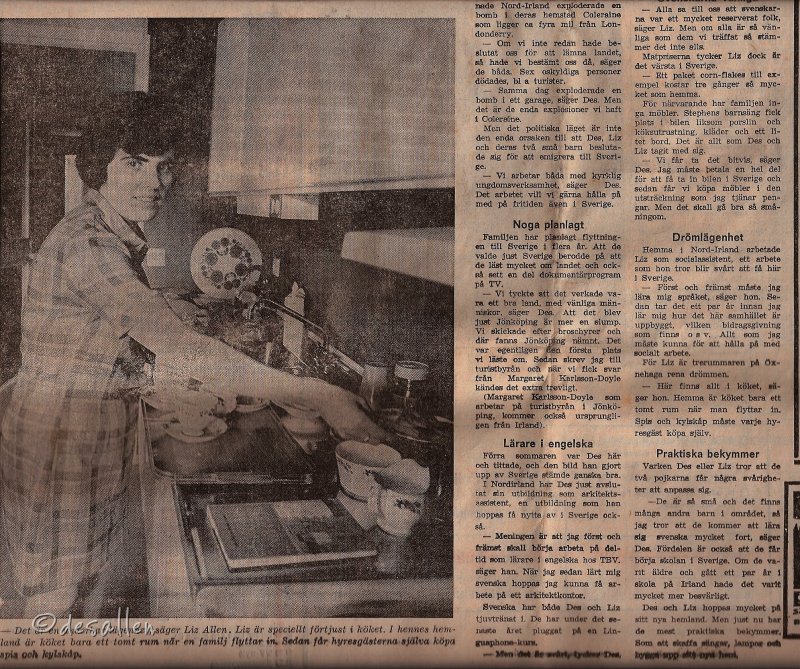 At Christmas 1973 came yet another surprise...... we received a voucher from the Bible Club to visit a furniture shop in Huskvarna and select our first suite of furniture. For the vouchers worth we bought a 3 seater and a 2 seater sofa, "new" coffee table, baby high chair (which we still have to this day, having been used by our 4 boys and now their children!)
That first autumn in Jönköping was certainly the most eventful period in our lives thus far.
We had confirmation after confirmation that we had made the right move!
WORK
I became established as a "Cirkelledare", evening classes with TBV, attended Swedish language classes for 9 weeks, during the daytime, with a brilliant teacher Jan Askinmalm at "Svenska för Invandrare" (Swedish for Immigrants). He also became a friend. His ability to teach Swedish to a group of 15 nationalities was incredible. He acted his way through the lessons, body language, comedy, and simple conversation, were his pedagogics. I realised he spoke English quite quickly, so I would speak with him after the lessons for further explanations, which he very happily did. It ended up with several family visits....unfortunately I have a memory lapse, relating to these visits.
William Clifford and his family. I mentioned William earlier. He was the guy I met the year earlier 1972, the senior English teacher from TBV.
His bosses, Britt Inger Sandstedt & Kerstin Jansson, whom I had also met in 1972, had organised several groups for me to lead in conversational English. I was to become a Cirkelledare (Circle Leader.....kind of chair person, leading conversations)
I remember one of my first jobs was at SAAB in Jönköping and these guys were good...what could I "teach" them. They designed the electronics for the SAAB fighter aircraft!
TBV organised Teacher Training programmes for us new teachers ...."Cirkelledare Utbildningar". We had 3 steps to take, at a week end at a Conference Centre. By Christmas of that first term I had succeeded in getting through the courses. All in English! We were quite a few from the outlying district who were involved in teaching English as a foreign language.
I had regular contact with William Clifford, at coffee breaks etc in Östra Storgatan, where TBV Jönköping had their HQ.
A big break through for me was to be invited by William to assist him and Pat Lago, with an intensive English Language training week-end. Friday morning until Sunday 16:00, and well paid, approx 50% more than the evening classes!
CHRISTMAS PHOTO 1973......Steven & Mark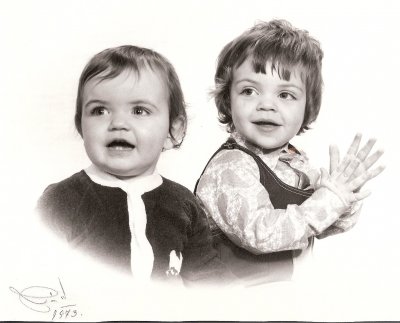 HOMESICK
After Christmas 73 and early 1974 we began to feel homesick.....the need to be near family and old friends. However we were strong in the belief that we had made the right choice for our life, and that we would get through this initial difficulty.
I was out a lot, teaching, studying Swedish and Liz was with the boys 24/7 and needed breaks.....but seldom got them. She spent time at the play areas with the boys and met a few other parents. Elisabet Carlsson was a great support.....
RETURN TO NIRELAND!
Spring 1974 we had to make a decision. My income with TBV ended at the end of May, as it was a seasonal contract I had. To keep the flat we needed to pay rent.  I contacted my former employers W&M Given, Coleraine, NIreland, asking for summer work. They very kindly offered me work until August. We returned to NIreland, May 1974. We were able to pay for the flat in Huskvarna for those following 3 months, thanks to very kind relatives, sister and brother in law, Margaret & Derek, who took us into their home in Coleraine for that period of 3 months.
During this first year we had been writing lots & lots of letters....amongst others we had been corresponding with Pete from Bootle, who I have mentioned earlier.....the group who left the note on the windscreen on our journey to Sweden. Well one afternoon, sometime around Spring, summer 1974 we got a phone call from this Pete to say they were in Sweden and would like to call with us....which they did. We fed them had good craic and kept them overnight. The contact after that was sporadic, then fizzled out. However another interesting and "coincidental" event in our life!
In the Spring of 1974, ABBA, by singing Waterloo and winning the Eurovision Song Contest had "put Sweden on the map" for many of our family members. We had a sense of pride living in ABBA country!
RETURN TO HUSKVARNA
We returned in late August 1974 to continue our life in Sweden. This time it was different! We were familiar with the country, the sound of the language, accessability to nature and to re visit "piggy on the hill". This was Öxnegården, the local nature reserve and leisure centre, where we regularly walked with Steven and Mark! The welcome on our return was amazing and it "cemented" yet again our decision to uproot from NIreland.
YOUTH WORK
By this time we were anxious to start some kind of "youth work", as we felt that this was the main reason for our move to Sweden. We had become members of KorsKyrkan in Östra Storgatan, near to Dag Hammarskjöld's home. (He had been Sec General of the United Nations, late 50's early 60's). Carl Åke Carlsson was the pastor and a very helpful membership. They helped us with premises, ca 300 m from our flat, in the basement of a local school. There we set up several table tennis stations, sitting areas and other table game facilities. Started with just a few young ones, 10-13 years, dropping in, more out of curiousity…..!
During this Autumn ArbetsFörmedling informed me that it was time to out and work. They found me a job in Jönköping with a sheet metal company, where I would be forced into activating my newly found Swedish language….learn to swear etc etc, before I could look for more education. I didn't go, but instead decided to continue Swedish at ABF, in Jönköping. Here I stayed for many weeks, during Autumn 74. I met many new nationalities, who were also struggling to "find their feet" in Sweden. However I was probably the one with the most language knowledge and became a support for several of these individuals. One guy in particular….Hadgu Gebrehiwot, from Eritrea! I got to know him well, brought him home to Öxnehaga, to meet Liz and our small boys. He had problems with his digestive system, as the different food was playing havoc with him. Liz gave him lots of tips on how to cook, and he was so very thankful, and jokingly started calling Liz, "mamma". He got a small flat and began to settle into life in Jönköping. He was brought out of Eritrea by a Penetecostal missionary from Falköping, who had helped a lot of refugees from that area to come to Sweden, during the war with Ethiopia.
We lost contact with him over a period of time, only to be invited to his wedding some years later, to a lady from Hagshult, near Skillingaryd, near to Inga Lill Grönberg's relatives. Inga-Lill knew the bride to be, Marie Johansson. Hadgu had now adopted the name Johannes Gebrehiwot.
Again as time went by we lost contact. For many years we had heard nothing when.... something remarkable happened one Saturday evening in Jönköping, in the late summer of 2006. We had decided to take a break from Linnebäck!
Liz and I had decided to spend the week-end in Jönköping, at the Grand Hotel (StatsHotell). Just across the railway line is a pier, at the southern end of Sweden's second largest lake, Vättern. We decided on the Saturday evening to eat at one of the outdoor restaurants. A fish restaurant, at the beginning of the pier. Well into our meal, with lots of people walking up and down the pier, my eye caught the sight of a man and woman. I said to Liz, almost in a shocked state, "look!, isn't that Hadgu and Marie?" I immediately left my seat and followed after them as they made their way towards the railway line. I touched the lady gently on the arm, got eye contact and in Swedish I asked "is that Johannes and are you Marie?" In a slightly shocked state she looked at me, obviously with a flicker of recognition, she said "yes! It is!!...." I said several more words and she called to Hadgu who was unaware of this "interference and told him to come. WHAT A REUNION! We spent perhaps 30 minutes talking. They invited us to visit them at their home in Skillingaryd the following day. We travelled to their home the following day.
Johannes had taken over a "StädFirma", a Cleaning Company, and was working very hard, in and around the Jönköping area. Had a number of staff to look after as well. However we have had no contact since then.
MONTERINGSRITARE/CONSTRUCTION DRAFTSMAN'S COURSE
Returning to our early days in Sweden (ie 1974, 75 etc), I was accepted into a relatively new programme, "MonteringsRitare för Småhus".....Construction Draftsman......  Located in Lidköping, ca 150km from Huskvarna. No alternative but to accept. I was away late Autumn 74 – Spring 75.….home at week-ends, public and other holidays. A difficult run, especially for Liz. Left with all the house work and 2 small boys. She also took over several English courses I had in Huskvarna/Jönköping. She was also pregnant with Sam.
CAR IN LIDKÖPING WITH TYRONE REGISTRATION PLATE!
A few weeks before I started the course Liz and I and the boys drove to Lidköping one Sunday to have a "look around" the place. To find the AMU Center and to look at the accommodation at the Center. Driving into Lidköping I saw a mini minor with Tyrone registration plates, and car supplier Megaw & McKeown, Stewartstown, 8km from Cookstown. Unbelievable!!? Naturally we stopped. No one was at the car so we waited. I then approached the fellow and girl as they came out of the petrol station. They couldn't believe it either. She was Jackie Lynn from Coalisland and he was James Corrigan, nephew of a Dr Corrigan who was my aunt Evelyn's doctor in Cookstown!
She was a trainee porcelain artist and had got a trainee's position at Rörstrands, Lidköping.
I visited them occasionally during my stay in Lidköping. The years following she made a name for herself as an artist with Rörstrands,(1974-1990) and had many creations which became internationally well known. She was to later to become free lance and is to-day very well known within this genre. To-day she is known as Jackie Lynd-Johansson and lives in Bredaryd, Småland. (Thank you Google!)
The course "MonteringsRitare för småhus", was probably the most intensive study work I've ever done. Not being fully conversant in Swedish and the course language being Swedish, posed a double problem for me. I struggled during the day with the content and in the evening I had to use Ernströms Technical Dictionary to try and understand what had been talked about during the day. I was give an extra few weeks in Lidköping to work with a new group who started on a new course. It was tough being away from Liz and the boys. Every second week I would travel (120km) to Huskvarna on the Wednesday for an English "course in the early evening, "Let's Talk Business", and return very early the following morning.
I managed to complete the Draftsman's course, get my certificate and prepare for the job market. The course ended if I remember correctly,sometime in March/April 1975.
FIRST JOB
Becoming more familiar with the Swedish language after this intensive and hard work programme, it was time to look for serious work! I applied for a job as a MonteringsRitare (Construction Draftsman) at Swed-Hus KB in Vrigstad, around early April, '75. Was called for interview, the first step in getting my first job in Sweden.....it was almost as if I'd got the job. Just to be called for interview.
I was given VIP treatment. Had dressed in a suit with tie and was prepared for, what I thought would be a strict interview (Irish/British!) type. Checked in at reception, a lady called Margareta Lägersten. Was the ushered into the MD's office, Rune Olofsson. Already sitting was Sigge Johansson, Sven Åke Gårdstam, John Svensson, Ingemar Broddegård and Gunnar Lägersten. The last three were the owners as was Rune O. Was offered coffee (by this time I had learnt to drink Swedish coffee, after all the English language teaching in Jönköping and the intensive week-ends)
Waited a long time, no response from the interview!?. Saw another job advertised in Jönköpings Posten and applied. KartRitare, ie tracing, in a company in Barnarpsgatan, opposite Portalen Hotel! I got the job!
Started in May, 1975. Liz, Steven and Mark travelled early that year to NIreland, early June. My intention was to travel to them in July. I did! But NOT in the way we had planned, and not for the duration planned.
About a week after Liz and the boys had gone to Ireland I got a phone call from Sven-Åke Gårdstam, Swed-Hus, one evening, to home in Öxnehaga, asking if I had a job. I explained my situation…..don't remember if that conversation was in Swedish or English? He explained that the person they had offered the advertised job to, which I had applied for, had decided not to take it. The second applicant had already got another job, and the job was now on offer, if I was interested?  He told me to think about it over the week-end. Think about it?????? wow!
I was overwhelmed, excitement was max. Could this be true?…..I was offered a job! No it couldn't be,,,where was the interview?  This had come right out of the blue, as it had gone 5-6 weeks after the closure date for those applications! I phoned Liz, told her that I had some good, very good news! The rejoicing and tears shared on the phone that evening was something I'll never forget. That was the MOST important phone call I had ever received up to that stage in my life.
I phoned Sven-Åke on the Monday…."yes, I'm interested!"  Was invited to visit them, and on the Friday I travelled, in the Ford Escort Estate, to Vrigstad.
Returned to the job in Barnarpsgatan and informed them that I would be finishing and asked for a short period of notice. I finished early July, travelled to Ireland in the Escort, returning to start with Swed-Hus, after the industrial holiday, in August.
CHANGE....NEW JOB & A NEW HOME IN VRIGSTAD
The Allen's adventures in Sweden, take a new turn, and yet another new chapter opens as Vrigstad, later that Autumn, became our home for quite a few years ahead!
By later I mean that I had commitments to TBV where I had renewed the teaching contract, for a new term, Autumn 75, and a new job in Vrigstad. Continue to live in Huskvarna for the period of the new TBV contract, ie Christmas, and travel daily to Vrigstad (110km return)  So now the cash was going to come in thick and fast. This was going to need some management. No more makril, peas and spuds!
SWED HUS 1
My first days at Swed-Hus KB were exciting and nervous. Working now with Swedish house prefabrication and all the knowledge acquired on the earlier course. Sven-Åke was my guide and a very patient one at that. My Swedish wasn't great. Drawing was ok, but texting in Swedish was my biggest and earliest problem. Working in super de lux offices, wonderful coffee/lunch facilities. A sliding roof in ths lunch room. Friendly and supportive work mates.
I was monteringsritare (construction draftsman) number 2. Anders Ottoson had been working for some time and was also a great help during those early days. He was very patient and helped me to settle into a new work environment for me.
The company was rather new and was expanding…..John Svensson, Ingemar Broddegård, Gunnar Lägersten and Rune Olofsson.
Other stories about Swed-Hus will appear later........
This was the beginning of happy days for us, particularly after we moved home, in December 75. I was contracted to TBV Jönköping and couldn't finish until the end of term, December 1975.**
We had now got to know a few families in Vrigstad. An incident took place during our first week in the new flat at Marknadsplatsen. Our door bell rang one evening. A man with a bunch of flowers was standing. Erik Persson from Missionskyrkan! He wanted to welcome us to Vrigstad and particularly to the church. We were overwhelmed by the gesture. During his short stay that evening he happened to put his hand down the side of the sofa cushion and pulled out an apple stump! One to remember......! It was our intention in any case to attend this church, as Rune/Barbro Olofsson had spoken so warmly about it and the members.  Through them we were to meet and make many friends.
GRÖNBERG FAMILY
During these early days a few families became close to us, as we worked hard at settling into a "normal" Swedish life style in a small Swedish community. Families such as Grönberg, Gårdstam, Olofsson, Elgh, Gunnarsson, Ottosson.
Inga-Lill and Stefan Grönberg & family are the only ones we have contact with to day.
On another occasion, shortly after the Erik "people catcher" (our friendly nickname for Erik Persson) had visited we had another visit, this time from Gun-Britt and Martin Elgh. This was the beginning of Liz's involvement with the Scout movement in the Missionskyrka. Gun-Britt invited Liz to a planning meeting and here she met Inga-Lill Grönberg, Margareta Gårdstam and others. Inga-Lill and Stefan had been recently married and were expecting Jenny. After Jenny was born, Liz volunteered to help the Grönbergs with child minding for Jenny. They had problems securing such through the official way via the local authority.
Jenny became our "day child"!
The Church(es) and the IdrottsFörening were the main sources of communal contact. We were Church orientated, so this was a natural point of contact.
Quite a while, perhaps a few months, after we moved to Vrigstad we were walking along Marknadsgatan, when a woman with her few children stopped with us and started talking! Unusual! She asked if we were the new "English" family and if we'd be building a new house!? The main industry in the area was associated to timber, furniture and timber frame manufacture. It turned out that she was a teacher in the school and we did have some contact with her in the years to come.
We settled in nicely to Vrigstad. I really enjoyed going to work every morning, leaving around 06:30 for a 7 am start. Still had difficulties with the technical language, particularly texting the drawings. Anders Ottosson and Sven Åke Gårdstam were very patient in my slowness!
A few months after starting at Swed Hus, Rune Olofsson, one of the owners asked me one day if I would like to meet an old friend of his. He explained that Carl had previously worked at his Sawmill and had spent many years abroad and could speak American!! I accepted the invitation and a few days later I went to Carls cottage, located on the edge of Rune's newly built luxururious SWED HUS!!
SAMUEL
My days at Swed-Hus were happy days, good and understanding workmates and sympathetic bosses.
Sam arrived in mid December, 1975, Monday 15 th!
Steven, Mark and I took Liz to Jonköping's Hospital, Maternity Dept, the day after the annual Christmas Carol service which we had attended, in Håkarps Kyrka, just outside Huskvarna, on Sunday 14 December, 1975. This was organised by a Brit, Francis Martin.
Incidentally a strange coincidence is that Tim was born the day after the Carol service in Håkarp, Monday, 14 th December, 1979!
By this time we had a very good family relationship with the Stefan/Inga-Lill Grönberg family. Liz looked after Jenny 1978-79, as a day mother, until Tim arrived. Jenny came back in 1980 with Jonas just for a short period.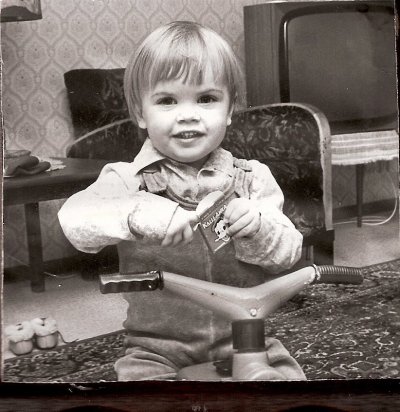 Known as sunshine Sam
TIMOTHY
When I took Liz to Värnamo Hospital for Tim's birth, Inga-Lill came to Södravägen early that morning14th December, 1979, to be with Steven, Mark and Samuel. Tim was born 06.20am. I prepared a special ice cream breakfast on my return, for the 3 young Allen brothers to celebrate the birth!
During those early Vrigstad days I became involved with the Sunday School, eventually taking over from a lady called Ally, who had been involved for some 40 years! Was this an omen? As it turned out, no!
This very special photo of Tim and Dad/Granda must be included at this juncture...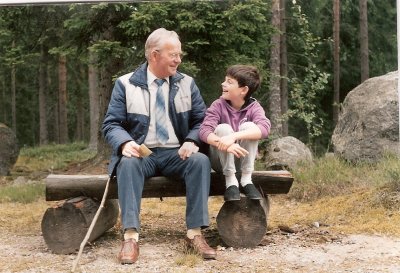 ANNUAL TRIPS TO FAMILY IN NIRELAND
Our annual trips continued to NIreland, where we spent the whole of July. We shared the time between Coleraine, Margaret and Derek, except for the period they were in Lesotho, Southern Africa, and Cookstown, Mum and Dad.
Dad had kept himself fit during the winter months in order to cope with the "onslaught" each July. He actiavated the boys every day, doing "fun" things and going "fun" places. Mum would always organise the picnics together with Liz. Some of the places visited were Newcastle, Co.Down.....such a long and windy car journey....Portrush, Barry's, the beaches, the restaurants (Sam's Plaice and others....)
Departures at the end of these holidays were always heart rending. Liz and I would plan how to make the break. Sometimes we would just disappear and not turn up at an appointed time and place...leaving a note or ringing home. These were the toughest moments of all, during those years when the boys were small!
However these summers in Cookstown and Coleraine built the platform for family relationship we enjoy to-day and the memories left by Dad and Mum when they were in their "hayday".
Most of the time was spent at Sunnydale when Dad would entertain. Would take the boys in the car here & there. Mum and he would take them to Ballyronan Marina, where 2p's would be found in the harbour wall, between the stones. Mum would stand by and just laugh at seeing them having fun.
The Leisure Centre and swimming was another activity which was very popular.....not forgetting the Twelfth of July parades/the field and some of the happenings there....many! But here's a few.
–                 The elderly man who couldn't get his tape recorder to work! Mark volunteered to look at it and got it fixed! The man then asked Mark, who was 10-11 years old, …."and where do you come from?" To which Mark replied..."Sweden" . The man's reply was "....damn it that's a long way to come for the Twelfth!!"
–                 Once when the parade was in Coagh and Sam, a small boy, 3-4 years old, couldn't hold his bowel. Dad was carrying him on his back and there was "stuff" oosing down Dad's back......he met the Baptist Pastor who lent a helping hand!
–                 The rain water gutters (around 3m long) which Dad constructed along the edge of the store house (known as the Jimmy Colvin shed...ie the neighbour man who built it and father of the Colvins, 3 of the boys who befriended me when I came home from hospital in May 1954!....Ali becoming my best friend for many years afterwards). He constructed it having a slight fall, instructing the boys to pee and to follow the urine until it dripped on to the grass in the garden....about 0,5m over the ground level!
–                 Playing football and getting some children over from the housing estate (Festival Park) to compete in games.....this was mostly after the hay was cut in, what is now the Market Garden field-
–                 Those loooong trips to Newcastle, buckets & spades would be bought and played with on the beach!
–                 Same at Portrush....parking at the West Strand (Barry's strand!)....walking the whole way along to the Harbour....Dad would erect a wind barrier, no matter if it was raining, blowing or the sun splitting the trees! The same procedure every year!
DESIGN, DRAWING AND CONSTRUCTING OUR NEW HOME
The time came, late 1977 and into 78, when we began thinking about building our own home. 
Most of the staff at Swed-Hus were doing it and we believed it was the right way to go. I knew absolutely nothing about how mortgages worked, nor how to go about things. Rune Olofsson was a great help, naturally, as he would get a sale. He spoke to Sävsjö Kommun and we were allocated a site on Södravägen, Vrigstad. 
The house process had begun. Liz and I designed our house. She decided for a big kitchen. Everything was then decided around that kitchen. I wanted symmetry on the exterior, which we managed.  I did all the drawing work, the architectural drawings for planning permission and the construction drawings for the factory to manufacture.
All distances between windows would match and we decided on a colour which hadn't been seen in Vrigstad. Greyish white with blue edgings.
We had now some English friends, Alex Strevens and family, living in Gnosjö. Met them through the Carol Service in Håkarp. He helped with the ventilation. David Perch and family, Gnosjö. Cliff and Margaret Farmer lived in Vaggeryd. Cliff helped with a lot of heavy concreting work; flooring etc.
The Swed-Hus joiners raised the framework and I did the rest.....all internal work. This took ages. The Swed-Hus team the nailed the external cladding. Liz did all the wall papering (most of which we had purchased in Cookstown, quite cheaply) most of the painting, with a little help from Dolores Persson! Liz had almost ALL the responsibilty for the boys during this period.
Read more about Dolores later on!
We moved in before the house was complete, ie most of the fine joinery was still to be completed. That was early 1979. The house wasn't totally completed when we sold it in 1982, after we had moved to Bridgwater, Somerset, England.
More about this "adventure" later! **
CLIFF AND MARGARET FARMER, VAGGERYD
Remember one occasion when we visited the Farmers in Vaggeryd. We had regular contact!
Dinner was cooked and we ate heartily. Their kitchen was upstairs in a old house, which Cliff was determined to renovate and turn into a plush dwelling! I just happened to ask Margaret what the meat was in the dinner. She just said "look in the garden!", which I did to discover that several of their rabbits were missing. Yes, although it tasted like chicken I had suspicions. As soon as I realised what I had eaten I went to the bathroom and was violently sick, vomiting all I had eaten....not forced vomiting, it was the revulsion of eating pet rabbits. I had two when I was a young boy, Christy and Snowy, and couldn't for the life of me imagine ever eating rabbit. Now it had happened with a sickly result!
We were good friends with Cliff and Margaret and their young son Martin. This friendship remained intact for quite a few years.
One funny happening involving this family. After we had built our new home in Södravägen, Vrigstad, 1978-79, it was time to begin thinking about changing our prize possession, our red Ford Escort Estate (mentioned earlier, as we prepared to leave for Sweden). Cliff had repaired the floor of the car, a few months before. The winters had caused the car bodywork to rust badly, especially the floor underneath. The boys thought it was fun seeing the road as we travelled along!! It was supposed to have been specially prepared by Ford for just these severe winters!?
OUR FORD CAR WAS EXCHANGED FOR A LAWNMOWER ( & OTHER GARDEN TOOLS!)
We had looked around and decided to buy a Volvo Estate, from a salesman by the name Jan Karlsson.  It wasn't worth trading in the Ford, so we had saved SEK 10,000:-. We decided to try and sell the Ford privately, but no takers. Cliff Farmer suggested we did a trade. He would give us all their garden equipment, including a motor lawn mower, in exchange for the Ford. His dream of the beautiful new Swedish house had tumbled ....simply couldn't afford it!
For the years following and even to this day I have said that our first car in Sweden was exchanged for a lawn mower!
SWED-HUS 2
Swed-Hus expanded, new staff was employed and I was an established construction draughtsman. Our office complex also expanded and I moved from my original office to an open plan area, which was located in the extension, facing "Gubbekula", along the Växjö road.
Gubbekula was an open air dance arena and quite famous for their Wednesday evening dances. Run on the same lines as the Swedish Folkets Park idea.
During this period I moved from construction to the design dept under Christer Nordgren, the newly appointed Architect. Here I started working with "Huvudritningar", either amending catalogue houses for the client or designing a house from scratch, from the clients own sketches! A new, challenging and developing job.
ANDREJ HOFFMAN
During this period, in the late 1970's, a new man was employed, one of quite a few. About my own age, but with no experience from house construction. He was Polish, had been seriously injured while during his naval service (compulsory, as in Sweden). A bomb exploded in the water, while on exercise, throwing him against the hull of a boat. His back was broken, leaving him with spastic movement, but perfectly ok otherwise. He was "pensioned" by the Polish state and would never have got a job in Poland.
IM (Individuella Människahjälpen, a State Church supported organisation) invited him to spend some rehabilating time at their home in Vrigstad, where  Gunnar Niklasson was manager.
Gunnar was friendly with Rune Olofsson at Swed-Hus (and also same church) and I would think that he asked Rune if there was a possiblility to give this young man a change to get into employment. This person was a gifted artist and could do fantastic portraits and animal images. I was asked if I could become some kind of mentor and look after him, which I did.
Andrej Hoffman, originally from Poznan, Poland and I became the best of friends and very soon he made the grade as a "straight line" design draughtsman. That extra ability he had as an artist was to shine through in his drawings as he progressed in the job. After approx 6 months he was offered a full time post.
I left Swed-Hus in 1981. He left some time later to become Drawing Office Manager with a house company in Överlida, Herrljunga Kommun, west Sweden! We don't have any contact now but exchanged cards at Easter/Christmas until 2007
Swed-Hus sold a building kit to a gentleman, named Ralph Meyer. This was exciting because it was an export project and the house was to be built in the suburbs of Watford, just north of London. I got involved, not at a management level, but at a "doer" level. Drawings had to be have English text etc. During the weeks of preparation I began to think that why not get involved with TBV again to compose a technical Building English course. Contact was made with John Åkermark/David Austin at TBV HQ, Stockholm....I had got to know these guys through their Teacher training courses.
We produced the booklet and ran a few courses in Jönköping. I made a few good contacts, one Egon Carlsson, I would meet again in later life, through his work as the Architect at Åseda-Hus!
I began thinking about teaching again.  TBV had changed the definition of their teachers to SpråkTränare, which sounded interesting. I had ideas of combining English Langauge  training to theme orientated training, based on my experience with the themed technical course, "Building English" project with TBV Jönköping! This concept later proved to me my livlihood, between the years 1986.2004. Read on...................
TBV, BORO HUS & ENGLAND
One project TBV got whilst I was still working at Swed-Hus was a weekly Building English course at Boro Hus in Landsbro.....hence developing further my step into theme orientated language training.
Boro were processing a major project to become involved with the British market, selling Swedish timber frame know how....led by an English guy, Jack Pattison. He was Export manager for, at that time, successful Boro-Hus. The had changed identity and name to Team Boro.
During this course, I became friends with quite a few of the engineers involved in this "sale of technical know how" to a major timber importer in the UK, Mallinson-Denny, HQ in London, outposts in Forest of Dean, Gloucestershire, Bridgwater in Somerset and other locations throughout the UK and Europe.
Jack Pattison made an offer to me, after "fishing" me for some weeks.
I accepted an offer to work for Mallinson-Denny in Landsbro for 6 months and then move the family to Bridgwater in February 1982. Travelled to Bridgwater at some stage in the summer of 1981 and had a formal interview with the MD Cyril Haire. Although I had already been offered the job as Drawing Office Manager, certain formalities had to be followed. The interview was successful and I was located an office upstairs, just opposite the Conference Room and toilets.
Started in Landsbro, in August 1981, travelling ca 40km each way daily. The job here was to transfer all text on the system detail drawings to the English language, as well as re-drawing certain details to fit into the British Regulations!
For the following 6 months our (my) life was centred around this intended move to Bridgwater. Liz was not in favour, but she was great ….she didn't put any brakes on my planning. However I was feeling the pressure of rooting up the boys. Tim was now just over 3, Sam 7, Mark 10 and Steven 11!
Looking back I believe this was a 30 year crisis....felt that I didn't want to work with Swed-Hus for the rest of my life.....nor stay in Vrigstad!
These were good years, but I felt it was time for a change and another thought about the whole scenario was it would be good to come nearer to Cookstown.
ENGLAND
We organised a transport company, Neill's Transport, from Essex to come to Vrigstad and collect our belongings. They travelled weekly between UK & Sweden We had masses of boxes, all listed & goods detailed, plus our furniture.
Our house was put on the market etc.
It was a sad day when we pulled out of Vrigstad, during the Winter holiday (Sportlov) week in February, 1982
Not much remembered from the trip to Bridgwater. The house in Vrigstad had not been sold, so once the Agent got a buyer, I would, post haste, return to sign the documents!
We had arranged with the Estate Agent in Bridgwater to have the heat switched on at 5 Rosary Drive, which we had acquired as a rental, for our arrival, late one evening in February 1982. It was winter, damp and cold. I can't remember exactly, but there was some confusion about getting the key. After some time a guy came and opened the house. Temperature and atmosphere inside the house was much the same as outside....cold and damp. Big house, looked well, but coooold! It was fully furnished, however we had to make up the beds and they were damp......we got to bed eventually. Within a couple of days our furniture was due to arrive and we had asked Dad to travel over and help, which he did. We had a happy few days with him. Mum didn't come, but from Dad game the indication that they were glad we were now relatively near them!
Our "Swedish" furniture was off loaded and packed into the double garage, only to be on the move back to Sweden again, within 7 months. More about the move back later!
BRIDGWATER, ENGLAND
I started work at Mallinson-Denny towards the end of February 1982. Quite challenging. Production Manager was Brian ?, who I would be directly responsibe to and Gavin?, a Scot. He was an aggressive Marketing Manager and off course Mr Cyril Haire as MD.
During the early weeks I made a few "social boobs!"
–                 I parked my Volvo Estate in a parking space which was for Management only....wasn't displayed, but everyone else knew. One of the secretaries, kindly pointed this out! When I parked in the "workers" park the car protruded about 0,5m!
–                 As described earlier, my office was located opposite the Conference room & toilets. It was also discreetly pointed out to me that I should use the downstair toilet. The upstair one was for Management!
–                 On my first day I spoke with Mr Haire and tried my best to be informal....asking him if I could call him Cyril!? That was ok, but not in front of staff!
DOLORES PALM (THEN PERSSON)
Our home in Södravägen 12 in Vrigstad, was sold eventually, after ca 2 months.
It was bought by the recently wed Christer Persson and his beautiful wife Dolores. We had met them some time before we left Vrigstad and knew that they were interested in the house , but they hadn't any money and no hope of a mortgage. We believe however there was family support from Christer's father to enable them to make the purchase.
They met in England where she was working as an au pair. She was Spanish born of Belgian parents. All this gave her 4 languages free.....Spanish, Flemmish (French), English and was at this stage learning Swedish! I travelled to the Estate Agent in Sävsjö and signed. It was a strange feeling to say a final farewell to the house that Liz and I had created, designed, drawn, built, painted, wallpapered (most, if not all of the wallpaper was purchased in Cookstown and transported by car) made a garden and lived in for just about 2 years. We sold for SEK425,000. That covered all our debt laid out on the house but NOTHING for the 1,200 hours I had put into all the build work.
Dolores and Christer had 4 children. Unfortunately they seperated....Dolores still lives in Vrigstad, re married to Sture Palm, is teaching and is as Swedish as one can be, except for her Spanish/Belgian looks! I don't know where Christer is nor what he is doing these days (Oct 2010)
CHANGE OF DIRECTION
Quite soon I could see that this "Swedish" system was not working very well in the UK. Too expensive with all the extra insulation and a resistance to change. I was put under a lot of pressure to change "bits & pieces" to make the kits cheaper. They were pricing in volume and needed to get sales!  Working in volume meant too that Mallinson-Denny were designing new house types with their potential clients and I wasn't coping with the pressure of getting drawings completed in time, nor was I coping with the decrease of Swedish technology in the product development!
They suggested that they "farm out" drawing work which I could countersign. I refused to do this, resulting in a stressed working relationship. This was now June and I began looking at a way out!
The boys did not like the schooling, the uniform, nor their status in their classes. NO consideration was given to the boys, who had English as a second language, and the fact that they had come from a totally different background (foreign!). Because we were Irish it should be easy for our children to fit into the system; was the general concensus amongst the teaching staff. Sam especially had great problems. Coming from "förskola" (pre school) in Sweden, and placed in P2, where the children had a real grasp of what was going on. Not Sam....he had to ask other class members to explain what was going on. He would then be repremanded for talkinhg and sometimes put outside the door fo rhis talking. We spoke to the teacher/s and the school , but just got a deaf ear!
Remember well the first day or two when Liz would take Sam to school. He was sad, and cried often......the teacher would snatch him and walk sternly off, saying on one occasion  "He's now the school's responsibility!" We tried to liase with the teachers, but this wasn't Sweden, we (I) had underestimated the lack of parent/teacher co operation.
However, we did entertain a lot of guests from Sweden that summer......a group of lads from MissionsKyrka in Vrigstad (Anders Andersson, bro Joel, Ola, one or two others), Arvid/Britt Gunnarsson with Eva Lena, Inga-Lill & Stefan with Anna, Ann Karlsson (Vrigstad).......
MALLINSON-DENNY....THE END!
I finished with Mallinson-Denny, within a week of giving notice, at the beginning of July, 1982. I didn't have a replacement job....talk about a step of faith!! As you will read a few lines ahead, unemployment didn't last too long!
This gave me the whole summer and into early Autumn free from any working responsibilies. However Liz & I had been attending and got involved with Spaxton Church of England, where we led a summer series for young people, based on CS Lewis's writings "The Lion, the Witch & the Wardrobe". Presenting the Christian message through drama. This was an exciting experience and was fun for us to be involved.
I then had the difficult task of telling Mum/Dad that we were returning to Sweden. Both Dad/Mum were very sad and confused. Dad questioned my "Christian status" by me originally saying that we had come "home" to be nearer them..etc etc. "You seem to be going in circles!" was what he said to me at one point.
This was the second major decision we made to live in Sweden
RETURN TO SWEDEN AND KARLSKOGA
Wrote to TBV in Stockholm asking about available jobs, anywhere in Sweden?
Got a reply within a week from John Åkermark, Head of  TBV's English Language Training Dept, Sweden, indicating that TBV Karlskoga were looking to contract a "SpråkTränare".
I contacted Anders Lorentzon in KARLSKOGA...............
and had a positive conversation. He offered me a contract on the phone and confirmed by letter within the week.
TBV KARLSKOGA AND AB BOFORS
In the space of 2 weeks I had finished working at Mallinson-Denny and got a new job and a career change with TBV in Karlskoga, based in AB Bofors, Dept OPU (Training Dept).
Anders Lorentzon suggested to bring with me military technical English books to develop the concept which I had already discussed with TBV centrally, earlier. This I duly did, by spending some time in a few book shops in Bath. Found a series of books, edited by Col RG Lee (Geoffrey). He had also written several of them. More about this later!
As described before I was "free" the whole of that summer and could spend time with all the visitors we had. The boys didn't return to school after the summer break.
It was time, once again to plan for our second trip to Sweden!
TBV paid for our furniture back to Sweden and they organised a flat for us in Baggängen.
RETURN JOURNEY
That journey was something of a nightmare. Prior to leaving Mark had developed a virus and spent the week before the trip, vomiting and had stomach and bowel problems. We were advised by the Doctor not to travel. However we had all booked, our own travel and the furniture. In fact the furniture went before us and TBV Caretaker, Eskild ???? had let them into the flat, Baggängsvägen 49B! More about that further on.
We departed Bridgwater one afternoon in late September 1982. We had prepared a bed across the back of the green Volvo Estate for Mark...lots of water bottles. We stopped often on the way across England, as we headed for Felixstowe and the DFDS Ferry to Göteborg. We had booked a B/B in Bishop's Stortford, on the way towards Braintree and Colchester, the A120 about 1 hour west of the port of Harwich.  Mark's condition did not get any better----however with the positive feeling in the car about going back to Sweden (back home!), we kept the psychic up. The ferry crossing I have no memory of, but I do remember stopping often on the road from Göteborg for Mark to vomit. I remember a stop at a petrol station in Laxå, where we bought drinks and we said to the boys that we'll soon be there.
When we came to Degerfors JärnVerk, I stopped the car and phoned (pre arranged) to the TBV caretaker Eskil to say that we were in Degerfors. He gave me instruction how to get to the flat....Anders Lorentzon had sent me a map!
So when we came to the Hospital we were instructed to turn left, which I did, but it was left turn too early. Then we came to the lights at where Lidl is to-day and followed the map from there! We found Eskil Johansson who led us up to the flat on the top floor (3 floors). The furniture had ben stacked mostly in the sitting room. We thanked Eskil....we met Eskil many times after that.....and began to sort out a bed for Mark. By now it must have been 8 or 9 pm. We were all very tired and relieved, none more so than Mark. I don't remember how the other boys reacted during that journey. Now we were "home" again!
EARLY DAYS IN KARLSKOGA, BOFORSGÅRDEN, SEPTEMBER 1982 ONWARDS.......
Already next day I made my way to TBV's Office in Kungsgatan 33 to meet my new Boss, Anders Lorentzon and his efficient lady assistant, Marianne Stradiotto....the beginning of an exciting new period in our lives and the beginning of phase 2 in Sweden!
Mark's condition improved and within a week the boys, except Tim had started Skranta school.
CHRISTINE BECKMAN AND COLLEAGUES
Also during that first week I visited my new place of work, OPU in Boforsgården on the hill, beside the E18, just past the main Bofors complex. Here I met Christine Beckman, Britta Lena Saltin, Anitha Moberg (English Trainers), Berndt Kreutsfelt (German), Carmen Nilsson (Spanish), Claude Winblad (French)-
Christine & Britta Lena, approx same age, were fantastic and did their best to make me feel at home...which I did from day one! I was delegated a programme with groups and a timetable for the week. It was about the 3rd week into the term, around the first week of October 1982, so it was literally being thrown in at the deep end.
We got the flat in order and felt relieved to be back in our adopted homeland. Soon settled into our new routine. Income was not the best, but we just about made ends meet!....SEK7,500 per month + barnbidrag (family allowance). Rent to Hyresboståder was 4,500 per month ????
NEW SOCIAL NET
Christine Beckman introduced us to husband and her family. They belonged to the Baptist Church and we were invited to attend, which we did. The boys attended Sunday School for a while....I got involved as a teacher and later took on the responsibility as Sunday School superintentant. However as time progressed we became somewhat skeptical to the groupings within the church members and we didn't really belong to any one group. It was at this time that I questioned all about church membership and the so called fellowship.
I made a decision, just after we moved to Linnebäck, to withdraw from all church activity and devote all my time, outside of work, to be available 24/7 for my sons. They were coming into adolesence and neede more of my time, both practically and physically... being available to take & collect them, especially at the week-ends! More about that later.....!
RUTH, UNO & NANCY FREDLUND
Through Beckmans we met Ruth, Uno and daughter Nancy Fredlund. Ruth was American and Uno a Skånning (from the province of Skåne, S Sweden). Nancy was about 17 at this time. They lived across the road at Baggängen, in the white brick flats. They became good friends and were very kind to our boys, lavishing them with clothes and other things. Remember Tim getting a pedal car, as did Johan Beckman!, leather jackets, winter clothing etc etc
Uno was very intense, always talking and planning new creations/innovations. He was known in Karlskoga as an innovator! He was also a practical joker. One typical example.....
Must have been an autumn/winter evening 1983. It was dark. I got a phone call from an elderly neighbour lady. She introduced herself as Fru Jansson, from the bottom floor of our apartment block (3 -storey). Asked me if my name was Desmond Allen, pronounced in local elderly dialect. I confirmed who I was and she then went on to ask in a somewhat excitable voice, if I owned a green Estate Volvo with the number xxx xxx. Answered yes! She then explained that she had just come in and observed that the wheels from my car were missing. She advised I phone the police and suggested I should go down and check it out first. I looked out the window (we had the car park in view from our window) and sure enough the wheels couldn't be seen as the shadows formed by the street lighting made that impossible)....so with my "heart in my mouth" I went down the stairs with a torch in my hand, to discover that the wheels were …..gone, NO still on the car!!!!!
Couldn't at first understand, who do I know would practical joke me? Nobody! When I got back and explained to Liz that all was ok and somebody was practical joking, the phone rang and I answered. It was the same voice asking if I had been down to look! As I was explaining that it must be a joke, the voice on the phone changed and gradually I recognised the changing voice and the Skånsk accent became quite clear.
It was Uno! It gives me a good laugh when I think back, especially to think that he had put some planning into the "project"....had obviously checked the shadows from the street lighting etc previously......
As time passed Uno, Ruth, Nancy had moved backwards & forwards to the US several times. Ruth's home town was Springfield. One summer in the mid 80's when we were all in Cookstown for our usual summer trip home, Liz & I took a few days to London for a break. One evening we decided we would queue for a day return ticket to the C.A.T.S Musical. We just missed the cut off bt 3 or 4 individuals. So nothing for it ….just walk around and look for something else. Liz had bought a pair of shoes earlier in the day and they were causing blisters, so she was barefooted! As we walked along we overtook an elderly couple who looked lost. They in fact were lost and approached us for help!
We got talking and found out that they had lost their way back to their hotel. We walked with them and found the hotel, within a few minutes. They then asked us to join them for a meal, but we said no....however they insisted. We gave in and entered a French restaurant nearby. We waited and waited and ...waited! No service, so the elderly man became angry and led the way out, so we went back to their hotel and had the meal there!
They were retired business people who were out on a long European tour, and now it was London's turn. We exchanged addresses, only to discover that they were from Ruth Fredlund's home town, Springfield! ….What a coincidence!
When we got back to Sweden we showed the address to Ruth & Uno......on Uno's next visit to the US he knocked on their door! We never really heard how that visit went, but suspect Uno blinded them with his innovative talk. No further contact, with these oldies.....but what a small world we live in!
LINNEBÄCK
At the end of 1983 we began thinking about a house! We began looking at the newspaper ads and saw quite a few houses in Degerfors. There we looked at one, as we did in Karlskoga, Blockstensvägen. The one week-end we saw that Lars Nordin, Mäklaren, had a viewing at Linnebäck on the Monday evening at 18:00. This was just before Christmas 1983. All six of us went to the viewing and fell in love with the house at once. The boys liked it, we liked its layout, all the interior woodwork and just about the right size. SEK 325,000, asking price. How could we finance this? Mum said she would send us GBP 1,000, we had about 8,000 saved, that was it....about 18,000 deposit, far away from the required 10% deposit!?
We had no good bank contact....we spoke to all the banks in Karlskoga, but no go. One bank suggested to the seller, Bo Qvist, that if he transferred his other accounts to them, they would finance the loan for us. Bo ownwd other property and had some forest as well!
Bo contacted us....explaining that they would really like us top get the house, as it would also be positive for the local school, with 4 new children!!
The deal was done and we moved into Linnebäck 8185, and its 1,000m2 site, during SportLov's (winter holiday, week 8, February) week 1984, exactly 2 years after our adventures to England and back!
Bags and baggage on the move again....this time to Linnebäck where we would spend 23 happy years. This is where our boys grew up, formed friendships, relationships, where many stories were generated, late night calls from the police, late night calls from a neighbour's son,  27 pairs of shoes in our hall Christmas....one Christmas in the late 80's!, grandchildren staying over, walking & playing with the grandchildren in the forest behinh the house.
This photo was taken and featured in Karlskoga Tidning, the same year we moved to Linnebäck, 1984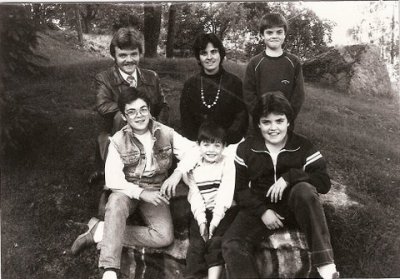 Mopeds bought, tested, re built and sold, Epa tractor bought and sold, a garage which never had our car inside it, visits from Cookstown, Coleraine and other places!
FUN IN LINNEBÄCK
During our 23 years in Linnebäck there were lots of fun, different happenings and many changes. Our boys grew up in this quiet environment. Although it meant MANY trips to and from Karlskoga.....the most being 27 return trips, when Steven and Mark finished 9:an (9th grade, 16 years old). That was the week end that Jocke Brink decided he could fly, running and failing to take off, ended up finally in the ditch!
At this stage in MY STORY I will relate fun things that happened during the Linnebäck years making good memories!
The grandchildren & forest walks, treasure, waving at cars on E18!......we had a lot of contact with Jonathan, Jennifer, Kevin and Colin in their early years. Occasionally all four would stay over. Totally nackered after such a week end! However most of the time it would be two at a time. I had several activities which were popular. Preferably I would do something with the children on an individual basis ie picnic walks in the forest behind us....although it could end up with a picnic at the Linnebäck bus stop!!
Treasure hunt in the forest when I would have gone out beforehand and hit some treasure (sweets!)
A simple forest walk, ending up sitting on an old bench overlooking the E18 and waving down at the vehicles. The whole time it was our *ambition to "fill their life's ruck sack full of good memories"
* It was Liz who always insisted on filling these ruck sacks! .... which we know that the children, now growing into young adults, look back with great joy
Liz 50 birthday. We had a big representation from NIreland and Vrigstad in attendance....Chrissie, Margaret, Derek, Sarah (who was living with us that year, attending Folkhögkola), Angie, Sarah's friend and the Grönberg family. It was during this period August 1997, when the Omagh bombing occurred, killing 29 people.
Burstner Husbil/Camper 1994. We thought it would be a good idea for our company DACCAB to invest in a Camper, where I could travel to all my jobs, sleep over, mobile office etc and also have the benefit during the summer months, travelling to/from NIreland etc etc. In the long term we decided that it was not a viable investment. My business journey times had increased and it was not being used as regularly as anticipated privately. After one year the vehicle was sold!
DOGS
Fia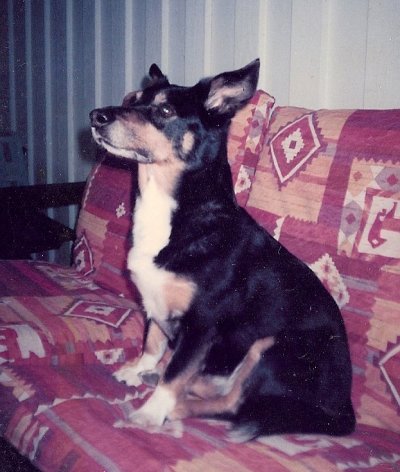 In 1988, when Sam was 13, he introduced me to a dog FIA. This dog belonged to a class mate of Sam's called Ari. Ari's Mum was returning with their family to Finland and was looking for good homes for her two dogs. A sob story led to Fia spending a Saturday with us. A decision was taken, not by Liz, to keep Fia. She was a fantastic dog, very affectionate and great with the grand children. She did bark a lot. She did escape several times, but always came back after a lot of hunting and calling. On one occasion when our good friend Leslie Fraser and Tom from Scotland were visiting and left responsible for Fia, she escaped. I got a phone call from one of the boys informing me about this. I was on my way home from Dalarna, on a Thursday afternoon. I was so worried and stressed that I would never see Fia again, that I was sick with fear when I arrived back in Linnebäck, not to say how annoyed/angry I was.
I immediately started the hunt....don't remember the circumstances, but do remember a very dirty and tired Fia walking up the field opposite our house.  I wasn't angry, but so happy to see her again. We had Fia for 13 years until 2001. She was put to sleep, when we had to take her to the Animal Hospital in Örebro in an emergency. She had internal bleeding in the womb and there were no options.
Mira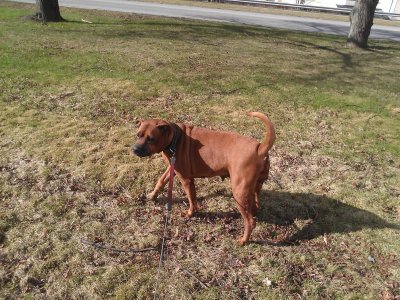 Mira was initially Sam's dog. She was born in Ekeby, 2001 and was bought for Jonathan's 9th birthday! After approx 1 year, Sam seperated from Annica and moved to a small flat. We took over ownership of Mira and brought her to Linnebäck in 2002. She moved with us to Värmlandsvägen in March 2007, where she lived until that fateful day, Friday 31 May 2013.
She too was a fantastic dog. Loved the grand children, was quiet and affectionate.
During my period of stress related illness she was a great support. I would take her for walks through the forest behind the house in Linnebäck and talk through all my problems. She would just look at me and wag her tail....as if to say "it'll all work out in the end!", which it did. She knew when I was on a downer. I would sit on a tree stump and talk to her. If I put my head down she would move close and lick my hand. When I didn't feel like going out and I knew I had to for her toileting, that too was good for me. As I was recovering, especially after our move to town, I began looking forward to go out for our morning walks.
As she aged I began dreading the day when she wouldn't be with us any more. So I was mentally prepared, or so I thought. In the early part of 2013 we noticed that she began drinking a lot and peeing more. Visited the vet, but nothing obvious other than ageing. During May she was drinking/peeing much more and "accidents" were happening regularly in the flat. On the morning of 31 May, she collapsed on the mat at the door. She looked at me and I saw the empty look. She was indicating to me that it was all over. I phoned Jasna, then the vet. Mira, Jasna and I walked down the stairs, down the lift, she managed to climb into the back seat of the car, it was an effort. She lay on that back seat with her head resting on my left leg. That was around 10 am. At 10:55, she was asleep on the floor of the vet's surgery, never to waken again.......Jasna was a great help and comfort in those minutes afterwards.........
AND 
now back to MY STORY!
ENGLISH LANGUAGE DEVELOPMENT AT BOFORS TRAINING DEPT
I was now well established in the Training Dept/OPU at Bofors, still contracted by TBV. Was  also working with TBV in Örebro län, helping to develop and sell training programmes outside of Bofors.
In late 1983 I presented an idea to TBV Karlskoga, based on my original thinking a few years earlier. Combining English language training with a technical subject. A 2-day workshop idea based on the theme, "Military Terminology & Expression". They liked it, but the proviso was that Bofors Training should cover the costs, which was agreed.
I got the job of visiting all the decision makers, ie Dept Managers with budget responsibilities. These visits were to introduce the concept of running a evaluation programme throughout the company, to find out what actual language needs there were and also to introduce and get reaction to this new workshop concept!
I met many staff members and managers, in the region of 100. The findings were quite clear. Many liked the idea of this professional approach of having an expert on site, giving lectures (30-40 min) on suitable subjects, breaking into small discussion groups 15 min) after each lecture, with a question to discuss based on the presentation. Each group (5 pers/grp) to have a chair person to lead the discussion and a member of the Language training team be present to analyse and discuss language. With 5 lectures scheduled for the 2 day workshop, it meant that each individual participant would have been cahair person at least once!
That chair person would then make a short presentation of their group's findings in front of all the participants!
I was given the all clear to develop the concept. First step was to make contact with the author and editor of the military technical books which I had brought with me from England, which I did!
He responded positively to having a meeting in England, at RMCS, (the Royal Military College of Science) in Shrivenham, Wiltshire, nr Swindon. After that meeting and the reception I got amongst the military officers at RMCS, we were well on our way to established a start programme for the workshop concept at Bofors. The hospitality I received was "second to none"...was given VIP treatment, eating in the Officiers Mess (canteen), having a tea lady "breaking" into my bedroom in the morning with a cup of tea, before breakfast!
The first introductory workshop was run in the autumn 1984 and for the following few years we had at least 10, varying in content and number of participants. Normally we would have had 15-20 participants. Other companies within the Defence Industry bought into the concept....Ericsson's Mölndal, FFV Eskilstuna & Karlstad, Phillips Järfälla.
I was able to sell the concept to Degerfors Stainless.....they ran a few workshops on Stainless Steel.
I could now see a possible opening for developing this even further , but on my own. However not at this particular time. It was rumoured that a new organisation was about to be formed, concerning the whole of AB Bofors.
Sure enough, Bofors became part of a new constellation, Nobel Industries AB. They took over several sub contractors, bringing them into the "Bofors family" and changed the product name to Swedish Ordnance. Millions was spent in changing loggos etc, only to discover that afer a few years sales were dropping drastically, when it wasn't Bofors any more. The product name and loggo was replaced, back to Bofors, at another major cost.
NOBEL KONCERNSERVICE AB
However, as a spin-off to these changes, the Training Dept became part of a new company, Nobel KoncernService AB. I was offered a job as UtbildningsLedare (Training Officer), working with the development of ENGLISH LANGUAGE TRAINING within Nobel Industries. However this now meant budget responsibilities, something very new for me and as it turned out the beginning of my thoughts turning even more to running my own business! TBV had already supplied me with a leasing car for my work with them in Örebro län, about a year previously, and KoncernService took that over as well as offering me the best wage I'd ever had SEK 20,000:-/month
My new boss was Jan Grenerfors, former Bank Economist. Strict and formal, but approachable. However he had man management problems and soon there was an unsettling atmosphere building up within the BoforsGården building.
Reidar Löfvenberg became manager at KoncernService, 1985 and everything changed. I got much more space to develop ideas and with that, the ambition grew to start my own business. I talked it through with Liz. She was not against the idea, but worried about the responsibility of being sure of a regular income.
Towards the end of that year I spoke to Reidar about these ideas. As it so happened, outsourcing was becoming more popular in Sweden at this time, so perhaps this was the time to take the step.
DES ALLEN COMMUNICATION CONSULTANCY AB 
I registered Des Allen Communication AB, borrowed SEK 50,000 share capital and was ready to kick off in August 1986....although I was active in contact work before that start!
Had a contract with Nobel KoncernService for the first year, which guaranteed an income. Liz would be book keeper, with help from Hans Andreasson, KPMG Karlskoga. He was recommended by Hans Ljungmarker, FöreningensBanken's manager. Hans A. later formed his own company and we kept him as our Accountant. He was a valuable asset, at a cost, and proved to be a great help over all our active company years. Invested in a mobile telephone, a huge one, which was portable. Had it also installed in the car. Size was approx 25x25x9 cm, weighed around 4kg! Cost 18,000:-! Also invested in a telefax (22,000:-) and a photo copier.
This step was big, probably not as big as I imagined, as the future years would show!
Between 1986-90 the company was based in Baggängen. Most of my work was local, at Bofors, Chematur, Degerfors Järnverk and a few other smaller businesses. No great expansion....survival and no more.
In 1989 whilst visiting Grönberg family in Vrigstad, I saw an ad in one of the Swedish national evening newspapers, Expressen, where Begus International AB, Stockholm were looking for support staff, for international projects.
BEGUS INTERNATIONAL AB
Begus Hus AB were a well known timber frame supplier, and was well established on the Swedish market and had delivered around 200 kits to UK, mostly around the North East, but also in East Anglia. Their agent was based just outside Newcastle upon Tyne.
They also had quite a big market in Africa with their container home concept. Build a timber container, use it as part of a house structure, fill it with other components and minimum furniture, and deliver to SIDA and other organisation's particularly in Africa. Jack Pattison, named earlier in my contacts with BoroHus and Mallinson-Denny, was the Export Manager for this project with Bengt Henriksson and Begus Hus!
I rang their Korsberga office on the day after, a Monday and spoke to Bo Bengtsson. He invited me to meet him and a few others at their office in Korsberga, which I duly did.
That meeting went well and I was referred to Ronnie Hellström who was running the International side of their business. Met him in Stockholm, Klarabergsgatan....met also his secretary Marianne, who was also his life's partner, Anders Johansson, Thomas Olsson and their architect Cennet Sjölund.
Tried to negotiate an hourly rate and take their offer as a consultancy job. But no way would he entertain that proposal....so I accepted a 4 day deal, 80 % employment at SEK 20,000:-/month, with travel to/from Stockholm paid for!
Our company was put on the shelf....that was 1989.
I had Fridays to work with my company's clients!
This all meant me being away from home and family, Monday-Thursday!
Remember well my first day, which in fact turned out to be my 2nd day. I arrived on a Tuesday morning, it was sometime in August 1989. Confronted by Mr Hellström, "where were you yesterday?".......a miss in communication somewhere caused me some embarassment!
I lived in Odenplan, sharing a company flat with Anders Johansson, who had worked for many years with Begus in Korsberga, as did the other boys!
Worked as "Back office support" for a project in at the World Trade Fair in Seville, Spain. Begus had won a contract for the supply of ca 400 apartments for the Fair and also had the responsibility of projecting managing the whole programme. Thomas Olsson was on site the whole of that project period. Begus were also launching an organisation into the "new" rich Poland, working with a Mr Kaminsky! My job was to support with prices, quotations and allround back up.
Hellström was a "slave" driver and it was obvious that he had problems communicating with his staff....was aggressive and wanted things done in zero time....creating a lot of tension about the place. Wasn't a nice man.
In the Spring 1990 it was obvious that Begus Hus & Begus International AB werer entering lean times. "We" were not succeeding in winning any new tenders, just the few small ones. I got on well with the boys. We would go at least 2x per week to the Old Beefeater on Götgatan and ate with a few drinks, mostly Anders J and I.
BEGUS INTERNATIONL BANKRUPT
That summer, when on holiday with family in Cookstown I got a phone call from Stockholm. It was the Receiver informing me that Begus was declared bankrupt and to report back to him when I returned to Sweden....and that was it! He wasn't answering any questions!
Got back to Sweden, arranged to meet the Solicitor at the office and he explained what would happen to us. 6 month wage was guaranteed and that we should clear our belongings from the premises. When I checked my briefcase it had been emptied of everything to do with Begus. It was later rumoured that Hellström took everything + some extras, from everyone in that office that had any thing to do with Begus......As I understand he later bought the name Begus International from the receiver for SEK 1:- !
UNEMPLOYED
I was now unemployed with a 6 month wage guarantee.....giving time to re-build my company, and renew the work with English Language.
That was difficult because we had to build up a clientel again and cope with Bank pressure.
It wasn't definite that I could resume business, as there was no capital left in ther company and I was reminded by the Bank Manager to be careful not use more that 50% of the share capital!....in fact to get going again W had to take a loan, with the understanding that it should be re-paid within 18 months....some SEK200,000:-. This was a major gamble, but I believed, really without any substance, that we would do it!
Steven was now 19, Mark 18, Sam 16 and Tim12.
NEW START
Within a month, we're now into 1992 (Begus went under July 1991, I had the 6 months guaranteed salary, taking us into early 92), I had a phone call from a certain Alf Wedman, who had worked with in the Personnel Dept at Bofors & Degerfors Järnverk. He knew about me and our English Language training concept!Asked if I would be interested in taking on a project with the newly formed Avesta Sheffield Stainless Steel Group?
I said yes, and so I was directed towards Börje Engblom to discuss what they wanted.
I was in cuckoo land! Could this be a major contract, what did they need, what did they want from me?
After my first meeting with Börje in Avesta, I couldn't wait to get home to tell Liz all about it!
I had a mobile at this stage so I told her as I left Avesta.
We had got a major contract to run an evaluation programme for about 120 employees in Avesta, 50 in Degerfors and the same number approx at Torshälla!
From that evaluation programme we created enough work for me on a full time basis, ie ca 30 hours teaching per week.
One of the first groups I worked with, was in fact 6 months prior to the amalgamation of Avesta & Sheffield! The trade union, company group were to be trained in "basic" English so that they would understand what was going on in the negotiations. I travelled to Stockholm once every 2 week for a half day's training, where I met representatives of all the stainless production units, previously mentioned! The contact with these guys gave me a fantastic stepping stone into each of these production units in central Sweden.
We repaid the Bank loan, mentioned earlier within 7 months! Mr Ljungmarker at the Bank couldn't believe it (nor could I!),,,,but it felt good.
Thanks to this Avesta Sheffield work we were able to build up the company again and get re established on the market.....not that we needed to sell our services at this particular time.
Liz, although working hard and under stress within "äldrevård"/hemtjänstassistent (elderly care) Karlskoga Kommun, she continued "doing the books".
We could see now the possibility to employ someone to administrate and bookkeep, and allow me to concentrate only on production.
OFFICE ACCOMMODATION
Mark started working with me in 1994. By this time we had converted the "big" front bedroom upstairs at Linnebäck into our office. This became Marks work place for a couple of years until we moved to Kent Persson's property at the old Posten (Post Office), in 1997. Camilla had tipped us off about these premises.
Mark became my right hand man, and without him we would never have accomplished those heights we reached : the first Swedish company to offer examinations for verbal English and one of the first English Language service supply company's to have ISO 9002, later 9001.
Had I listened to him in 2002-3, the difficulties I experienced in 2003-04 would most probably have never happened. The amount of extra work he put in, no one will ever know, except myself and Liz.
We had 5 good years, 1992-97. A chance came in 1996-97 to add another dimension to the company. In keeping with our development philosophy of being able to offer an "all in language service" to our customers and a chance to capture new clientel!
DACCAB INDUSTRIENGELSKA AB
An opportunity came our way to take over/buy a company, Industriengelska AB, based in Jönköping and run by an old friend, whom I had met during my days at Bofors. Prior to me starting at Bofors, Lars Karlsson had been organising and running intensive ELT week ends for the staff at Bofors. I worked together with him on some of these programmes. He hired teachers from the UK!
We bought his business for SEK 90,000:-.
To run this side of the operation we employed John Halliwell (1995-2001) who was a competent teacher and also worked with text! He had been previously employed by our competitor, Christine Beckman's company. She gave an excellent reference, but warned about his social skills and some other problems.
He and Mark took on the change over procedure. John then started producing translations for the Industriengelska customers.
We decide to change the company name, using the initials of the original name Des Allen Communication Consultancy AB and adding Industriengelska AB, becoming DaccabIndustriengelska AB.
DACCAB'S EXPANSION
During the late 90's, when we had moved to spacious and comfortable offices at Viaduktsgatan, Karlskoga, I decided that we should be a registered ISO company and also offer qualifications for our training. The London Chamber of Commerce became our Examinations Board after I visited their HQ in Surrey. We decided to offer the SEFIC oral examination (Speaking English For Industry & Commerce) to our customers!
This proved to be a success.....during the following years we prepared approx 300 students for these exams, which were at varying levels! That took a lot of organising and Mark was a professional when it came to administrating these activities.
Michael Curran was one of our popular examiners. He lived in East Anglia and worked in Sweden in the late 1950's and early 60's with Denis Gotobed and others (eg Ian Dunlop & Brenda Bennett) with the launch of English language training programmes, such the START series, on Swedish TV (SVT)
Just after we moved to the newly renovated offices in Viaduktsgatan (old Post Office) we worked hard at expanding the company. I had begun marketing outside of Avesta-Sheffield and was also teaching in the region of 35 hrs per week+travelling+selling+administarting etc. It was time to bring in more teaching staff. This I did by renting a teacher from LTS in Bath. We did this for 2 years, and based them in a little stuga we bought in Rudu, just outside Avesta, near the Dala river and on the edge of the forest! We also bought an old Volvo for them to use. That didn't come without its problems, esp the winter months!
Those guys were with us between 1996 -98, then Michael Holland came from Belfast and lived there for nearly 4 years. The story how I met Michael will follow.
I had decided that Daccab would be different in its approach to language training and supporting services.....thus trying to acquire a unique status on the market.
Quality Assurance through ISO and the ratification of knowledge gained through our efforts, by taking the London Chamber of Commerce SEFIC examinations.
John Halliwell was given the task to develop our ISO Manual. He did this professionally and after many hours work he succeeded in getting approval.
It was now a matter of getting everyone to tune in and follow the new routines. The ISO documentation became an instrument of power for John, making my communication quite difficult with, especially when wage negotiations would come around.
John's translation production was slow, but very professional. If only his approach to staff was as professional. Daccab bought a house for him in Bäckhammar. He paid a rent, covering those costs! However he had insulted me on several occasions because of alleged favours I gave Mark and myself.
From day one, when Mark & Liz joined the company, we would be on first name terms and no favours, because of the family connection.
The translation production unfortunately became the lowest income maker, with virtually no profit.
I decided to give him notice, a few weeks after he had requested a massive pay increase.
He worked 3 months notice, lived in the house, an extra month, because that was the lease agreement. During those 3 months, (I assume) he informed all "his" Daccab clients that he was leaving and would become available to take them over.
How did I know this?....I telephoned around all main customers informing them that John was leaving and that we had alternative arrangements made. Several said that they would continue working with him....others said they would remain with Daccab, others wouldn't commit.
Stuart Foxley, was popular when he started in the company around 1998. He worked hard and soon learnt the "ropes", but always complained about the amount of preparation time needed, and not getting reimbursed for that! I eventually gave him several companies to be responsible for. Stuart had indicated several times towards the end of his "ministry", that I wasn't doing anything/enough to help him, with preparatory work. The demand that we had to achieve 800 hrs per year was unrealistic/impossible for him. He never achieved the 800 hrs and his wages reflected that.
He wrote his notice to me around the same period as JH was noticed.
BEGINNING OF THE END FOR DACCAB IN ITS PRESENT STRUCTURE
They both took the Daccab customers they had been responsible for and used them as a basis for their new company's!? Loyality had gone out the window....how naive was I about security giving loyality.
From 2003, with the loss of these customers, ca 35% of our turnover, I was forced to look at alternative sources of income.....therefore I increased my activity with KarlsonHus. I had already been working with them on & off from 1994 (another story included on this site!).
Initially that gave a few good commission incomes on houses sold in Hampshire and Kent, through the association KHI had with Greenfield Way Ltd (Derek Green & Brenda Sharpe)
I got to know this couple very well and became good friends....visited them many times in England, both on site and in restaurants. However the big crunch came for both GFW & Daccab, in July 2004.
One of our last ditch attempts to reconstruct Daccab, was to speak to each of the remaining staff, offering them to go into contract instead with us, and we would supply them with administration services. No one reacted one way or the other, when I spoke to them with the offer....I could now sense that loyality wasn't existing. The Trainers were given a week to think it over.....no one accepted. The result of this was simple. When I put the company into voluntary liquidation, August 2004, a few new companies had already been registered that summer. At a guess, some before the liquidation was official. This I discovered after looking at the registration dates via a Credit Evaluation Company!
All this was a "living lesson" on how loyality in business does not exist....it's simply every man for himself and his own survival.....a bitter pill to swallow.
As far as I know they are still going to-day, 2010, still with the clientel from the Daccab days! After a few years looking back I can feel proud that these guys have been able to start their companies on a clientel that I worked hard to create.
Parallel to that described above I was involved in the preparation of a tender for a major housing project in Everton, Liverpool, (the biggest ever priced job for KarlsonHus). If successful Daccab would quality for a massive commission, over a period of 2 years.
However word came to me in Cookstown, during that summer, that GFW had gone into liquidation.
I then decided that we wouldn't start our new working year (August – July), without a strong financial foot to stand on, in fact we couldn't because we had already used up all our share capital......we always had been producing during the autumn with a "catch up technique" ie starting the year with a hole in the economy, depending on the cheque credit approved by the Bank, and working up the credit, until we were in the black and running in profit by February March, only to start that whole process again every August!
Within a week of our return from NIreland, I took the long walk from Viaduktsgatan to BlåaHuset, Lilla Torget to meet Lars-Eric Saltin our Solicitor, to collect the correct documentation to submit my application for voluntary liquidation. The end of an era.
Daccab lives on, the name bought by Mark Boardman, Stoby, Hässleholm, who now runs the new business. He incorporated his clientel, and together with his wife and a partner, Mark Fisher is carrying on the name Daccb Industriengelska AB....www.daccab.se
FAMILY
We also had 4 sons growing up....in the late 80's, 1988, Steven was 16-17, Mark 15-16, Sam 12-13 and Tim 10-11. Liz was having regular phone calls from Katrinedal School from Gunnar Rosbro (Head Master/Rektor) about Mark and his behaviour and clashes he was having with Rosbro and Sven Larsson, amongst others. Sam was beginning to show signs of trouble as well. Steven was quiet, he was spending most of his time with Åsa Bengtsson. Tim was also "conducting" himself and did so all through his teenage years, except for one car massacre incident, together with Ronny Belsby
Being a parent isn't easy. It is demanding and you always want the best for your children. Without going into detail, it's enough to say that teenage years were quite difficult for Mark and for Sam it was a disaster.
On one occasion when he and I returned from Cookstown, autumn 1992, I dropped Sam off in the town where he had agreed to meet up with girlfriend Annica. Next day, a Sunday, we could see that something was wrong with Sam. His behaviour was erratic, as it had been for some time. I asked Sam, quietly on his own, what was wrong....he said he had something to tell us. We knew by now that it was big......he said that Annica was pregnant. I suppose he anticipated that we would explode. Liz & I agreed later that we almost knew before he told us. We were cool, took the happy line and from the word go it was support they needed and which they got! Jonathan was born in October 1992.
What followed was truly a nightmare......Smoking, drinking, doping, association with illegal MC groupings, life threatened, had to pay up, had to flee the country, disappeared from our radar for 3 months, ending up in Holland.....etc etc.
Liz and I, on occasions were demented....but just held on in the belief that a good family and care and understanding would prevail.
By the end of the 90's we had prevailed, don't know how. Liz was the most understanding wife and mother in this world. She was my tower of strength and guiding light when I felt under and pressurized. The boys looked to her for guidance, in their most difficult days we always made a point of being available....at least we like to think so.
I did the night shift and Liz the day! By night shift I mean those week end drop offs and collections, usually at around 02:00am on a Sat/Sun mornings. Sometimes that entailed driving friends home....Mark one morning on collection asked if I could drive this friend home to Degerfors? What do you do? You drive in the direction of Degerfors and ask where....turned out to be somewhere in the forest near Åtorp! I got to bed that morning at 04:30.
JOCKE BRINK
Another incident....our phone rang at 03:30! Our boys were home. I answered....heard a voice asking "vad gör du, Desmond?" (what are you doing?). Jocke Brink! He had phoned mother Anita, got no answer and politely asked if I could collect him in town! What can you do when the fifth son rings asking for help!
The same Jocke, around this same time era, got a lift home with me, late one Saturday night....midnight time. Mark and Johan Simonsson were working with Mark's EPA tractor in our garage. Jocke went straight into them, started chatting and lifted a half full Coca Cola bottle. As he swallowed the first mouthful, without tasting, Johan lifted his head quickly, bumping his head on the bonnet in the process, asking Jocke if he drunk out of that bottle, pointed to the same bottle Jocke had drunk out of....that's Glykol (antifreeze), it's deadly. All panic broke loose. I ran into the house dialled emergency, asking for info on poisoning! Into the emergency with him immediately. Post haste to Kga Hospital. Liz phoned to them, explaining the emergency. They took Jocke immediately, put him on a drip....they stomach pumped him. He was given some substance to thin the mixture that was now into his blood stream. The following day he woke with a raging hangover, but very happy to be alive....as we all were! Took him a few days to recover hangover!
Liz at this stage mid 90's, had a very stressful job as HemTjänst Assistant, in Karlskoga Kommun. It was too much. She finished June 94, was unemployed, had given up her job, thus no income....a major strain on our home economy. Liz joined the Daccab team, August 95.
However a lot of health damage was already done as I'll relate later.
Liz was a great success with all her low level students. Worked in Degerfors, Torshälla, Fagersta and Avesta. A lot of travelling, the old black Corolla, then the new lipstick red Corolla.
7,5 years Liz worked with me in the company......preparing a lot of low level students for the SEFIC Examinations, successfully. As mentioned earlier Liz's health was to play up again. As said damage had already been done during the latter days at Kga Kommun. Now she was beginning to feel stress symptoms, already in 1998. Triggered by our good friend and Avesta Sheffield' s KBR PersonalChef, Annika Gladh's sudden death, September 1998. 
Liz struggled another 4 years, until March 2002, when she went off on the sick. The Doctor said at least one month. Most of that Liz spent sleeping. Tried back to work again for a month's trial, but lasted only 2-3 days. More time off, try again, but no way could Liz continue.....burned out!
She was off sick for over a year, then she was offered a 3 week rehab period at Loka Brunn....which was a life changing experience. Liz will explain her period there in her story.
Daccab, at most had 10 staff, including Karin Bergman, who worked with the French language, as a translator. We did a deal bringing her in, although it was really her business and she was paid a wage. She also had certain conditions, giving her a % of the profit she made! She only stayed on board for about 18 months.
Andy Creighton had now joined us, as well as Michael Holland, (1997-2002),Stuart Foxley, Keith Stitt, part-timer Robert ???? (Krylbo), Judith Fargher joined us when Liz left in 2002.
We were the first language training business to offer full time employment to trainers/teachers. The thinking behind this idea was to give job security, which in turn would create loyality to the company. Most of the trainers did not understand this thinking, as I found out later. Loyality did not exist, especially when the going began to get tough and the market began to change. (One trainer said he couldn't cope with the pressure of 800 hrs , because he spent as much, if not more time on preparation.). Read on.......
I developed the business by winning Language Training contracts in Avesta, Fors, Sandviken, Mora, Falun, Borlänge, Hedemora, Västerås. Seminar contracts we had in Mölndal, Jönköping, Järfälla, Stockholm, Linköping, Avesta. This meant a lot of travelling. I was usually away from home Tuesday-Thursday and many times Fridays. All this from 1992-2004!
I did not enjoy wages negotiations each year....that's when you find the real people and those who understood what I was trying to do. More money was always the demand. Most, not all trainers had leasing cars, bonuses were on offer. In fact over an estimated production period of 40 weeks, an annual wage ofSEK 350,000:- was achieved by some (one in particular)....10 weeks holiday per year and still there were complaints. My practical request, to get the finances to match up was a simple calculation. Production calculated to be based on 40 weeks/year. 20hrs (60 min) per week = 800 hrs.
Anything over 800 hrs would generate a bonus. Preparation time must be brought into the calculation as well. Approx 300 hrs., giving a total of 1100 hrs /annum.
In Sweden, a normal white collar worker works 47 weeks at 40 hrs/week = 1880 hrs. The average wage in Sweden during the latter stages of Daccab's operation was ca 25,000:-/month.
A new life was about to start, or rather another phase which would lead to yet another phase and then finally the end of my regular working life, officially December 2007. Still a lot to tell, so hang in there!
The autumn of 2004 was spent clearing out Viaduktsgatan (that was cleared by the end of August....Sam & friends carried box after box and other bits & pieces to Danno, the dump! I also had to deal with the liquidator.......going through all that was of value, to be sold on to raise what ever cash he could to pay off the creditors. Emotionally draining. To see ones lifes work and achievemnets just disappearing, was max emotion.
Not one client nor employee made contact with me afterwards, except, Michael Holland. Andy Creighton as well was in touch, but never a word about how could we have helped etc
My main contact man at Avesta Sheffield now Outukumpu, whom I looked upon as a friend, Börje Engblom, never made any contact. Those at Degerfors I still see regularly at Stora Valla!
I had the 6 month salary guarantee,????? then it was to register unemployed, at ArbetsFörmedling. It was now the Spring of 2005. Had kept the contact with Kennet Karlsson at KarlsonHus AB.
I organised a work practice programme there for a 6 month period, which would lead to employment. Kennet was talking to a very ambitious lady, Christine Hynes, who was going to turn Britain upside down with her eco friendly Swedish engineered timber framed homes.
This was sounding very exciting and was soon to lift my mind away from the difficult months that I had in 2004, and into 05!
The first phase of this work was to be in Dublin at a Trade Fair.Swedish Trade Council, based in Dublin had organised a Stand for several Swedish Exhibitors, one of which wsa KHI. Kennet invited Ms Hynes to be on the Stand with us. We got big crowds, doing our best to record names/addresses, mostly by using a code reader, as every visitor had a badge with a "streckkod". We only had one such, so the other helpers on the Stand had to write down names etc by hand. This Expo was a Friday (for the trades) and the general public on Saturday & Sunday.
Initially she wanted to employ me, working from Åseda. I refused and said that if I was going to work with this project it would be with KarlsonHus Industrier AB. As I understood she was to contribute a certain amount! A lot of discussion went on during our stay in Dublin, August 2005.... whilst sitting with Kennet & Architect Micke Andersson, in the Pub, at the Old School House, Northumberland St, Ballsbridge, they decided to offer me the job.
Later on after returning to Sweden I suggested to Kennet that he apply for wage support from Aförmedlingen, for the first 6 months!.....which when looking back I believe I shouldn't have done!
I was now feeling happy again, doing something which I really only ever wanted to do, from way back, even before starting Daccab......Daccab for me initially was only to be a stop gap before getting back into the housing industry....1982-05...a long wait!
I started the commuting in late August 2005. The first task was to follow up all contacts made at the Exhibition in Dublin. After a few days I couldn't find the list from the "coded" visitors. Made contact with that service supplier. They served me with only a few. Someone else saying they represented KHI got the bulk of the contacxt details. Suspicions were directed towards a certain lady, who by now was pressurising KHI for quick deliveries on quotes and technical information. I was in the process of preparing a technical Handbook for the KHI product for the new UK/Ireland market. Her company had acquired the rights for both markets!
At the Exhibition, Kennet Karlsson, MD at KarlsonHus Industrier, had met a guy Bill Hatchett and they exchanged cards!
The KHI/ Ms Hynes (lady mentioned above) relationship was sinking fast. By this time I had made contact with Bill Hatchett & family, who were cabinet makers, based in West Cork. We tried to get a relationship between Hatchett/Hynes.....but her demands were too much and it was obvious that the business chemistry between the 3 parties wouldn't work in "a month of Sundays!" Kennet Karlsson decdided to break the contract and show her the road. I would work directly with the market and try hard to establish the KHI product from Sweden, until we found an alternative to Ms Hynes!
Bill & Toby Hatchett came to Sweden in Dec 2006, when in principle it was decided to offer market rights to the Hatchetts, for Munster, ROI! I would be their active support from Åseda.
They then started to work hard with the contacts they had established.
In the meantime I wasn't making much inroads to the market from Åseda, so I travelled to Ireland and met up with several potential interested parties.....led to nothing!
In early March, after my 6 months AFörmedling wage supported period had elapsed, Kennet came to me one pm and explained that the company couldn't afford to pay me after the wage support package had ended. I finished at the end of March 2006.
I was distressed and disappointed, felt that everything/body (not family) was against me.....Mum's health was failing, to travel to NIreland I had to get permission every time from Aförmedlingen/A-Kassa; life was quite a burden just now..........
Registered at Arbetsförmedlingen as unemployed, and now started a period of living on A-Kassa!
Less than a month later, at Easter, early April 2006, I had to go to the Accident & Emergency at Karlskoga Hospital. I was suffereing from cold sweats and palpitations.........these 36 hours would change my direction in life.
MORE UNDER HEADING 2004-PRESENT!