Tribute
Shortly you will read my tribute to Dad, which I had prepared some time before I travelled to Cookstown for the last time before Dad left us.  I now include this as part of MY STORY. This was delivered at his funeral service in Cookstown Independent Methodist Church, on Friday 6 March 2009. 
A few years prior to his passing however, I have a few stories to tell, happier occasions...... We spent a lot of time together, talked a lot, discussed a lot, blethered a lot, on my regular visits. On some occasions I would talk to Dad like short interviews! We would go out for a drive, on a nice afternoon....he would say "stop at the end of the Fountain Rd and get a couple of small bottles of white and a couple of Harp"! We would drive out the country or just park up the town....somewhere just "below" the Cenotaph (War Memorial). He would open the wine bottle, and take a few swigs! During these sessions we would talk about old times, and when we would get back to Sunnydale I would make notes! Then the conversation would continue....just letting it flow naturally. Other recent memories would be talkled about, not linked to the tribute, but nevertheless part of My Story......
August 2007, we travelled to the Air Show in Portrush....took the whole day, at our leisure. We left around 11am, drove to Portstewart and stopped for lunch at the Cromore Halt Restaurant. Then towards Portrush, dropping off left, just past Juniper Hill Caravan Park, to a car park, for a great view of the aircraft "doing their thing!" Dad stayed in the car.....it was a great day. Very tired when we got home! That was the last "long" outing I had with Dad. Several other outings we had together ….Galway, around 2000 and Dungloe 2004. Galway was the first trip we had together.
These trips were fun. We had great craic together and with the people we met. One or two examples....In Galway, it was July, the weather was sunny and warm. We arrived early pm, checked into a B&B in Salthill, just a few kms from the city centre. We drove into the centre, parked and walked around. We sat near the Kennedy monument, where there were a few lads playing Irish music and singing. A good crowd had gathered and the atmosphere was charged with excitement. Dad was so gripped by the performance that he went over to them at a break and started chatting. He discovered they were from Donegal (didn't ask who their fathers/grandfathers were!!!) and were touring around busking during the summer months, to help support themselves during their university studies. After that we adjourned to a nearby pub, had a few drinks and joined in some craic with the locals. In the corner next to us were a couple of local farmers having a great conversation. We didn't understand a word ...they were speaking gaelic!!  Opposite us were 2 men and a woman. They had obviously been there a good while before us and we noticed that they were consuming a lot of alcohol. As time went on their craic intensified, became high pitched and less understandable. They were speaking a form of English but it turned into a babble, with heads hanging and one of them fell asleep.
We were people watching......later we had a meal in the same place and stayed on until 1am, listening to more Irish music. We moved our position as the night crept on and by late night we were in the heart of the music and in the midst of what Dad described as "good Irish people". I will never ever forget that day/evening. What we did the rest of the time I hardly remember, altough we did do sight seeing....Galway Bay, the Connemara mountains etc. In all we were away 3 nights.
Dungloe....the rugged west coast of Donegal! We found a B&B on the Main St. "Atlantic House". Different to Galway....Dad was older, so it was more touring the sites by car....Bloody Foreland, Daniel O'Donnell country/Kincasslagh etc. Some of the scenery was breathtaking and when we found a good spot we would stop and enjoy. We stopped one lunch time just outside Dunfanaghy and enjoyed a good lunch and washed it down with a Guiness. Whilst drinking the Guiness the craic would always end up with stories from his old work place, Fishers, and his work mates.
Again we were away 3 nights. We got to know the B&B's landlord. He had relatives in Coalisland, a small town near Cookstown!
Now, changing the tone dramatically...from the happy days to the sad
TRIBUTE as delivered at the funeral service
DAD, FATHER, HUSBAND, BROTHER, BROTHER IN LAW, POP, COUSIN, GRANDA, FARFAR, GAMMAL FARFAR AND FRIEND….. THAT IS HOW THIS MAN WAS KNOWN TO HIS FAMILY .... AND A MAN WITH A STRONG STANDING AND A GOOD REPUTATION IN THE LOCAL COMMUNITY, A MAN WITH A STRONG AND TRADITIONAL BIBLE BASED FAITH IN GOD ... A GODLY MAN.
I want to-day, to talk about Dads life as a CELEBRATION
We, the Allen family, were confronted this week by the daunting experience of death and its consequences....not nice.... Just a couple of minutes after Dad left us, 06:30 am, 1st March, 2009, I spontaneously opened the window in that small room, in Ward 3, the Mid Ulster Hospital, Magherafelt and was reminded immediately, by a little bird singing, that in the midst of death is life!........With that thought I want to talk about the life of our Dad, Pop, Granda, Farfar, gammal Farfar, a brother, a brother in law, an uncle, a cousin, a neighbour, a friend and Sammie. He was aware that I would be paying tribute to him at his funeral. We had talked about this the previous year. He was very forward thinking as we planned for his last days. One thing he did clearly say was that all the glory for his good life was to be given to his Saviour and Lord, which I will now endeavour to convey.
Dad was a Good man, a Gracious man, a Generous man and a Godly man......Yvonne and I owe this tribute to Dad and it is a privilege for me, on behalf of Yvonne and myself, to summarize his life in this way. A CELEBRATlON OF LIFE! That life began 22 October 1921. Born to the late Sam and Violet Allen, in Moneymore, he was brother to Bobby who died in infancy, brother to the late Mary Shirlow and the late Eileen Bell, and brother to Evelyn Brown, Aunt Evelyn, who is with us to-day. 
His early days were spent living with the family in different locations in and around Moneymore, somewhere in the region of 10-12 locations, naming just a few: Coltrim, Diamond Lane, Crossnareagh, Carrydarragh, and Moneymore itself. Started Moneymore PS in 1927, 5 ½ years old, and finished in 1936. Shortly afterwards he got his first job as an apprentice motor mechanic, with the Mid Ulster Motor Company, owned by Capt Harris. 2 years later he started as a Fitter in the Bacon Factory, Cookstown, cycling to and from work with his father, my grandfather Sam .... 6 miles each way daily, leaving home 05.50 for 06.30 start! He eventually had the responsibility for raising the steam for the days production. He told me many times how proud he felt, cycling into the Factory Yard which was fully flood light and the biggest employer in the Mid Ulster region!
In 1941 he met Thelma Coulter for the first time, later to become his wife. During this period, the early 40's he was offered a challenging job by the NI Milk Marketing Board, starting in Dunman at 7d/hr (the former currency, ie 7 pence, which was into todays currency ca He then travelIed to the different plants in Nlreland at : Ballynure, Tassagh, Killyman, Lisnaskea and Enniskillen. As a young man he showed himself to be a bright and innovative fitter/engineer, so much so that he was sent to Dartford in Kent to discuss a major problem which had developed in these different refrigerations plants. After his homecoming he was able to sort out the problem himself, without the assistance of expensive consultants from England, much to the satisfaction of the MMBoard! 
During this period, he married our Mum, Thelma Coulter. He left the MMBoard after a dispute, got a temporary job as manager of the Moneymore Co¬Operative and Dairy Society Bottling Plant. Went through a period of being unsettled until he heard about the new Government sponsored project at the old Weaving Mill, Drum Rd, Cookstown, later to be known as IJ Fishers Ltd. He yearned to get back into engineering! He got a job as Fitter, 6 months prior to the factory opening, which was Sept 1949. During these early years children were bom, Des in 1947, and Yvonne in 1951 A harrowing experience occured in 1953 when I/Des contacted Polio and developed from that Infantile Paralysis ..... to be seperated for 33 weeks. Was placed in a Belfast hospital, visiting on Sundays and the occasional Wednesday. Miraculously that boy survived and is standing here to-day. Dad continued working as a fitter until 1960. Fishers then created a new management team, where he was offered and accepted the post of Technical Manager. Fishers then had ca 700 employees.
A major happening in Dads life, after this new appointment was a visit to Stockton on Tees, NEngland to negotiate the purchase of and be responsible for the installation of NIrelands largest Steam Raising Boiler of its day, and one of Irelands largest. This was duly completed within the time frame set out by Fisher. In order to operate such equipment Dad needed special education, which he did through day release and home study. Many companies throughout Ireland were then to visit Fishers to be educated in such equipment.
In the late 1960's Fisher's experienced a dramatic drop in the sale of hats ... pay offs were not uncommon, until one day in early 1973 the business was pronounced bankrupt. This was the same period as Des and Liz informed the family that they were moving to Sweden, ..... exactly 20 years after the polio illness! Dad didn't have to look long for new work. He was appointed Technical Assistant at the Environmental Health Office, Cookstown Town Hall, the same week that Fishers were made bankrupt. There he worked until his retirement 22 October 1986 (65th birthday). During the next few years he drove cars for Sam and Elsie Bell and did the occasional run for Harry Rainey at Rainey Associates ..... which he enjoyed enormously. At the age of 80 he decided that working days were over.
Other great interests in life.
- He had another great love in his life in his earlier days, and that was the bagpipes .... where he played for many years, late 1930's to the early 1950's, with Ballindrum Pipe Band. Up to the day he left us, he had tears when he heard a good pipe band! - The lambeg drum, which he loved. As a young man he would accompany his father, my grandfather, to drumming matches and parades. Remember weIl during the drumming season, we could hear from Clare the sound of these drums, from quite a distance. Dad would say on a Friday/Saturday evening .... ."Jump into the car and we'll go and see where they are" .... usually Oldtown, top of Union St or Derryloran ..... occasionally we ended up in Moneymore. 
More often than not he would be asked to "help out" and relieve several drummers during the session. As late as 2005, at 84 years of age, he got a few minutes drumming with some old friends at Derryloran! - Another great interest was motor sport .... in the late 1940's he was mechanic for GReid, when he rode the Cookstown 100 in 1946. The same GReid, BBaxter and Dad accompanied Henry Sandford throughout Ireland in a very successful era of go-karting (1960's), for this Cookstown team. - Finally he was also a member of the successful Cookstown Shooting team in the 1960's. – Over the past few years he liked to follow Kimi Räkkinen in F1 and Valentino Rossi in MotoGP . 
What I have tried to do is to convey a summary of Dads life ..... a life full of happenings, a life full of people contact, a life devoted to his family, a patient and understanding husband, a loving brother, a practical and supportive brother in law, a life where he gave everything to his grandchildren when we visited in the summers from Sweden, a life which he dedicated to God and not least, he was a friend, a great friend to me, to Yvonne .... many long telephone chats we've had to and from Sweden.......... a friend to everybody.
I mean EVERYBODY.... he never differientated between people in our rather difficult society. This was evident during his working life, to which Yvonne and I can bear witness. He looked upon all as equal, in the sight of God. This is one of many legacies he has left to his family. He also loved our trips to the South of Ireland and our contact with the locals in those different areas.
To conclude this celebration, a few words of testimony to Dads life, not only as Dad, father, husband, grandfather, brother, brother in law, cousin, friend, but also his belief in his Saviour Jesus Christ.
Using his own words, given to me in 2005. "On Sunday night, 6 March. 1966. I entered into the experience of conversion to the Lord Jesus Christ. aged 45"
Dad was born to a Christian mother, my grandmother Violet. An ordinary country woman of simple bible based faith, a godly woman who cared only for others, much to the detriment of her own health. A woman who was the family hub for the Allen, Bell, Brown, and Shirlow cousins, growing up. 
My grandfather had a miraculous conversion in the early 1960's, after my Grandmother's prayers of more than 40 years. In 1966, during a Faith Mission campaign in my grandfathers field in a portable hall at Clare, conduced by Billy and Mary Magee, Dad came into my grandparents humble home late one evening, embracing my grandmother, uttering the words.. ..... "mamma. the prodigal has returned!" Since then Dad has been active with the Faith Mission, being Cookstown PU Representative for years, and assisted with the new College renovations in Edinburgh. He became a Local Preacher within the Portadown District of the Irish Methodist Church. Was on the Quarterly Board of Cookstown Methodist Church for years, Circuit Stewart for quite a few of those years. Attended many lrish Methodist Conferences, and was a member of the Property Board for Ireland.
One very important event which I must relate and which had a great influence on him, and me, together with two uncles, Sandy Brown and Ivan Bell. In the summer of 1968 I was a young student in the Faith Mission, summer working in Fife, Scotland. We were in the 3rd week of a Youth Campaign in Crombie, nr Dunfermline. After doing some home visitation, the family whom we were staying with, informed me that somebody wanted to see me at the Petrol station, just a few hundred yards up the road ..... Who was standing on the forecourt if not my Dad, Sandy and Ivan !! The following days proved to be an astonishing time of spiritual blessing with the Fife friends, and with one young man in particular, who had a sad but wonderful story. Jackie Weinberg, rescued from the old Belgian Congo in the early 60's, and who became a dynamic youth worker and musican. I had the great pleasure of working with him that summer and Dad, Sandy and Ivan the pleasure of his fellowship during those few very happy days. Jackie died some months later in a tragic car accident in the North of England.
Latterly Dad joined the Cookstown Independent Methodist Church where he found a spiritual home and a Christian fellowship which meant everything to him in his last days. He spoke to me often of the spiritual support he received from Malcom and Olive Patterson and the members of the church. This has made us, the family, very happy.
During my growing up Dad had great affection for Dr Billy Graham, the great American evangelist. On that team was one mighty singer George Bev Shea. I would like to finish this CELEBRATION OF LIFE by quoting from one of the great hymns Shea used to sing ..... and this is a unique link to our life in Sweden linking into the life of our Dad, our Father, a husband, brother in law, cousin, Granda, farfar, gammal farfar, pop, and Sammie .....
"How Great thou Art" Background to this hymn is very interesting. I believe it's suitable as a celebration to Dad. The original writer was Carl Erik Boberg, a Swedish preacher, 1859-1940. He attended a Bible School in Kristinehamn, where Sam, our 3rd son has lived and worked, with his wife Jasna and family.
In 1886 this Pastor Boberg was caught in a sudden thunderstorm, while visiting a beautiful country estate, in the South of Sweden. As the storm passed, it gave way to the sweet song of birds and a green countryside glistening in the sunlight. Boberg composed the nine original stanzas of this beautiful hymn, as a result of that experience. In time the hymn was translated into German and Russian. It was noticed by a British missionary, serving in the Ukraine. That missionary Rev Stuart K Hine 1899-1989, often sang that hymn with his wife during their ministry there! Later they translated three stanzas into English from Russian, and Hine himself added a fourth. "How Great Thou art" is probably one of the most popular hymns of all time. NOT widely known until 1957, when the Billy Graham Crusade team in New York city first launched it. Sung by George Beverely Shea, I remember Dad listening to this and many other hymns during those early days of the Billy Graham broadcasts, known as "The Hour of Decision" , on TWR.
Here we have the Swedish connection weIl and truly linked to this celebration of life for our Dad
The original first verse after the first translation from Russian! O, GREAT GOD! When I the world consider Which Thou has made by Thine almighty Word And how the webb of life Thy wisdom guideth And all creation feedeth at Thy board.
Refrain: Then doth my soul burst forth in song of praise Oh, great God
• Verse 1: O Lord my God! When I in awesome wonder Consider all the works Thy hands have made. I see the stars, I hear the mighty thunder, Thy power through-out the universe displayed. 
Refrain: Then sings my soul, my Saviour God, to Thee; How great Thou art, how great Thou art! (Then sings my soul, My Saviour God, to Thee: How great Thou art, how great Thou art!) 
• Verse 2: When through the woods and forest glades I wander And hear the birds sing sweetly in the trees; When I look down from lofty mountain grandeur And hear the brook and feel the gentle breeze: (Repeat Refrain.) 
• Verse 3: And when I think that God, His Son not sparing, Sent Him to die, I scarce can take it in; That on the cross, my burden gladly bearing, He bled and died to take away my sin: (Repeat Refrain.) 
• Verse 4: When Christ shall come with shout of acclamation And take me home, what joy shall fill my heart! Then I shall bow in humble adoration, And there proclaim, my God, how great Thou art! (Repeat Refrain.)
( Original Swedish Lyrics) O store Gud, när jag den värld beskådar, Som du har skapat med ditt allmaktsord, Hur där din visdom leder livets trådar, Och alla väsen mättas vid ditt bord. Då brister själen ut i lovsångsljud: O store Gud! O store Gud! Då brister själen ut i lovsångsljud:
O store Gud! O store Gud! När sommarvinden susar över fälten, När blommor dofta invid källans rand, När trastar drilla i de gröna tälten, Vid furuskogens tysta, dunkla rand; När jag i bibeln skådar alla under, Som Herren gjort se'n förste Adams tid, Hur nåde full Han varit alla stunder, Och hjälpt sitt folk ur livets synd och strid; När slutligt alla tidens höljen falla, Uti åskådning byter sig min tro, Och evighetens klara klockor kalla, Min frälsta ande till dess sabbatsro; Då brister själen ut i lovsångsljud: Tack store Gud! Tack store Gud! Då brister själen ut i lovsångsljud: Tack store Gud! Tack store Gud! )
Conclusion : A single bag-piper playing, AMAZING GRACE, at the graveside//DAVID TRAINOR
CERTAIN EXTRACTS IN THE ABOVE TRIBUTE WERE NOT QUOTED DURING THE CHURCH SERVICE, AS I FELT EMOTIONALLY UNABLE TO DELIVER. HOWEVER THE ABOVE TEXT IS WHAT WAS INTENDED. //DES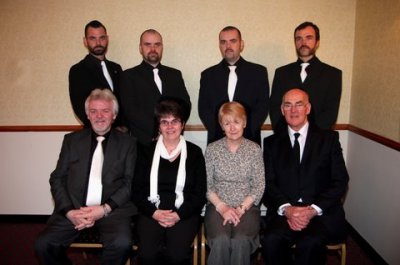 Taken just hours after the funeral at the Royal Hotel, Cookstown, NIreland by cousin Norman Bell