Background
USEFUL HISTORICAL BACKGROUND INFORMATION
MY STORY:  "FROM MONEYMORE TO KARLSKOGA"
BACKGROUND 1....IRLANDS HISTORIA 

(på Svenska. Power Point Presentation på .pdf format. Laddas ner på begäran)

NOW to MY STORY........
My story began many years ago. I have traced records from 1775 (with help from Kerri and Laurenn Montgomery) and onwards...... There are in fact two stories, Samuel James Desmond ALLEN and Sarah Elizabeth O'BRIEN, otherwise known in the family as Des & Liz!
The O'BRIEN Story is under construction!
Des was born on 29 June, 1947 and Liz on 11 August 1948.
The stories are based on research, via family conversations and internet searches.
Des's (Desmond) parents are Samuel John ALLEN and Thelma Higginson ALLEN, nee COULTER (both deceased) There are separate stories about the Allen and Coulter connection, included on this web site.
I have a sister Yvonne, born in March 1951.....living in Cookstown.
Without Yvonne to the left below and Liz, my story would never have developed in the way it did! Together with my Mum and Dad, they have been the anchors in my life.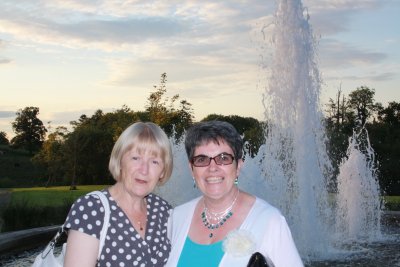 Liz's (Elizabeth) parents were Peter James O'BRIEN and Lizzie O'BRIEN, nee CURRIE. Those stories will be located in the O'Brien Story mentioned above.
Our Allen records have been traced back to 1836.... with the birth of my great great grandfather, Samuel JOHN Allen, nicknamed "the cock of the North"....no explanation found, but passed on by Dad, Samuel John Allen 1921-2009
At a guess, his father would have been born in the early 1800's...no records found at the moment (June 2013)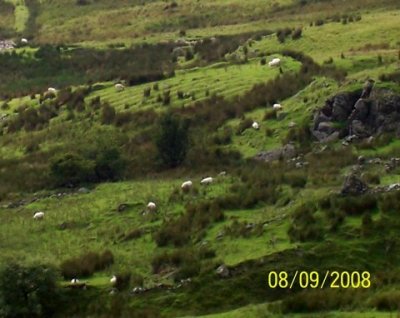 On the right hand side of the photograph you will see the ruins of the Allen homestead, Tintagh, in the Sperrin mountains, near Moneymore, where we believe the said John Allen grew up. Traces of cultivation are still visible!
I will begin in 1836, when Samuel JOHN Allen was born, just outside Moneymore, in a stone cottage in the Sperrin mountains, townland of Tintagh. There are a few townlands in the area where Allens are noted to have lived, eg Bracke Slieve Gallion, Carncose and Carrydarragh. Ruins of that cottage above remain to this day, close to a neigbouring family, Speers.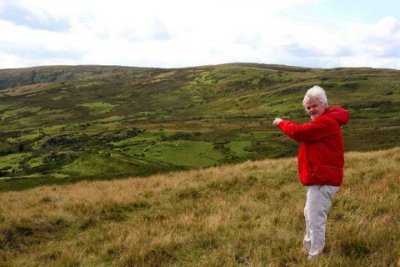 http://www.askaboutireland.ie/griffith-valuation/index.xml?action=doNameSearch&familyname=&firstname=&offset=20&countyname=&pa
To Edmund Staples the Landowner, a rent was paid and this rent was collected by John Allen, just after the famine period, in the 1860's. This part of Ireland did not suffer to the same extent as the western counties. John and a neighbour would do the rounds every so often and then travel the few miles, downhill to make the payments in Moneymore. They would be paid a wage in return. Before returning home to Tintagh, a visit was made to the local pub, where they would get drunk.
To get home, late in the evening they would climb into the horse drawn cart. The horses knew the road home and so after a while they would arrive home, after the horses had climbed the steep mountainous hills.
Story told to me by my father, on numerous occasions!
During the course of this story I will refer often to the Family Tree which I have created by using the My Heritage tool kit. To date there are approx 6,000 names, topped on the ALLEN side by the aformentioned John Allen (have just guessed approx birth date of his father). On the O'Brien's side the first recorded entry is Thomas O'BRIEN, in the 1820's. Other missing dates of these earlier years are being researched and is "work in progress"....November 2014!
Since 2007 I have worked with The My Heritage Family Tree Builder programme. Up and until Easter 2013 I had 1700 names, from the ALLEN, COULTER, HIGGINSON, O'BRIEN, CURRIE lineage....then suddenly a new "Smart Match" came in an E mail, during this Easter period, from Trish Wylie, informing me that I was related to her through the HIGGINSON connection. She had been researching many years and had traced her Higginson family roots back to the 1200's! 
I had searched in vain to find more on my Granny Coulter's lineage (nee Higginson), then suddenly this massive breakthrough....thanks to Trish. MORE detail in the separate Higginson/Coulter pages.
Ruins of the ALLEN cottage home remain in the Sperrin mountains,, as shown above, ca 8 km north west of Moneymore, in the townland of Tintagh. I am assuming that it was in this home that the 8 Allen children were born to Samuel John & Eliza, one of whom is my direct descendant, my great grandfather, another Samuel John, known as Sam, 1866-1908, 2 brothers, William John and Thomas plus the 3 America bound sisters.....separate stories. See American connection!
John ALLEN b. 1836 married Eliza Hartley (records are spelling her name Harkly!) b. 1834, Moneymore on 12 June 1855 in Desertlyn Church of Ireland, located in the village of Moneymore. According to records they had 6 children.,
Their offspring were Sarah Eliza 1864-1950, Samuel John 1866-1908, Eliza b 1868, Jane b.????, (I had found 1866 for Jane, thus making Jane and Samuel John twins!? NOT confirmed!) William John b.1881 and Thomas b.1883. Info found in 1901 and 1911 Irish Census. See below.
There are exciting developments in the Sarah, Eliza and Jane family tree as you will discover under a separate story line.
Sarah, Eliza and Jane will come under the heading "The American Connection"  starting 1889, and I also have a heading "The Canadian Connection"  which begins with my grandfather Sam's trip to America in 1922 and his brother, William Allen emigrating from Moneymore to Canada, in the mid 1920's!
I searched and found, in the 1901 Census, information relating to James Ross. He was the father of Susanna Ross who married Samuel John my great grandfather, son of John. On that particular Census day there were 2 grandchildren (the children of Samuel John and Susanna) noted at James Ross's home. ie Eliza Jane Allen b 1891 and Martha Allen b 1896. Also in the home were his wife Eliza 66, son James 30, and daughter Martha 25.
In completeing a Census form the Registrar records the members of the family/visitors/boarders etc who slept in or used the house on a certain date, usually a Sunday night. In 1911 it was the night of Sunday 2 April. When we study the 1911 Census, we observe that 17 persons were registered living in the house, a house with just 3 rooms! 
Much had happened in the ALLEN family, between the Census periods.....
http://www.census.nationalarchives.ie/pages/1901/Londonderry/Lisson_Upper/Tintagh/1534076/
http://www.census.nationalarchives.ie/pages/1901/Londonderry/Brackaghslievegallion/Carncose/1533689/
http://www.census.nationalarchives.ie/pages/1901/Londonderry/Brackaghslievegallion/Brackaghslievegallion/1533654/
http://www.census.nationalarchives.ie/pages/1901/Londonderry/Brackaghslievegallion/Brackaghslievegallion/1533654/
http://www.census.nationalarchives.ie/pages/1911/Londonderry/Lissan_Upper/Tintagh/614747/
http://www.census.nationalarchives.ie/pages/1911/Londonderry/Brackagh_Slieve_Gallion/Brackagh_Slieve_Gallion/614360/
We observe that there were ALLEN visitors (children) from America. The children of William John Allen and wife Sarah, were stated as American...Robert James 13, Reda 8, William 6 and Florence 2. It must be assumed therefore that Wm J and Sarah had emigrated to America! (or had he emigrated as a very young man and met his wife in the US?) The question to be asked is had this family unit returned on holiday (costly) or had they returned to Ireland for good? Further research needed!!
THAT RESEARCH HAS CONTINUED, RESULTING IN EXCITING DISCOVERIES MADE IN AUGUST 2014. SEE SEPARATE PAGE
Thomas Allen, another of John's sons had been married to Maggie Jane (maiden name McCrea, although I had another maiden name Bradley? However this changed in January 2017.. details described at end of this section) for 9 years and had 5 children...4 alive.  Harris 10, Eliza 8, William John 4, and Joseph 3 months.
Could this name BRADLEY be the same as the Garvagh relatives (and Williamson's, also Garvagh....they were related to the Bradleys) whom Granny/Granda Allen would visit occasionally and vice versa
Two of John's grandson's are also registered at this address, Samuel John 13 (my grandfather) and Canada bound William John 4.
It is also recorded that John had 8 children and 7 still alive.
Tragedy had struck in 1907 when my great grandmother Susanna (nee Ross) died, and a year later my great grandfather Sam, leaving a young family behind. Granda Sam was 10 and this was William John's (James...unsure!?) birth year (Bill). Cause of death in both cases was TB.