George Best
THE GEORGE BEST CONNECTION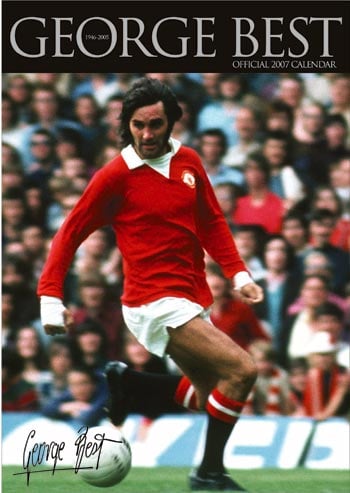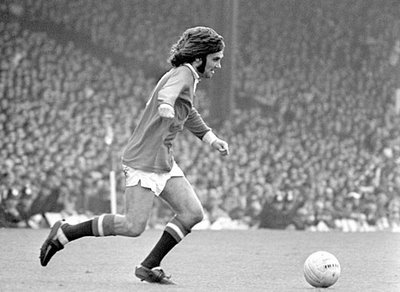 This is where my family research has overlapped into football and a most amazing connection has been established.......
Soccer player George Best starred for Manchester United and was named European Footballer of the Year in 1968.
Born in Belfast, Northern Ireland, on May 22, 1946, soccer great George Best began his club career with Manchester United in 1963. He helped United win the First Division title in 1965 and 1967, and in 1968 he led his club to a European Cup triumph. That year he also tied for the First Division lead in goals, and was named both the European Footballer of the Year and the FWA Footballer of the Year. A hard-partying lifestyle led to a quick decline, and after leaving United in 1974. Best played out his career with various clubs in England and the U.S. He died of causes related to alcoholism in 2005
Best also starred for Northern Ireland's national team, but his love of the nightlife took its toll, and he was finished as a top-shelf player by the time he left United in 1974. Attempted comebacks with smaller clubs in England, the U.S. and Scotland were unsuccessful. Following years of alcoholism that led to a liver transplant in 2002, Best died at London's Cromwell Hospital on November 25, 2005, from multiple organ failure.
At the end of 2014 and early 2015 I was corresponding with a lady, Julia Nixon, regarding an enquiry I had received from her about a possible family connection with the Coulters. Below is a collection of some E mails relevant to a Nixon/Coulter connection.
Why you might ask is this included in Football/George Best chapters? Very much a relevant question, but just wait for the outcome!
Julia Nixon julia.nixon@live.co.uk via n.nu 
16/02/2015 to me.....Dear Des.
I have been browsing your site with huge interest and hope
you don't mind me contacting you. I have been researching my husband
Pete's family tree for a couple of years and believe I have discovered
a Coulter/Nixon connection. Rather than go into detail in this initial
email would you mind replying to my personal email address and I can
explain further?
Kind regards. Julia
Julia Nixon <julia.nixon@live.co.uk>
16/02/2015to me....Hi Des
Thanks for the quick response!
I accidentally came across your website doing a simple google search for one of my husband Pete's possible ancestors. Obviously I was only able to access some of the information but what I was able to read got me wondering.
Although I normally don't make assumptions regarding family history and try to rely heavily on sources, in this case I can't help acting on gut feeling. My main reasoning behind this is that when looking at even the 1901 Ireland Census there are not a huge number of people named Nixon in Co Londonderry, especially in Teressan!
Julia Nixon <julia.nixon@live.co.uk>
16/02/2015to me
Sorry about that Des, I needed to look a few things up before continuing.
Here is a little bit of background information. Pete remembers that some of his female relatives were involved in running the Post Office in Castlerock, Co Londonderry. He is almost certain that there was some sort of a sign at the Post Office naming it Teressan. The name Teressan then repeatedly kept cropping up in the course of my research.
Pete's great grandfather was called William Nixon. At the time of William's marriage to wife Mary in 1872 his details were given as - address Teressan, occupation farmer, father William Nixon farmer.
I discovered that the Minister of Derryloran parish kept very detailed records including several Congregational Censuses and was very excited to read some of these. The first one I examined was taken in 1842 and includes the following families in Teressan:-
1.William McKenzie 1775 - 1857 Sarah Nixon (wife) 1775 - 1847
2.Joshua Nixon 1782 Jane Cook (wife)
3.William Nixon 1812 Matilda Nixon (wife) 1811 Andrew 01/03/1833 Eliza 09/04/1834 Margaret 22/10/1835 Joshua 07/11/1838 John 03/10/1840 Jane ?/11/1843? Wm ?/03/1846 Mary ?/03/1848
4.Margaret Nixon Coulter 1776 James Coulter 1810 Jane Purvis (wife) Nancy Coulter 1816 Daniel Coulter 05/08/1840
I am guessing from this that at the time of the Minister's Census, Margaret Coulter's husband had died. Also that the Daniel born in 1840 is a son of James Coulter and Jane Purvis.
I am sincerely hoping that Margaret Coulter born 1776 was born Margaret Nixon. If so, I believe that there is at least the possibility that she was related to Sarah Nixon named in Family 1 and Joshua Nixon named in Family 2.
I hope my ramblings so far are making sense. Should I continue?
Julia
Julia Nixon <julia.nixon@live.co.uk>
16/02/2015to me
Hi Des
Thank you very much for the link and the code. It will take me a bit of time to concentrate and get through the fantastic wealth of information you've gathered.
In the meantime I can give you some personal information. Pete and I have lived in Cheshire, England for about 7 years. Pete was born in Coleraine then the family moved to Castlerock in 1966 when he was 6 years old. I was born and raised in Belfast. I try to visit Northern Ireland every 6/8 weeks to see family and carry out research. I am next going over on 24th February.
We all know Northern Ireland is a small place but the number of coincidences I have encountered in the course of family research is uncanny.
For example, when I read about your relatives who both worked for Cookstown Bacon Co I was amazed. Do you recognize the attached photo? (See photo below, Des comment!)
I will have a good read at all the info you've shared and get back to you. Warm regards
Julia
Des Allen <sjdes.allen@gmail.com>
18/02/2015to Julia
Julia....more update, on a personal level! I am a Man U fan since 1958, Munich aircrash. Since then I have followed UTD through thick & thin and GEORGE BEST was and is my favourite footballer of ALL time.
I hope you don't mind me asking or suggesting!!!! The photo you sent I replied that I recognised George's Mum on the left.
I also indicated that it was my Uncle Ivan (Bell) who contracted George to do the Cookstown Sizzler ads etc. I have asked cousin Norman (my late Uncle Ivan's son) about the photo and he tells me that the lady on the left IS George's Mum, and the girls were his sisters, which I first thought and that the photo was taken at the Ideal Home Exhibition.
You inform me that this is your Mum and twin sister.....could it be that you are George's sister? Am I a good detective or a crap one???
Interested to get your reply.
Julia Nixon <julia.nixon@live.co.uk>
18/02/2015to me
Hi Des
Yes George is my brother and it's lovely to hear that you have always been a fan! Also you could hardly be a crap detective considering the amount of information you've found during researching your family history.
I'm definitely on a mission now to try to discover if the Joshua Nixon who farmed land at Terressan is my hubby's 3rd great grandfather. If so the next question I'd love to know the answer to is if Margaret Nixon (who married Daniel Coulter) was related to Joshua.
Have you seen the Valuation Revision Books for Terressan on PRONI's website? In the next day or so I could send you copies of a couple of documents we've found showing 'Nixon' links to Terressan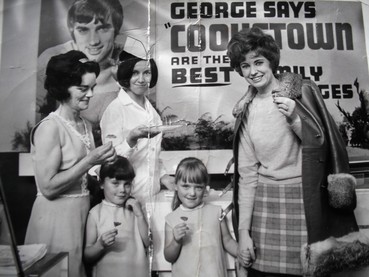 George's Mum to the left with twin sisters, Julia on the left, with Belfast singing star Ruby Murray. Member of Cookstown staff in the background, at the Ideal Home Exhibition, Balmoral, Belfast, early 1960's
 My Uncle Ivan Bell was responsible for the George Best marketing campaign....The "Best Family Sausages" /"Cookstown sizzler" in the 1960's. Sales in the following years increased dramatically!
This CONNECTION TO GEORGE BEST has occured through his family researching sister Julia. This has been one of the highlights, during my years of family research!